[ Home | Staff & Contacts | HiFi Playground | Listening tests | DIY & Tweakings | Music & Books ]
Burning Amp Festival 2012 Report

[Italian version]
Event: Burning Amp Festival 2012 Show
Reporter: Rahul Athalye - TNT USA
Location: San Francisco, California, USA
Published: February, 2013

I was ready to pull the trigger on what would' ve been my first pair of speakers, a fresh pair of B&W 602s, when instead I decided to follow Geoff Husband' s advice and went the DIY route with a pair of Audio Nirvana (AN) drivers. While looking for opinions on the ANs, I found Nelson Pass saying good things about them on diyAudio.com. I thought 'what is Nelson Pass doing posting on a lowly audio forum?' And then I found that he posts there quite regularly. In fact, you can pretty much chat with him about everything from Stanley Kubrick to your favorite amplifier. And thus began the obsession with diyAudio!
A few diyAudio members got together and held the first Burning Amp festival in 2006. Since then every year, DIY folk from all around the world convene for a day of sharing and music. Held at the Fort Mason Center in San Francisco, Burning Amp gives DIYers an opportunity to get some street cred for their creations, share ideas, and well, just unwind and have a bit of fun with their brethren. This was my third Burning Amp, and I can' t get enough! It' s just one day and here' s how that day unfolded.
Arrived and taking it in!
We made it to Fort Mason by 10 AM. Things had already gotten underway. Folks were buzzing about, wiring up speakers, scrambling to get their stuff ready for the show. The slogan for this year was 'Keep Calm and Build Amps.' There were four rooms for DIYers to present their stuff, and one large room where manufacturers and audio magazines had setup stalls. The big room is also used for presentations and to hold the raffle at the end of the day.
Nelson, or Papa as he is known on diyAudio, has been an ever-present at the show, and he never disappoints. He is a tinkerer and brings his toys for all of us to gawk at. This time he brought a pair of open baffles (BIG open baffles), which had a slot-loaded 15" woofer mated to a field coil Lowther.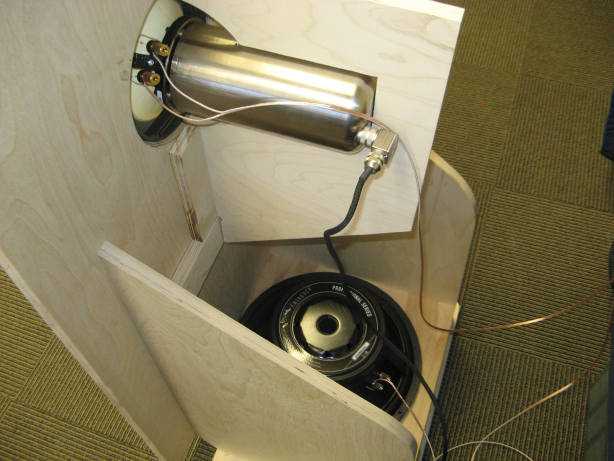 Electronics were all from the FirstWatt stable: B5 crossover, the new SIT-2 driving the Lowthers and the F5 Turbo driving the 15" woofer.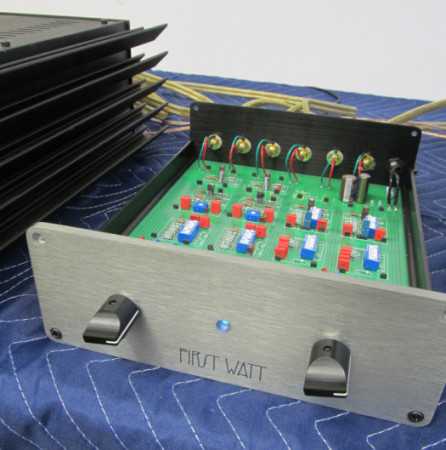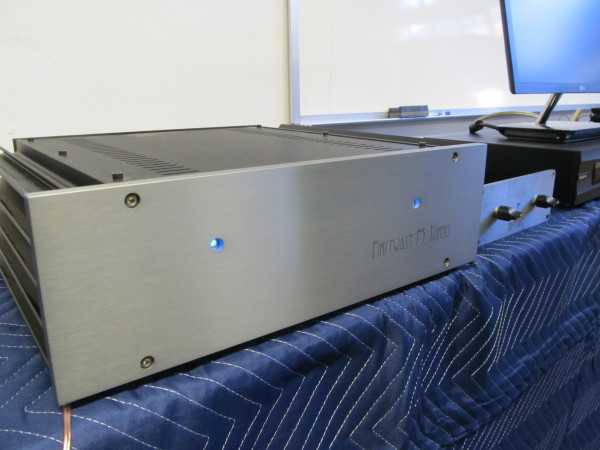 The SIT-2 produces a lofty 5 watts of power, which is plenty for the Lowthers. To prove the FirstWatt philosology, Nelson had setup an oscilloscope with a +-1 watt window, showing the instantaneous power going to the Lowthers. Even on loud passages, there was never more than 1 watt going to the Lowthers.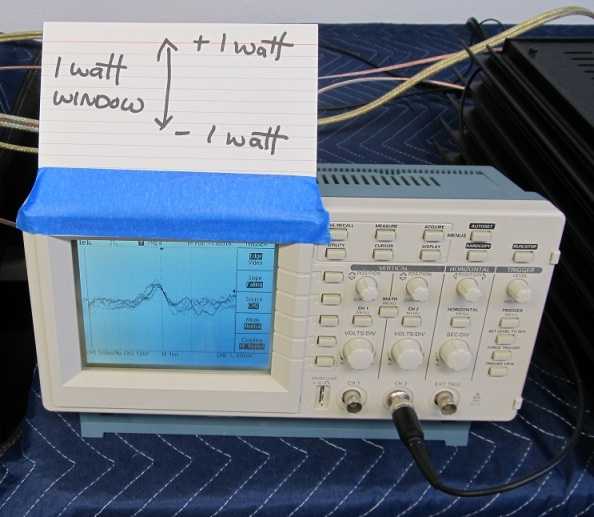 There were other amps in Nelson' s room. Some solid state, some tubes. In the afternoon some of these got rotated with the FirstWatt amps. The one in the right picture had the power supply built in a separate cage style chassis. To the far end of the table in the left picture are two amps that were put together at the last minute, in the true spirit of Burning Amp. Alas, the builders didn' t want to risk their amplifiers realizing the promise of Burning Amp.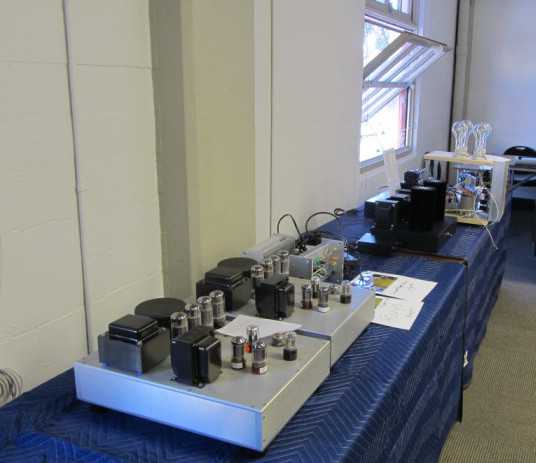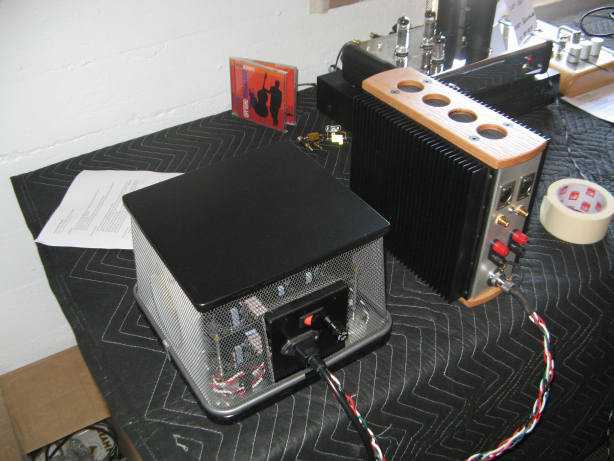 Staying with amplifiers, here are some more unique creations seen at Burning Amp. The monoblock amplifiers in the left picture have DIY heatsinks built by combining individual aluminium plates. In the right picture is an amplifier built using original FirstWatt heatsinks, donated by Nelson Pass at an earlier Burning Amp raffle.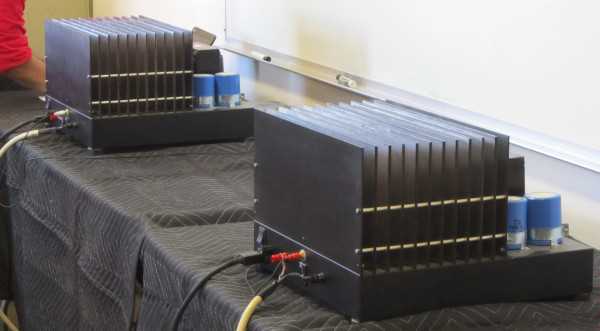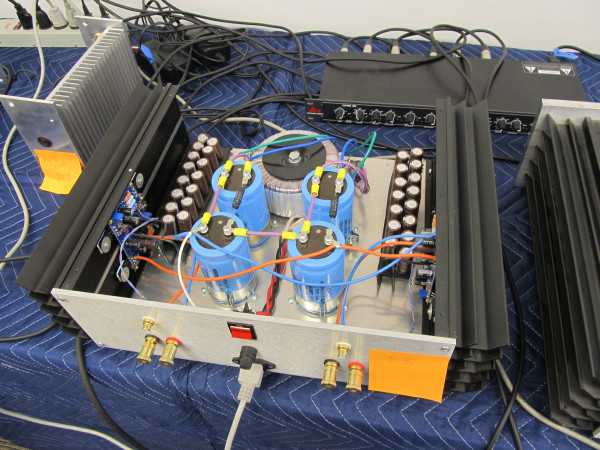 Lunch time. Hotdogs… Yummm!
These boys cooked up some great hotdogs! Sitting by the bay, munching on a hotdog in sun while talking audio… ahhh, that' s the stuff. What more can I guy ask for?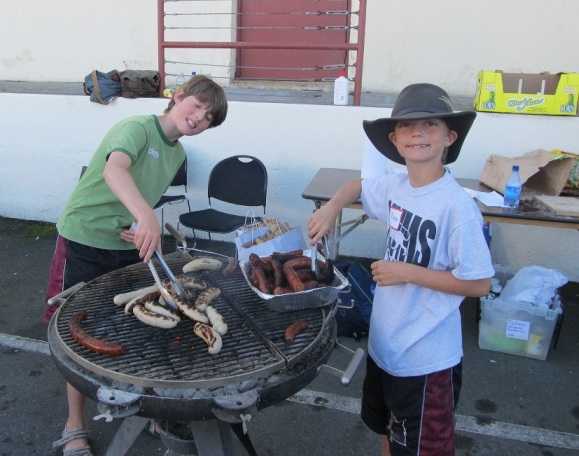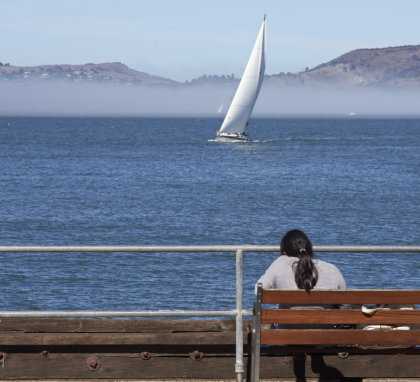 (photo courtesy: Vladimir a.k.a. AR2)
Back to business. Diffusors and absorbers can significantly improve the sound of a room. And if you want to please your significant other while simultaneously improving the sound, you might like these diffusors.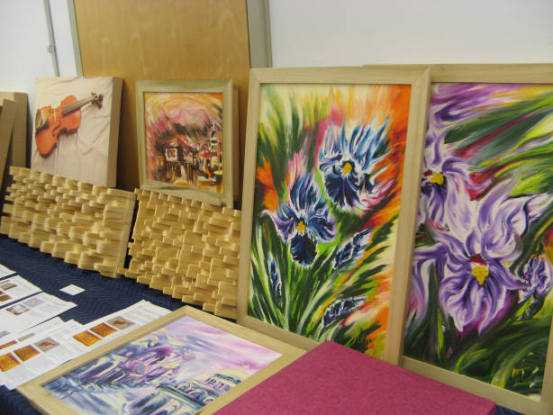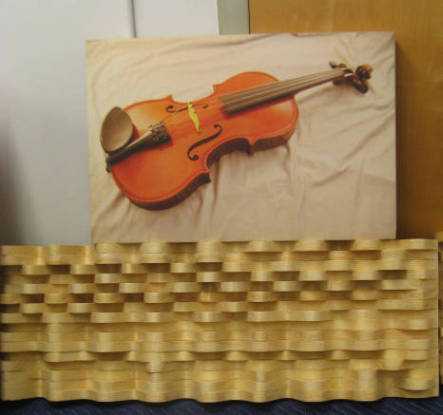 In another room, these big horns were making some noise. They had a Lowther driver loaded with a short front horn and large backhorn. The entire assembly is suspended on a separate structure to isolate the vibrations. The front horn boosts the midbass, compensating for the Lowther shout, i.e., the rise in response past 1 kHz.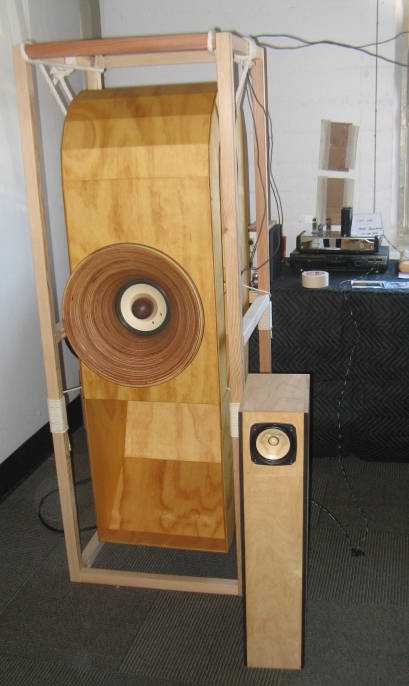 There were a couple of DIY turntables too. One had a unipivot tonearm and the another one had a linear tracking tonearm.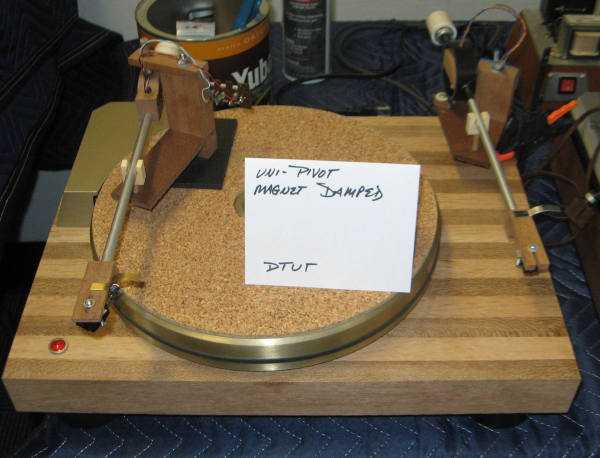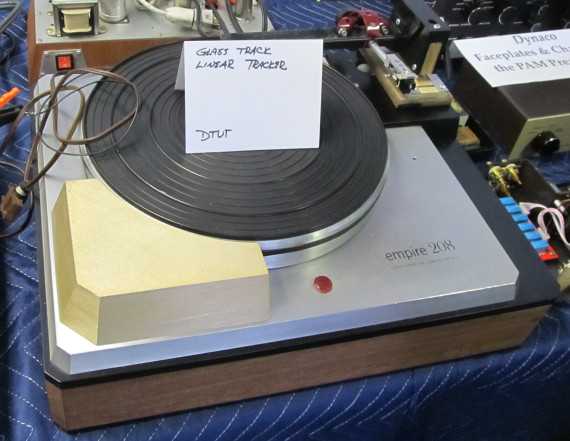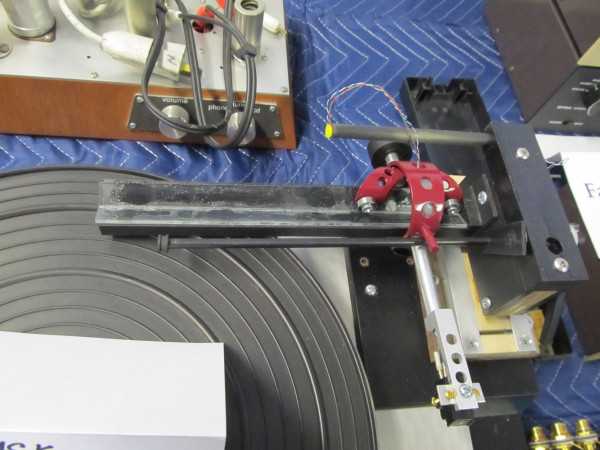 Here were a couple of well thought out speakers. They don' t look like a regular two-way and they aren' t. The waveguide loaded tweeter matches the directivity of the woofer and results in a smooth transition from woofer to tweeter. What' s more, you get some gain from horn loading at the bottom of the tweeter' s response resulting in lower distortion. Add in the quality ScanSpeak woofer and rounded cabinet edges, and it looks like a well-thought out speaker. Now why don' t we see more of this in the commercial market? This is where DIY can really pay-off.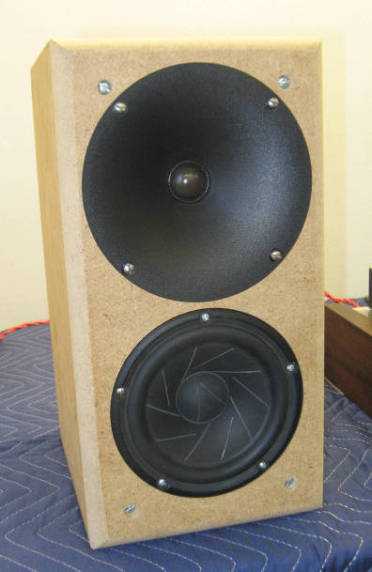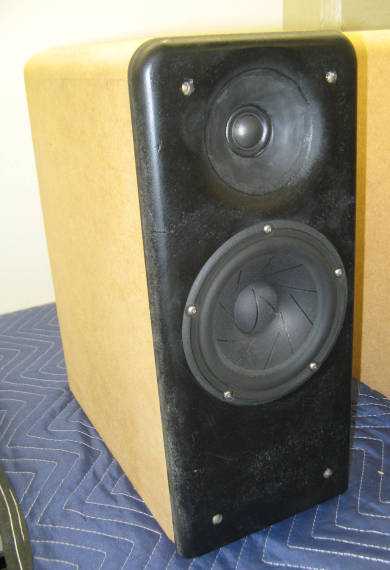 Class A, Class D and Feedback
Talk about opposing audio philosophies. In the large room, there were three seminars. Nelson spoke about his new F6 amplifier, which uses only N-channel power JFETs in a push-pull output stage. The centerpiece of this particular circuit is a transformer that allows the two N-channel devices to be driven in opposition. You can read a transcript of Nelson' s talk at 6moons.com.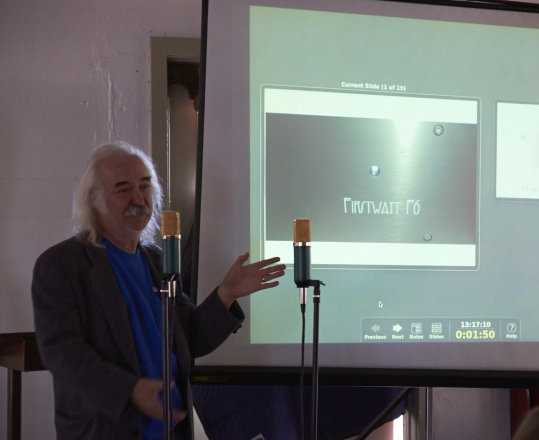 Jan Didden spoke about how feedback always improves performance. Jan is the editor of Linear Audio magazine, which provides ad-free hardcore DIY articles from a variety of authors spanning all aspects of hi-fi. Finally, Bruno Putzeys of Hypex Electronics gave a talk on Class D amplifiers. Hypex produces high quality class-D amplifiers, which have been known to sound as good as class A and SET designs (read TNT-audio' s review of Hypex UcD180 module here). These talks by themselves are worth the admission.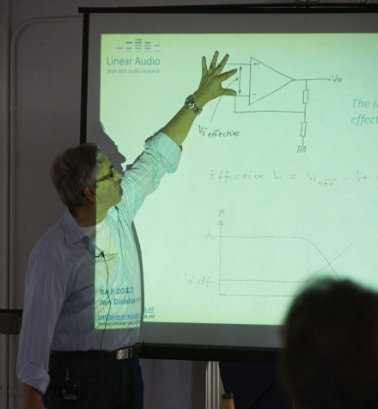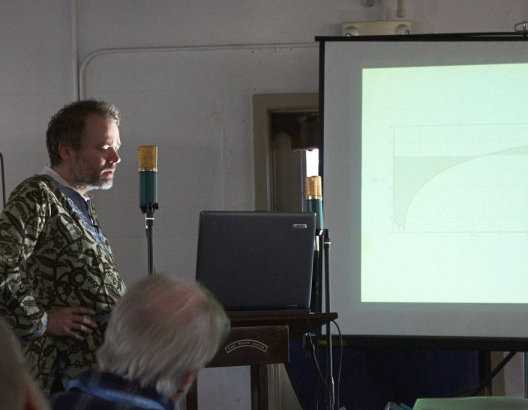 (photos courtesy: Vladimir a.k.a. AR2)
More Open Baffles and a couple of Line Arrays
Open baffles were the flavor of the year. The two pictured below use dual woofers mated to a Fostex full range driver.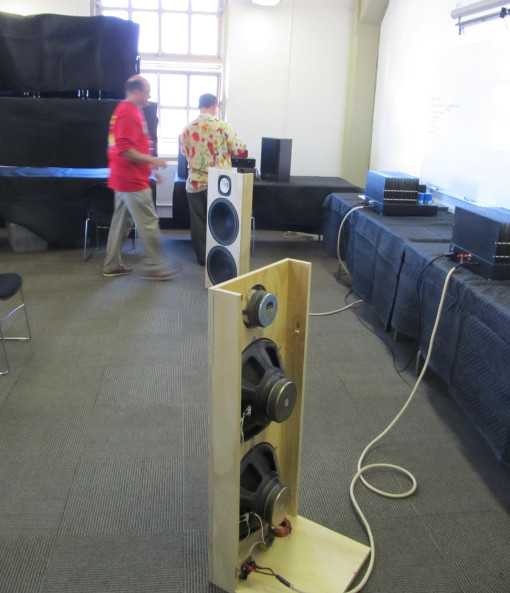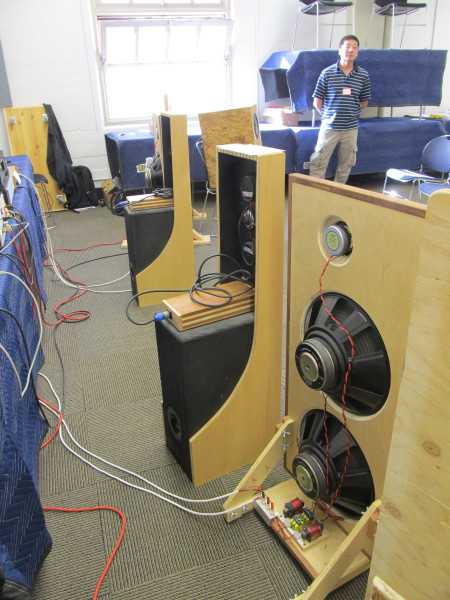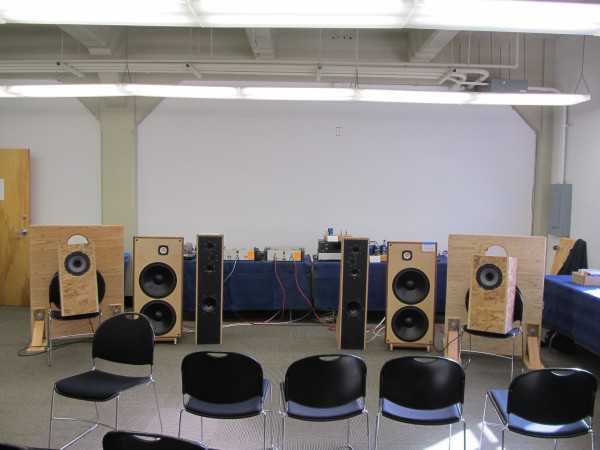 There was even a hybrid: open baffle line array.
I had not heard Don Keele' s Constant Beamwidth Transducer (CBT) line arrays before. Ti Kan (amb.org) brought these gorgeous-looking speakers to Burning Amp. Line arrays maintain the same SPL over larger distances. The CBT design simplifies EQ requirements by curving the array backwards.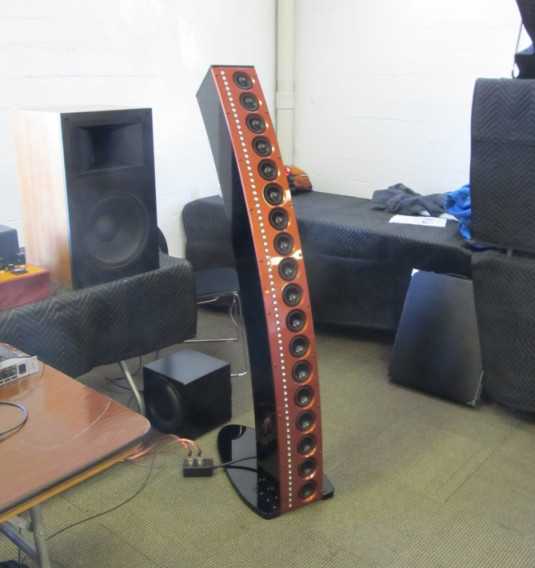 Linkwitz usually brings the Orions, which are a three-way open baffle using high quality SEAS drivers. This year he brought the LX521 (named after the day on which he had a breakthrough in the design), which is a new design incorporating less expensive drivers in a four-way open baffle. The four-way design allows point-source behavior over nearly the entire operating range because each driver hands over to the next smaller driver before moving out of ideal dipole operation.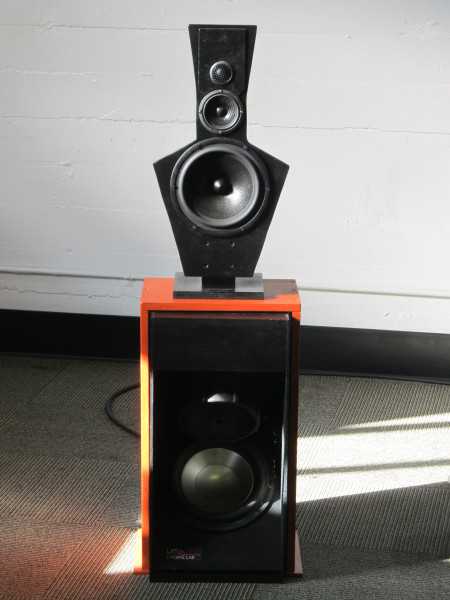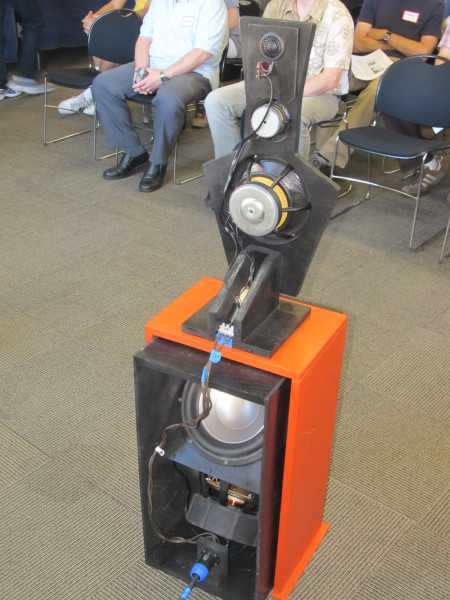 The LX521 showed a clean pair of heels to nearly all the speakers we had heard at RMAF a couple of weeks ago. The sound was like it was coming from one driver, not four. I' m always amazed at how well Linkwitz does in portraying the correct tone and timbre of instruments and voices. Another aspect of his designs is the ability to accurately sculpt a 3D soundstage where instruments occupy real space. Finally, they went really loud without strain. What else is there?
Can' t get enough.
Every year people donate parts – amplifiers, drivers, cabinets, cables, etc – that are raffled off at the end of the show. It' s fun to win stuff, and I' ll admit that I' ve gotten lucky on more than a couple of occasions.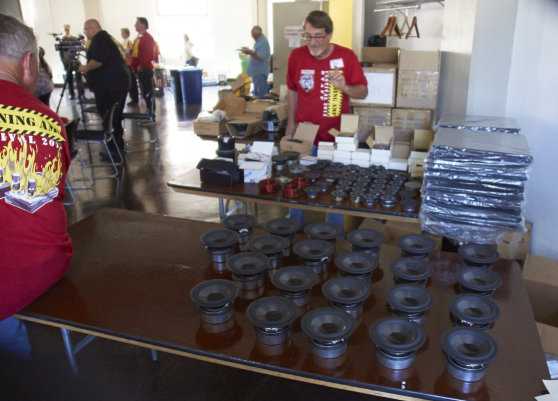 And just like that it was 6 pm. Another Burning Amp had just unfolded. It is simply awesome meeting fellow members of diyAudio. It' s the people you go back for, and of course the gear – some of which can easily go toe-to-toe with the best of hi-fi.
© Copyright 2013 Rahul Athalye - rahul@tnt-audio.com - www.tnt-audio.com
[ Home | Staff & Contacts | HiFi Playground | Listening tests | DIY & Tweakings | Music & Books ]