A Visit to the High End 2019 show in Munich
Part II
Visitor: Carlo Iaccarino
The show took place from May, 9th through May, 12th, 2019 at the M.O.C. facilities, in Munich, Germany
Originally written: June, 2019
Website with plenty of resources: High End Society

Meeting old friends and making new ones...
We couldn't miss our annual get together with our Greek friends from LAB 12.
This year the progress, compared to their previous exhibition, was brilliant! Now, the path has been planned - they only have to follow it next year and let Mr. Vichos remain at his lab's helm... in Athens... :-)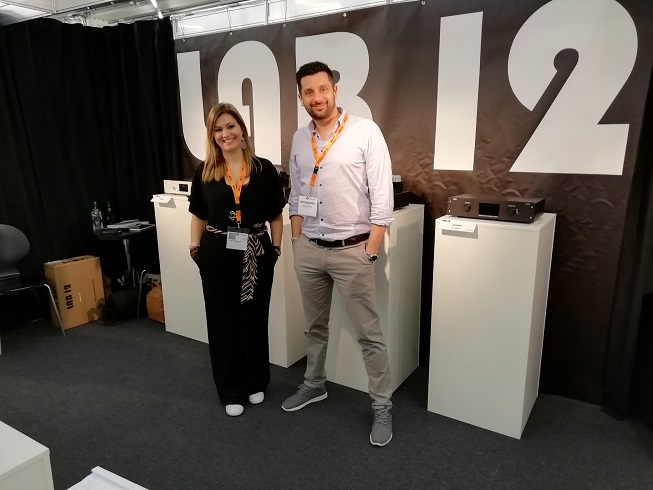 This was also a good year for them; they told me that they are going well in several marketplaces, also outside the EU. They completed the development of their Melto 2 tubed phono preamplifier, selling for around Eur 3.800 and sporting remote-controlled on-the-fly adjustable values to better interface with your phono cartridge.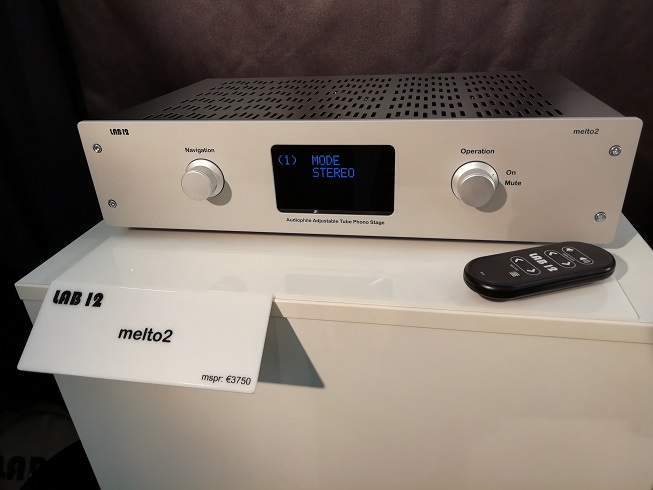 They also introduced the Reference version of their DAC ONE tubed NOS DAC.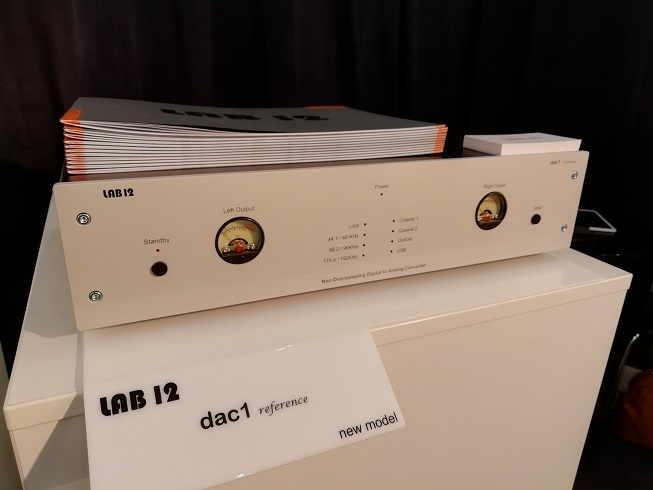 Other friendly faces, this time from AUDIODINAMICA.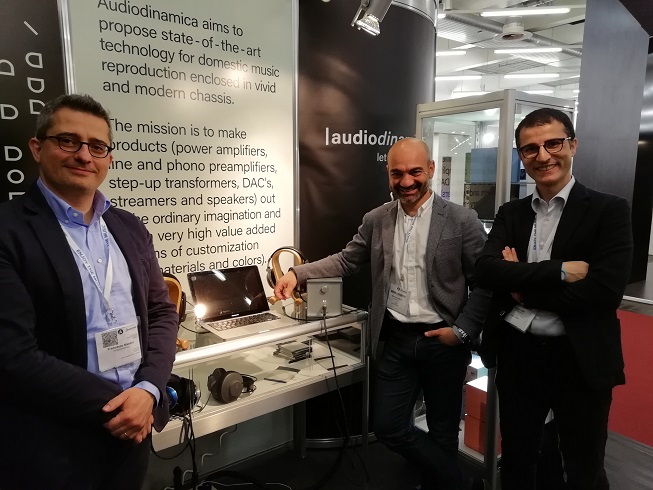 Our friends from Turin, Italy, told me that, after being at the show last year as newcomers, they gained lots of interest from around the world; of course they were also very happy with our positive review - so positive, indeed, that Richard ended up buying the SUT ;-)
This year they set up a proper booth where they played their gear through two systems, one traditional, with amplifier and loudspeakers, and the other more modern (although sporting a very vintage analogue source), with headphones. Here is the second one.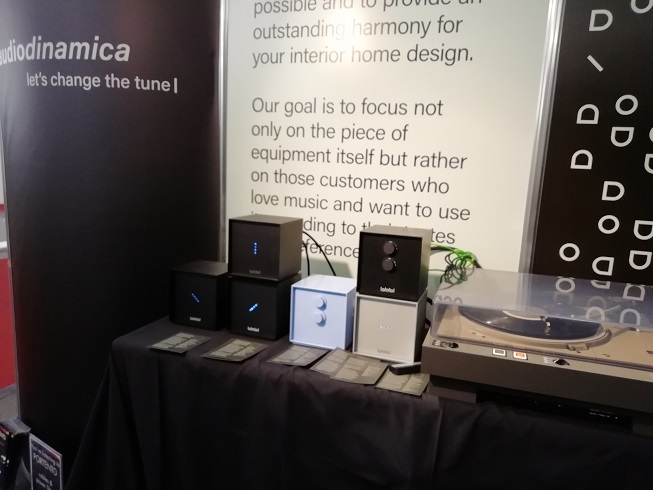 Here we have, from right to left, after the vinyl source, their Eur 982,00 Becube SUT, of course, with its distinctive faceplate. It sits atop their Eur 2.212 BeCube Phono phono preamplifier, whose faceplate sports a horizontal line of LEDs. At their right sits a prototype of their BeCube Line line preamplifier. Next we find a Eur 2.048 pair of their BeCube Mono Amp, whose LED line is diagonal; above them sits their Eur 1.146 Becube Power power supply, that can feed up to three cubes, and whose LED line is vertical. All prices taken from the e-shop section of their website.
I'd like to stress the nice way they choose to "indentify" their boxes. They refer to each device's function and use signs instead of the usual (and often overtechnical) monikers. I appreciated very much that they gave this kind of attention to the "look" of their gear. They work hard to reach their technical goals, of course; but also their gear has an added value in its aesthetics. They can provide the box in any RAL colour you want, the box dimensions are chosen in proportion to the sides and, as you see, even the common LED line here is given a proper - and unusual - visual function, acting both as "movement" of a plain fascia and as an indicator of the function of each box. Let me express a little patriotic pride, here - this is a good example of the typical Italian ability to give value to the aesthetics of the products, and it is performed in a distinctive, smart way.
Let's remain in Italy, with FONICA INTERNATIONAL.
This company is making a complete line of planar isodynamic loudspeakers and usually serves a professional market, serving bar, restaurants and other public venues, where good sound is required but a normal, boxed loudspeaker would be out of place, both aesthetically and spacewise. They also work with architects to provide an elegant, good-sounding and customized solution for domestic spaces. Their planar diaphragms are all made in-house and also the frame has a proprietary shape, in order to install their own acoustically transparent fabric that can be completely customizable (you can have it in any colour you like and you can even print on it your own photo or artwork). They decided to "taste the water" of the domestic hi-fi market, and they produced this big three-way active loudspeaker, called LaGRANDE - the English equivalent would be a not-so-cool "TheBIG" :-)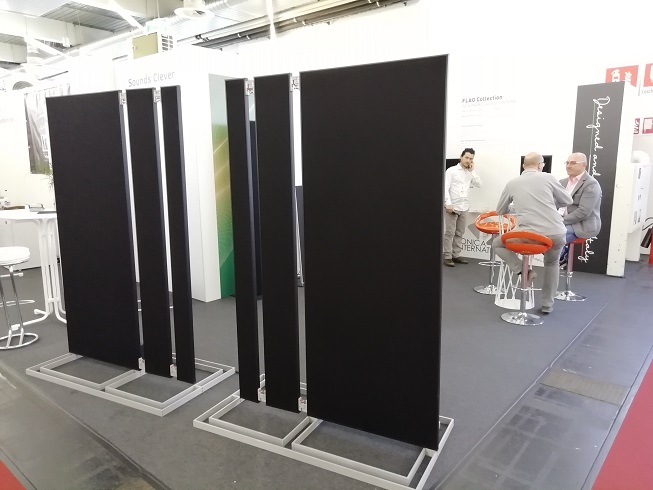 Of course, it sounded... big, and it certainly was the wisest choice, since they exhibited in a huge and open space in the far corner of the Halle 1. The sound could be heard even at distance, yet it remained controlled and when you arrived in front of this unusual and large "cabinet wall", you could appreciate its controlled directionality. Moreover, as I hope you can see from my picture, it is large, but it is also very thin, elegant; in other words, it's not imposing, albeit being wide. This kind of aesthetic taste must be a subproduct of their working with and for architects.
Of course, LaGRANDE is their biggest model; but also they make smaller panels, their FLAG series. The smallest one (the S model) can be attached to a wall, even with hinges, so that it can rest flat parallel to the wall (and can look like a framed picture, since you can "dress" it as you like) and then be opened when in use. The bigger models (guess what? The M and L) in the Flag range can rest on their feet, Maggies-like, if you will. Here is Fonica's Gianfranco Cincotta, leaning on an M model. Prices start from Eur 3.500 per pair, up to Eur 40.000 for a pair of active LaGRANDEs.


Ole Lund Christensen was very active in exhibiting his unusual loudspeakers under the JERN brand.
As you may recall from my previous reports, they are compact two-way loudspeakers, whose cabinet is made of moulded iron; they are very heavy and, so they say, very inert. They can act as fullrange loudspeakers; yet, they were exhibited with a matching active subwoofer, still under development. The same model of loudspeaker can be had in different versions, depending on the drivers and the crossover. Prices range from Eur 600 to Eur 4.000.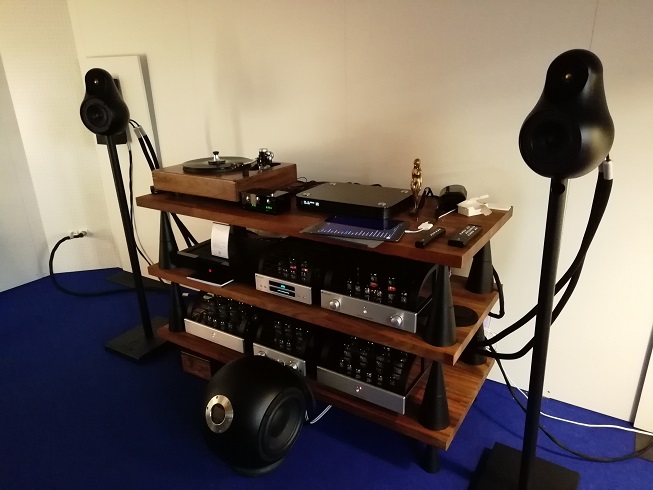 The system used at the show was completed with the big black box you see on the upper shelf - it was a proprietary electronic device acting as DSP, crossover and DAC. But it's something just "for internal company use", something Mr. Christensen is using rather for studying its effect than for selling it... at least, that's what I have been told ;-)
Of course, also our friends from TRINAUDIO were at the show, exhibiting their more popular amplification devices, as you see from my picture. I hope you can get the beauty of their cabinetry.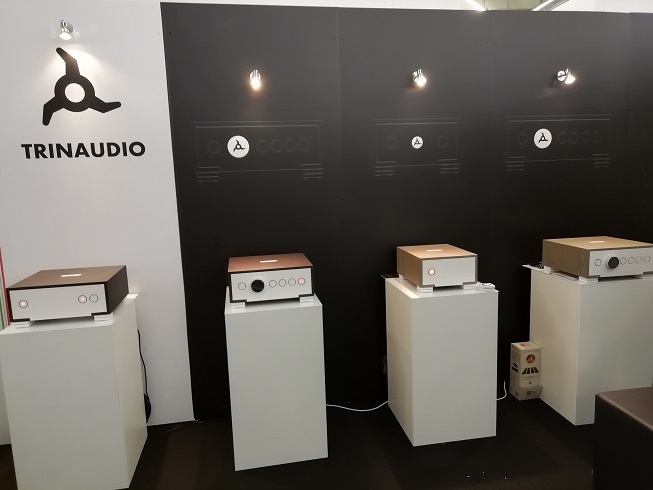 They also setup a minimalist system for listening, but it was just to have a rough idea of the kind of sound and functions.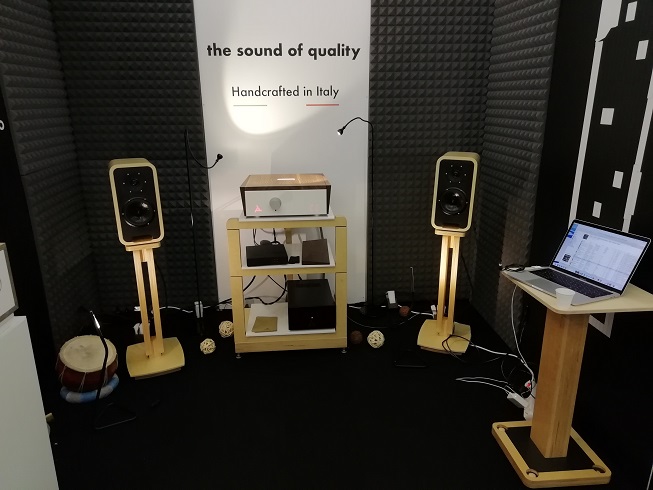 Wait... there's more :-)
TECHNICS
Ok, let me start with this
FINALLY!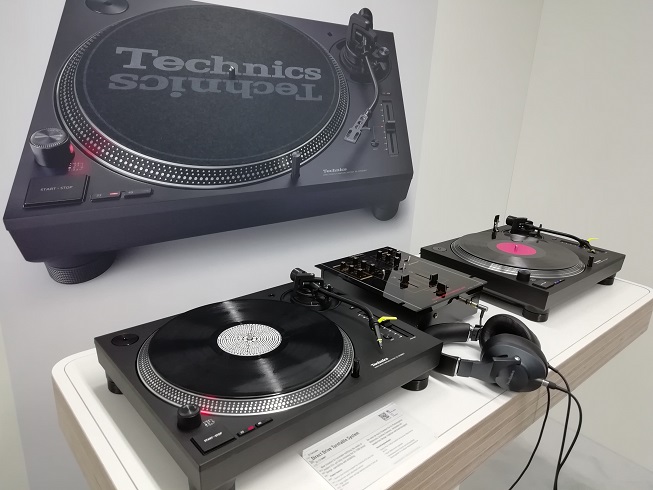 It's since Technics' comeback that we have been waiting to see this again - 2 twelvehundred side by side to a mixer (in this case, it was a Technics mixer, too, but a vintage model, no longer available... yet...).
This was finally possible after the introduction of the last iteration of the 1200 expecially designed for the DJ market, the SL-1200 Mk7 version.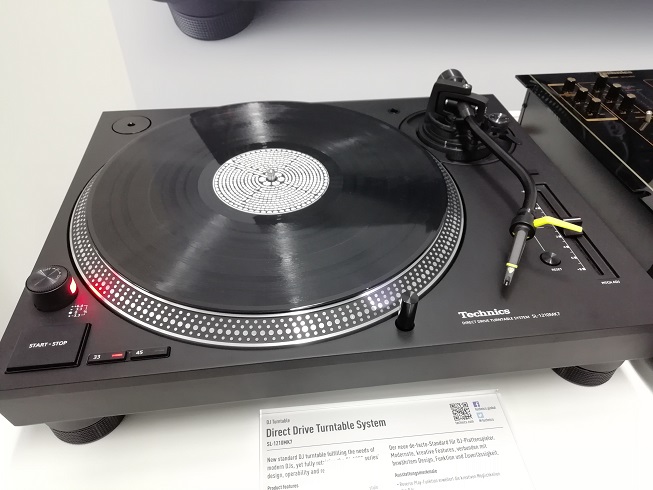 It is, of course, a rather different beast from the traditional 1200s we were accustomed to: it benefits from the new developments of the motor, the assembly, the parts, the arm, etc., all trickled-down from the upper models, although, of course, not in the same league, at least audiophile-wise.
Moreover, Technics setup also its traditional double system for the - always very crowded - audiophile demonstrations.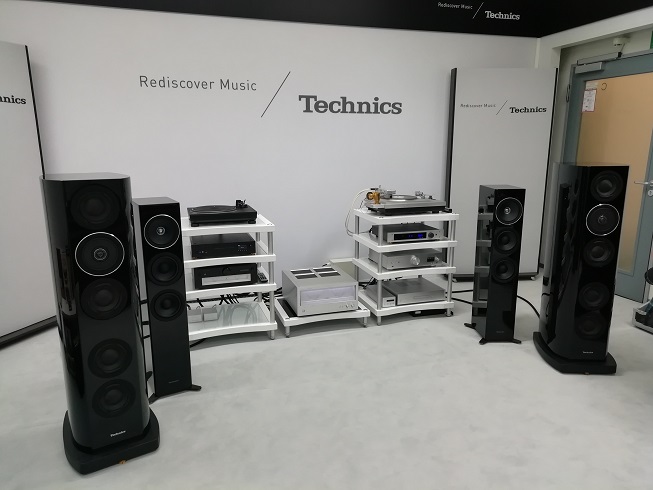 The main attraction was again the SL 1000 R, this time mounting, in addition to the inner Technics tonearm, two additional tonearms, of which the one working was a tangential one.

SOUND UNITED As our very up-to-date Editor recently wrote, this has become the biggest audio conglomerate around. As you can read on their website, "Sound United is comprised of Denon, Marantz, Polk Audio, Definitive Technology, Polk BOOM, HEOS, Boston Acoustics and Classé", still omitting Onkyo and Pioneer brands.
At the show, they set up a big system to exhibit their newly acquired Classé brand. The combo of their new Eur 11.000 Delta preamplifier and Eur 12.000 Delta 300 W (the first 30 in Class-A...) monoblocks made the pair of big Fink Team loudspeakers they were hooked to really sing.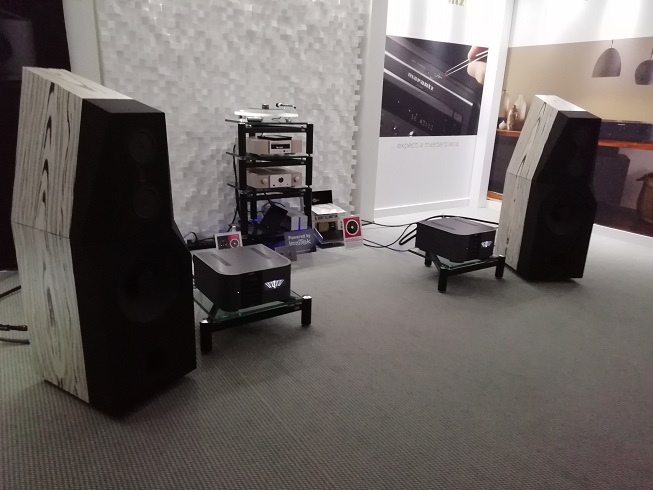 The source used was the wonderful Studer R2R you see near the Delta Pre.


As you may have noticed, at the back of the room there was also a complete Marantz system; that, too, was demoed in that room, driving the same Fink Team loudspeakers, but with evidently lesser results. This was the first year that in that room no listening demo by Ken Ishiwata was held - they told me that Ishiwata is not with Marantz anymore. Maybe this - to me, at least, thrilling - fact is also a side effect of the late growth of this audio group. Anyway, they were very happy to have rescued Classé from the stagnation it was rejected after Eva automation bought B&W (some say that the Chinese Company even ignored that that acquisition had brought in their pockets also Classé's assets). This allowed S.U. to broaden and differentiate their offering by brands - this meaning that we will hardly see a top Marantz amplification or an affordable Classé integrated amp; I'm curious to see how they will differentiate between once-competitor brands like Denon and Pioneer/Onkyo... I guess I have to wait until next May ;-)

YAMAHA
Here we are with another big and traditional Eastern audio brand that performed a recent comeback on the path of perfectionist audio and doesn't seem to change its goals.
At the show they setup a really clean and good sounding closed space built in the big Halle 4 at floor level, where the system sounded good, since the first day.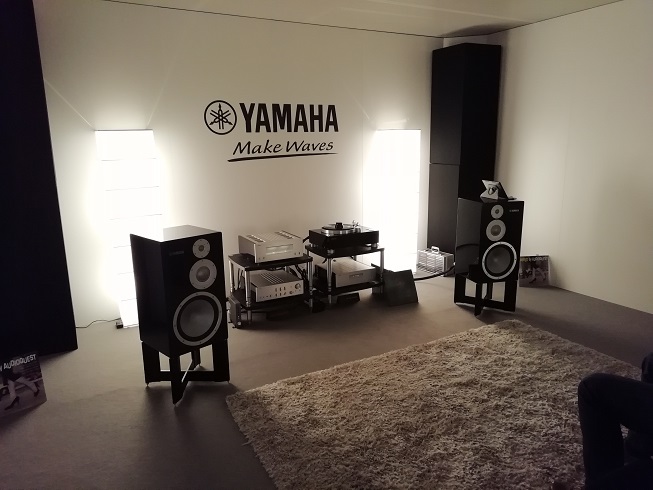 Here in action you can see the massive yet elegant Eur 5.000 GT-5000 belt driven turntable, the Eur 7.000 C-5000 classic-styled preamplifier, the Eur 7.000 M-5000 2 x 100W amplifier, the Eur 4.000 CDS-3000 CD- and SACD- player with USB input (no 5000-range disc spinner yet...) and, finally, the gorgeous (for me, at least) Eur 15.000 NS-5000 standmount 3-way loudspeakers.

TAD
Let's remain in the East.
Once again, a reduced space for TAD's exhibition, where their system sounded correctly, but not as involving as it was during past years, when they used much bigger corner rooms in the Atrium.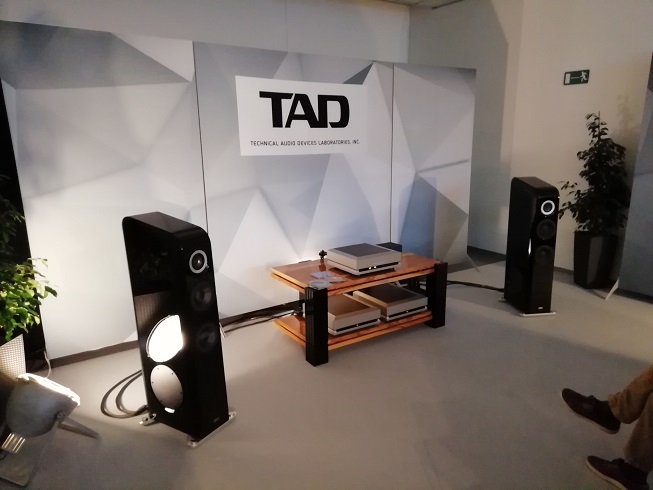 Anyway, they finalized the production of their floorstanding loudspeaker model that was in silent exhibition last year as a prototype. This year it was up and running and it also had a name, E 1 TX and a price, of Eur 25.000. Maybe too much to repeat the success of the standmount CE 1 that last year I wrote about ;-).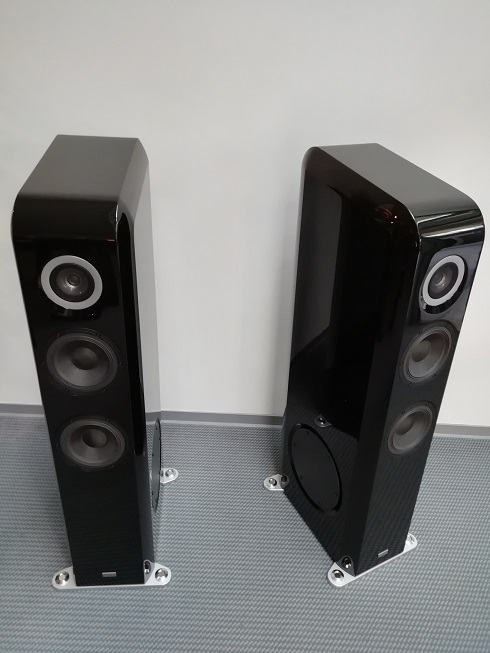 YAR
And now, let's perform a complete change. From big industrial companies to a little artisan enterprise. Both devoted to the best sound attainable; but the latter with a completely different approach. YAR aims to provide an exclusive experience to its customer, tailoring its products to his or her needs and likes. Big prices, here, but also a big commitment to provide an exclusive and overcustomized service (they customize their product design based on your room, and stay a couple of days at your place for installation) and product, with crazy attention paid to the details - that's where, notoriously, the devil lives ;-)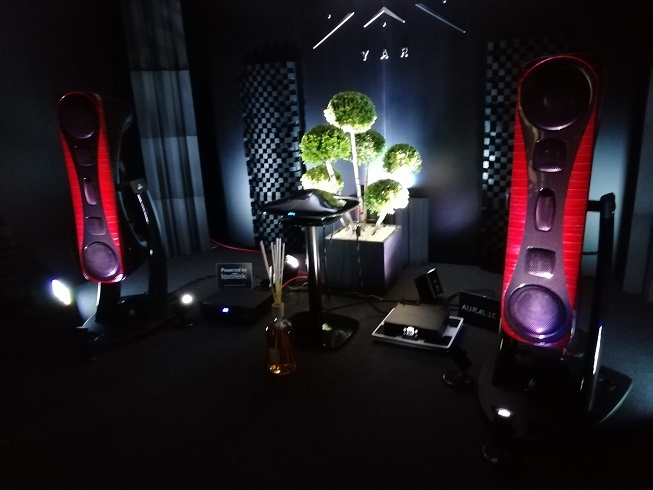 My picture is as usual awful, but I think it gives you the idea of the rarified atmosphere they looked for; unfortunately, it cannot give you the feel of the obsessive attention they devote to the aesthetics of their gear. It consisted of the B-yond, the strangely shaped thing placed in the middle that acts as hybrid amplifier (tubed pre and class-D mono amplifiers) and DAC (ESS 9028ES), and must rest on its dedicated Feeld insulating platform. It drives the two Y-der framed loudspeakers placed aside.
Prices are crazy, too: about Eur 200.000 plus taxes. But it must be said that this is something in the same league of, say, Pagani's cars. If it sounds pretentious, it is. But it also clearly shows the kind of taste and production abilities that the world acknowledges to Italian brands acting in this high-heeled realm, providing excellence to customers seeking excellent products. And, in fact, this is an Italian company, born in Turin from the mind and the efforts of Adriano Marconetto and Giancarlo Sopegno, the latter a respected name of Italian Hi-Fi.

LINDEMANN
Let's place back our feet on the ground :-)
Here we have a nice little personal system built around a pair of devices from the Limetree range.
The Limetree Network, for Eur 985, a network player with DAC (2 x AK4452), capable of handling digital signals up to PCM 384 and DSD 256 (it can also convert PCM into DSD before converting into analogue). It can stream music from the web (in the picture, you see the HighResAudio service) and is Roon-ready. It sports two line outputs for driving, say, a pair of active loudspeakers; or, like in this case, to drive the Eur 595 Limetree Headphone can amp (the Network has its headphone output, anyway...).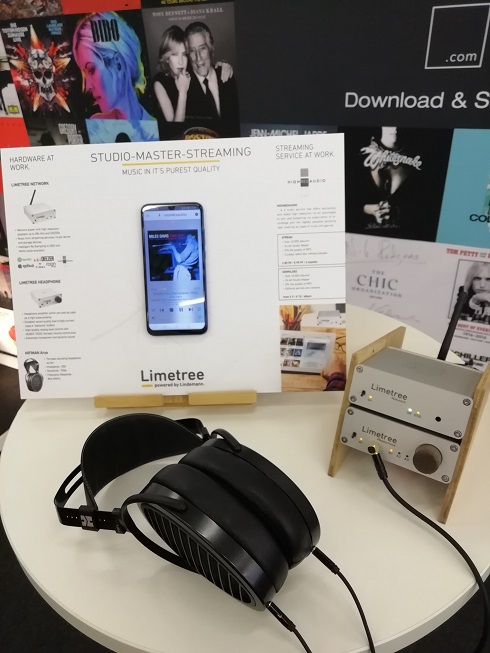 CANTON
Let's remain in Germany. This year, this brand showed the new model in the Reference K line, the Reference 2 K floorstanding loudspeaker, that will be sold for Eur 14.000 per pair. The smaller floorstander behind it is the Reference 5K, that can be had in both traditional passive version, for Eur 7000, and in the active version, pictured here, for Eur 8.500, the latter being labeled Smart Reference 5K.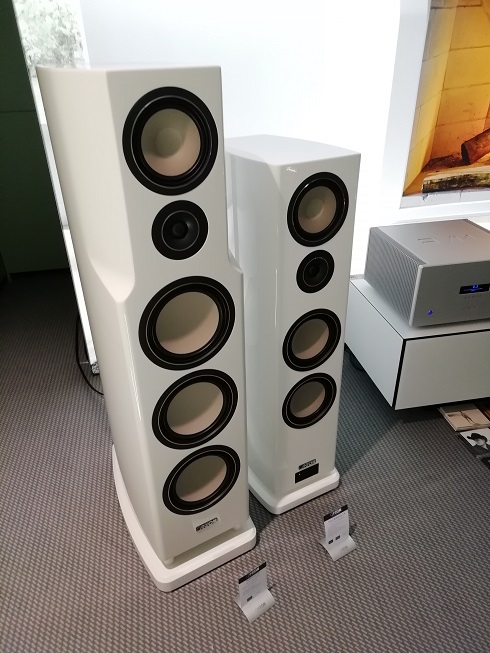 Canton provides lots of modern models. Here we have the Smart Vento 9, a three-way floorstanding loudspeaker that, for Eur 4.400, sports an inner 600 W amplifier, plus a wired/wireless receiving module. Its digital inputs are USB, RCA and optical; it sports also a digital RCA output; it can accept wireless input signals via Bluetooth 3.0 Apt-X, too. It also has an analogue RCA/XLR input. It also has a subwoofer out. I think it's a good example of "bang for the buck".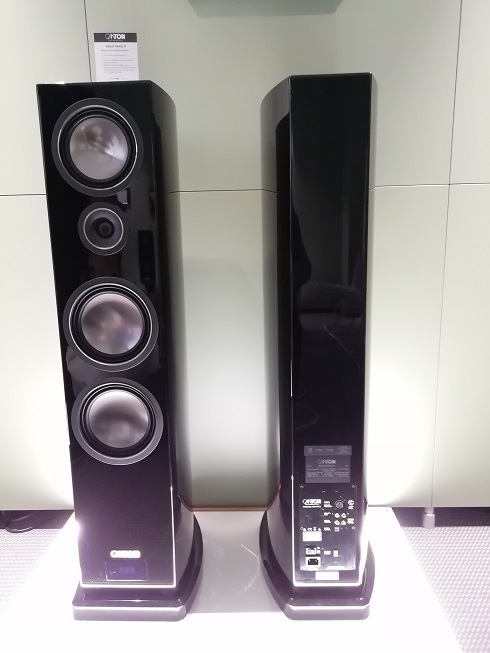 Finally, I found extremely interesting the Smart Connect 5.1. The little black box at the extreme right on the table.


It is a piece of electronics that can act as the hub for all your signals and redirect them towards wireless Canton Loudspeakers. It can handle DTS signals; has a Chromecast built-in feature; is a streaming client able to handle digital signals up to 24/96. It also sports HDMI inputs (and, if I understood correctly, outputs). It should be ready for September and it will be priced at around Eur 500.

KII
Just in front of Canton's rooms, I found the room occupied by KII, a company that specialized in providing active, DSP-driven loudspeakers. They exhibited their KII 3 model complete with the BXT extension module. It is an active system, that accepts analogue and digital inputs. More interesting is the fact that it is DSP-driven, and it sports a powerful inner switching power amplification section. As much as the enclosure and the drivers, the software driving the DSP plays a big role in the final results. The system was - very effectively, I must say - demoed also turning on and off the BXT system (it can be controlled via its dedicated app running on the tablet acting, also as function controller, as you see at the right in my picture) that not only managed the bass, but also responded actively to the room. High prices here (I forgot to scribble down anything), but you always have to consider that you buy both loudspeakers AND a dedicated multiamplification system...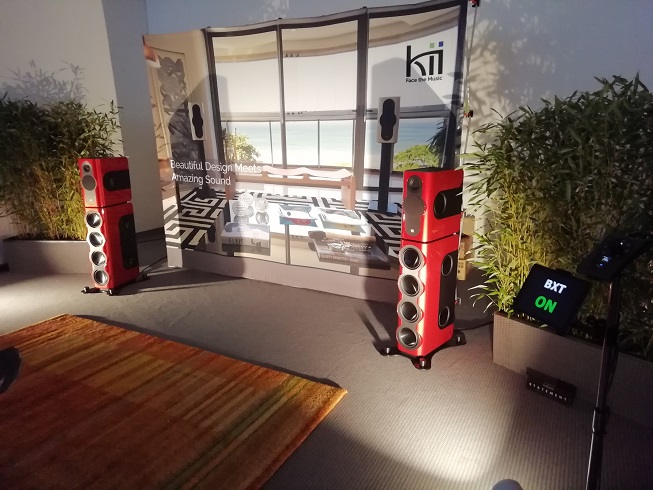 WHARFEDALE
Ahhh.... let's breathe a little fresh and traditional calm air, here...
This year, this brand exhibited a new edition of one of their best sold model and brought to the market the Linton Heritage standmounting loudspeaker that, for Eur 1.000 per pair gives you lots of the traditional and very pleasant "British sound". Stands, here, are mandatory, and the ones you see in the picture are sold for Eur 300 each and, as you may see in this manufacturer's website, can act also as record shelf, with typical British understatement :-)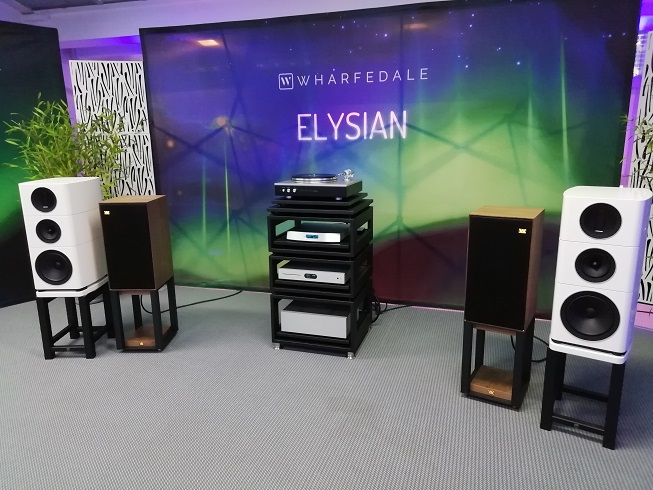 Of course, they showed also their new flagships, the Elysian series, albeit as a non-final version of them, but I must tell you that I was very intrigued by the heritage model ;-) Naturally, all this was helped by the very gentlmanly demo conducted by Wharfedale's Peter J. Comeau, whose kind manners always make it a pleasure to deal with him.

PLAYBACK DESIGNS
I would also like to tell you about the wonderful exhibition of this American brand, led by the genial mind of Andreas Koch, the man behind DSD, among other things audio ;-)
This year, he exhibited a system built around his humongous power amplifier (price tbd, maybe around USD 60.000) driving a pair of beautiful (and expensive: Eur 60.000 per pair) loudspeakers by the Swiss brand Stenheim. The system sounded very well, at least to my incompetent ears.
What I think was more interesting, for us mere mortals, was that the system played an A/V concert of a young and talented jazz piano player whose audio was in high definition DSD, and not a more or less compressed PCM as normally happens even with blu-ray discs. Of course, this was something more unique than rare, and it was possible only because Koch had the abilities to work around his Oppo-based source (Eur 27.000) to extract the DSD stream, send it to his DAC (Eur 25.000) and synchronise everything to perfectly match the images produced by a vpj (then switched to the flat panel you see in the picture). But, nonetheless, it showed that it can be done, and that, if interest increases, maybe DSD audiovideo content will be streamed via the internet...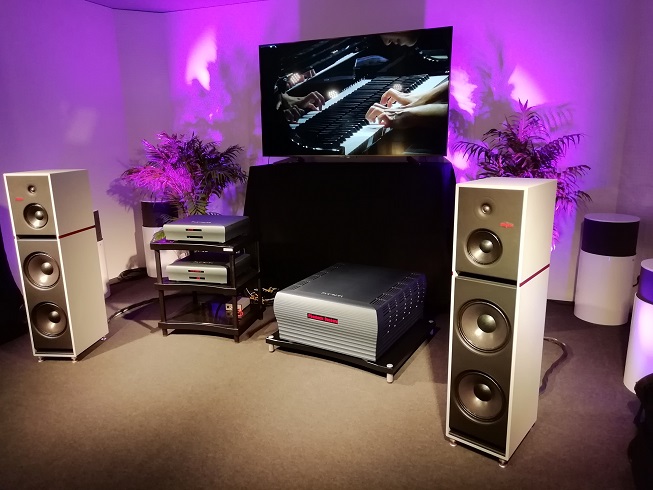 PRO-JECT
This year, too, Pro-Ject assembled its traditional "Vinyl Square"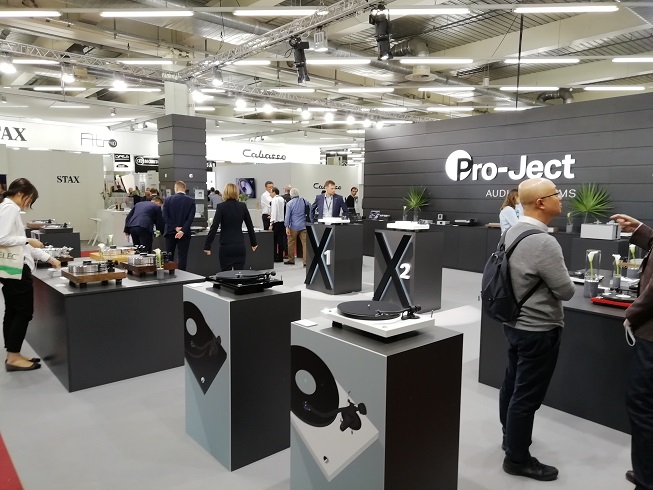 They also produce lots of electronic devices, besides turntables, all with comfortable little dimensions, as you may see in the following "wall".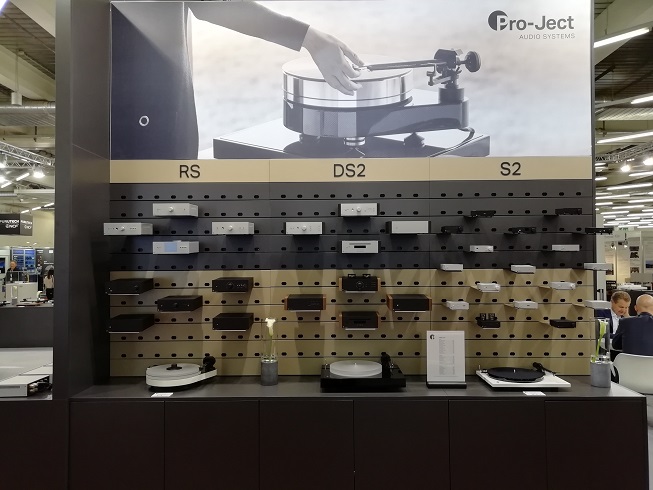 Among the new small electronics by this Austrian brand (whose boss last year acquired the Musical Fidelity brand from Antony Michaelson ...), I was intrigued by two boxes: the Eur 700 Stream box S2 Ultra and the Eur 350 Pre box S2 Ultra; just add your PC (maybe with a Tidal subscription), or, better, your tablet running the Pro-Ject app (as you see in my picture) and a pair of active monitors, and you're done with the HiFi and can concentrate upon the music :-)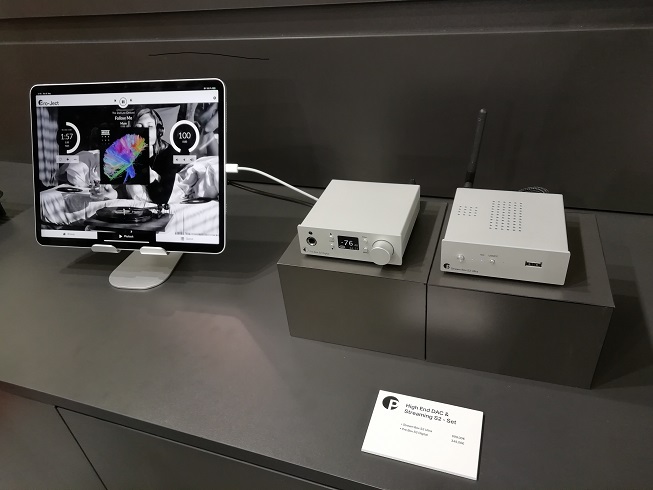 ULTRASONE
Let me finish with something still different, a pair of very top quality IEM (in-ear monitors) "headphones".
Enter Ultrasone's Sapphire model, that sports high-technology and very miniaturized drivers, for a result that gained the best-in-class votes by the HiFi magazines. It comes with a good deal of compliant interfaces between the earpiece and your ear canal. The things works if the canal is sealed, so all the sound emission behaves as foreseen during the design. Unfortunately, none of the interfaces that the very kind brand rep handed me worked well with my ears (maybe it's a sign...), but, when I managed to keep the pieces steady in my ear canal, the sound was effectively very full and almost loudspeaker-like, nothing to do with the in-your-head sound I am accustomed to when using my normal (old-school) headphones. They provided also the portable DAC/amplifier to drive their headphones and that you can see in my photo placed inbetween the tablet playing a song and the headphones on their rest (you don't need to buy it if you have your own can amp). Things get pricey, here (hey, it's the best headphone around, according to a magazine...), and are close to Eur 3.000. Anyway, there's a promotion for the summer: -15%; in practice, you get the amplifier for free... Hurry up, if you're in the market for such a thing at such a price ;-)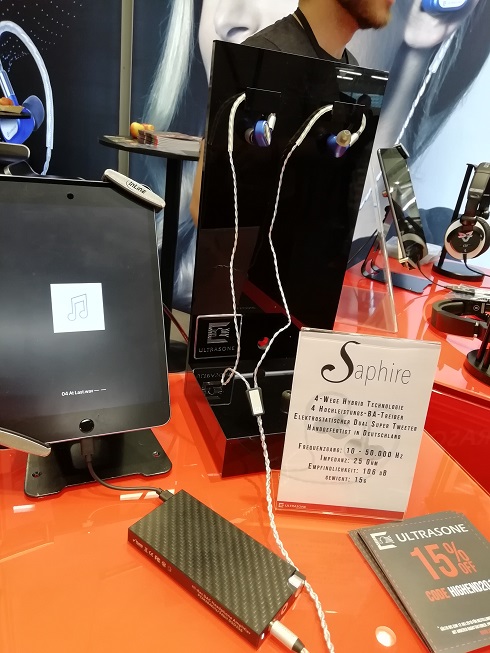 Another pit stop
Well, I think that this can be enough for a "second part". Maybe one more part will follow, but don't ask me when :-).

Back to the first part
Go to the third part

© Copyright 2019 Carlo Iaccarino - www.tnt-audio.com

[ Home | Staff & Contacts | HiFi Playground | Listening tests | DIY & Tweakings | Music & Books ]