A Visit to the High End 2019 show in Munich
Part III
Visitor: Carlo Iaccarino
The show took place from May, 9th through May, 12th, 2019 at the M.O.C. facilities, in Munich, Germany
Originally written: July, 2019
Website with plenty of resources: High End Society

And you thought it was over...
I've almost run out of thing to talk about, and in this third part, I'll show you just some pictures of what I heard and appreciated. Just to satisfy the voyeur in you (ok, us...).

Lets' start with FOCAL and NAIM
As usual, big spaces for both companies. This year, a major focus was on the French loudspeaker manufacturer, celebrating its 40th birthday.
Gorgeous finishes on Focal's loudspeakers, as usual.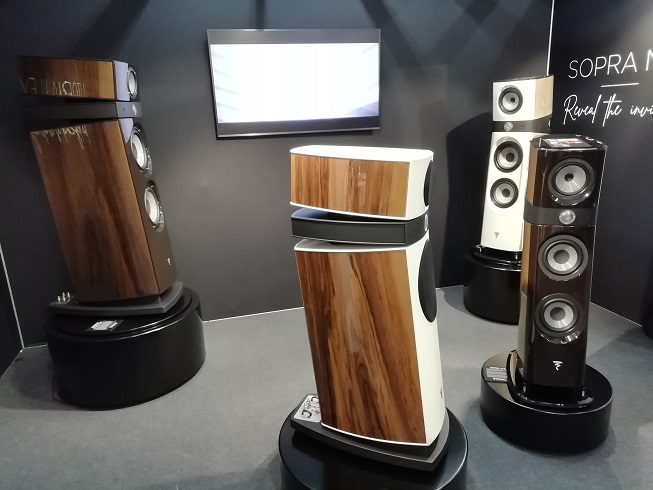 This year Focal exhibited also their first multichannel processor and amplifier, the Astral 16.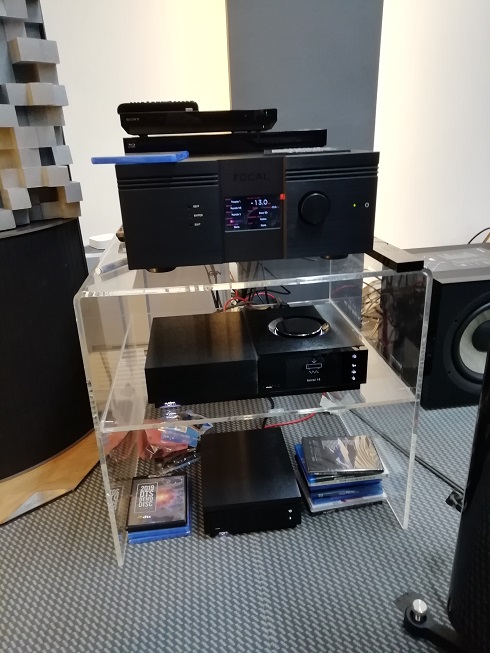 For around Eur 20.000, it can process up to 16 channels, decoding DTS:X and Auro 3D formats, and so on. One major feature, at least for me, is its Dirac Live room acoustic correction capability: it's already big business with 2 channel, and it becomes a serious affair in a multichannel setup. I asked why they did not rely upon Naim's expertise on amplifiers (as you see in my picture, there was Naim gear in the system, of course), and I was told that they preferred not to "waste" (my word) Naim's reputation for optimum audio-only reproduction. I don't think that if Naim currently made an A/V amplifier like the Astral 16 I would have any difficulty in enjoying its audio capabilities or considering its stereo offerings to be devalued, especially considering how powerful, compact and clever it is. But, hey, I'm not in charge of marketing decisions in either company :-)
The rest of the system sounded just okay, but it was, of course, just a demo of the multichannel "spectacular" effects: the power of this amplifier was evident, as well as its ability in decoding various formats of mch audio, always producing an immersive soundfield. I'm really curious to see (ok, listen to) how it deals with good mch music programs in a proper listening space... Although I cannot come even close to this machine's price tag :-)
Heading north, towards Estonia, to meet ESTELON
They showed their new Forza loudspeakers, that sounded, as always, very well, although less "sweet" than what I unreliably remember from their previous exhibitions.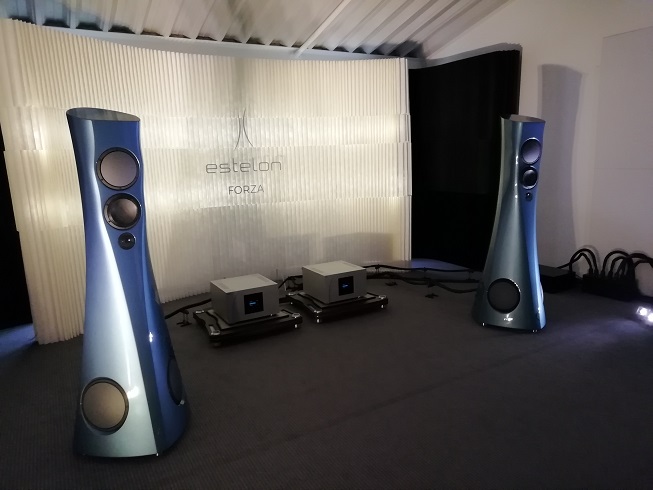 That was the big parade of CH Electronics used to drive them.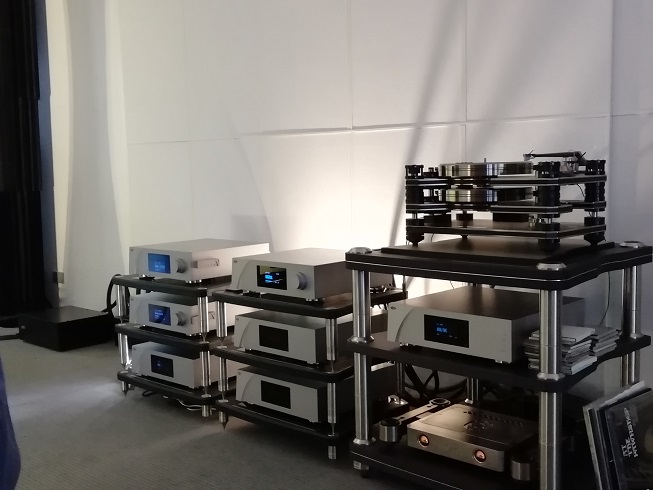 Although I know that we always must keep in mind that the MOC's spaces are not intended primarily for sound demonstrations, so it would be unfair to judge exhibited products only by what was heard there, I was tempted to associate Estelon's room sound to those electronics used. I found amplifiers of that brand in many other rooms, where I always listened to a somewhat "edgy" sound. Yet, CH Electronics are very favorably reviewed around the globe, so there must be something else going on and things must not be so simple.
Let's move on
Gorgeous!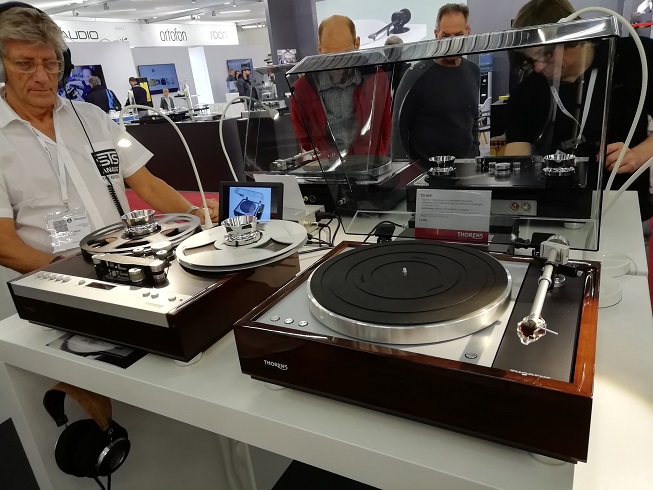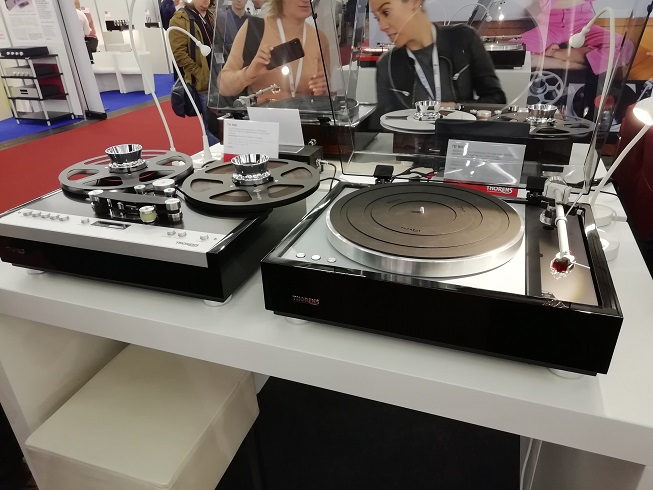 No other words come to my mind after seeing the new TD 1600 and TD 1601 suspended chassis turntable models (in the Eur 2.500-3.000 range) by THORENS flanked by the all-new reel-to-reel TM 1600 tape machine, whose fit-n-finish perfectly matches the turntables, making a terrifically good-looking combo.
Western Electric, after its "comeback" last year, this year exhibited a system built around their 91E integrated amplifier that adopts, of course, their 300B power tubes, and sells for around USD 12.500. Interestingly, for such an old technology, they claim an innovative design: they stressed that their circuit design was granted a patent just before the show, on April, 19th, 2019 (!)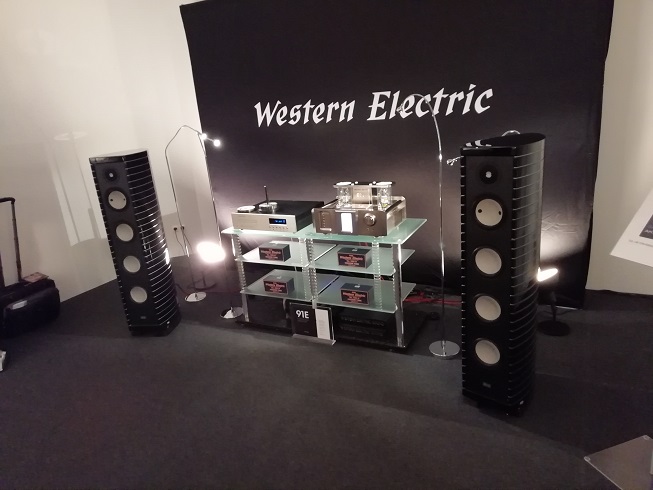 TOTEM exhibited the new V2 version of their Eur 8.000 Fire bookshelf loudspeaker and Eur 18.000 Metal floorstanding loudspeaker. As usual with Vince Bruzzese's loudspeakers, whose main driver is only mechanically filtered (the tweeter has its own electrical crossover), music flowed easily, with strong and deep bass and wide soundstage, less constrained by the room's walls.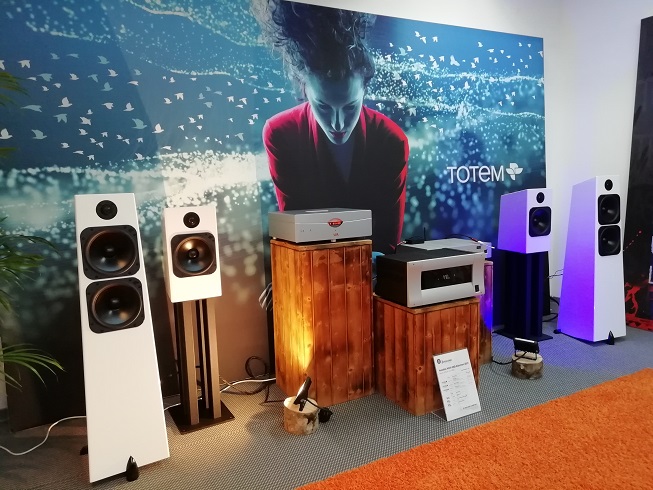 And there were also the usual big names
Here is DYNAUDIO and its Confidence floorstanding loudspeaker, for Eur 17.000, driven by Moon electronics.


The same brands worked together in the MOON's room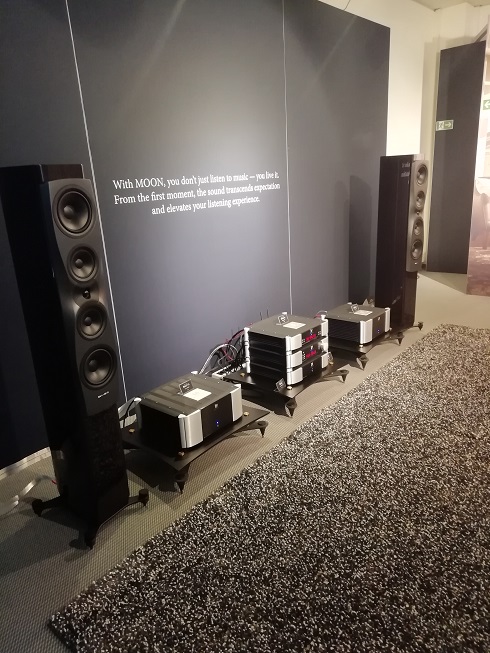 Here is the CONSTELLATION room, where a pair of MAGICO's M2 sounded very good (to me).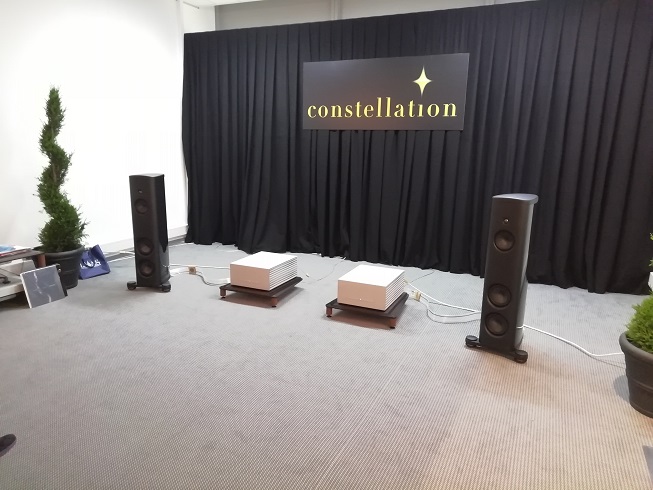 They were driven by Constellation electronics: the Andromeda phono stage, the Cygnus DAC/network player, the Pictor line preamplifier, all with their own separate power supply, plus the Taurus monoblocks.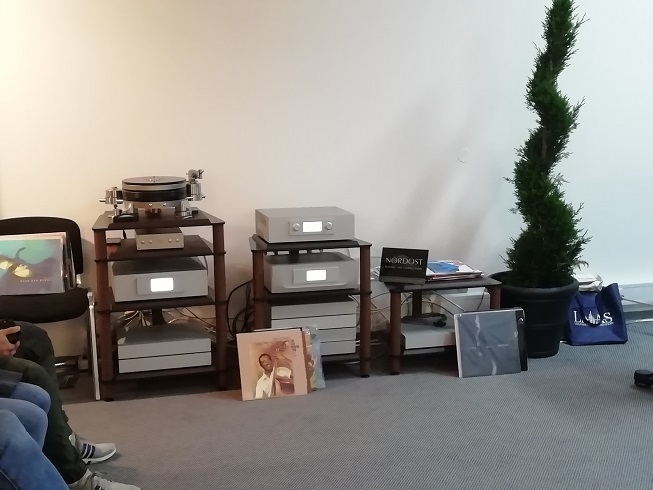 And now, for something completely different... Here we go with EINSTEIN, a German manufacturer whose systems always sound "different", in the most pleasant sense you can imagine.
They set up two systems, one voiced via a pair of floorstanders,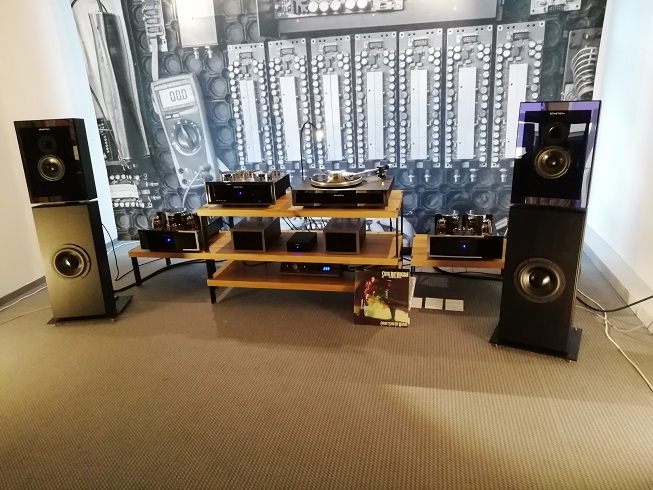 and another one voiced via a pair of standmounters.


As strange as it may sound, I was more intrigued by the little system's bass extension; maybe the tapered-ceiling rooms have played a role in this.
Very big LANSCHE loudspeakers were competently driven by Ed Meitner's EMM LABS electronics.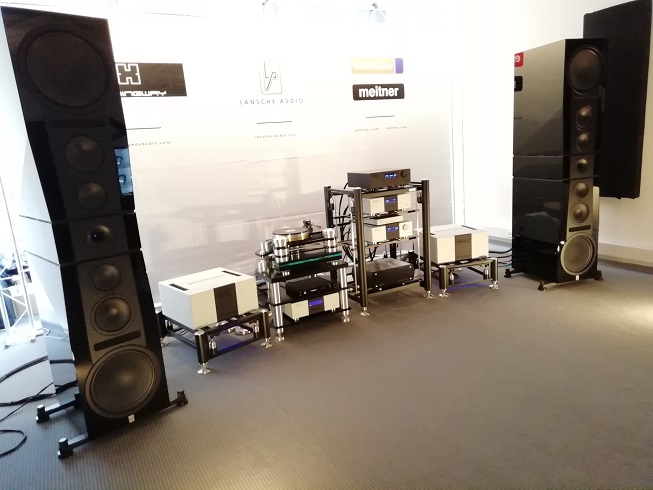 Naturally, there were WILSON loudspeakers at the show.
Here are the gorgeous Sashas, driven by SPECTRAL electronics, during a demo whose atmosphere was rather "liturgic" for me.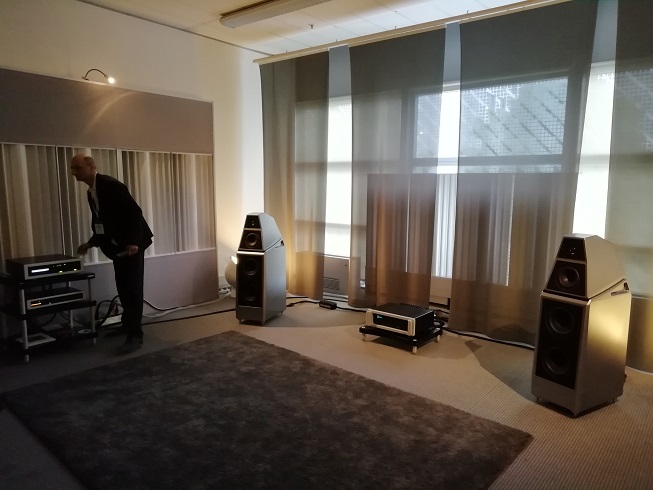 I think that the Wilsons did better when pushed with "real" music bites, like Italian reviewer Marco Cicogna usually does at audio shows, and actually did in DCS' room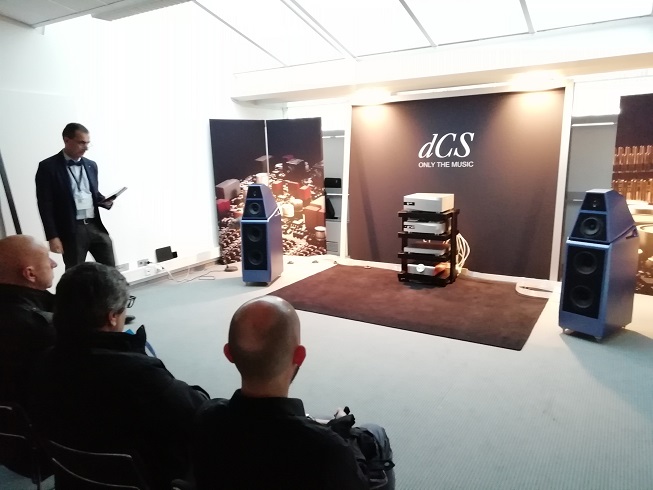 Small spaces, this year, for ESOTERIC, here pictured while driving a wonderful - as usual - pair of SONUS FABER floorstanding loudspeakers.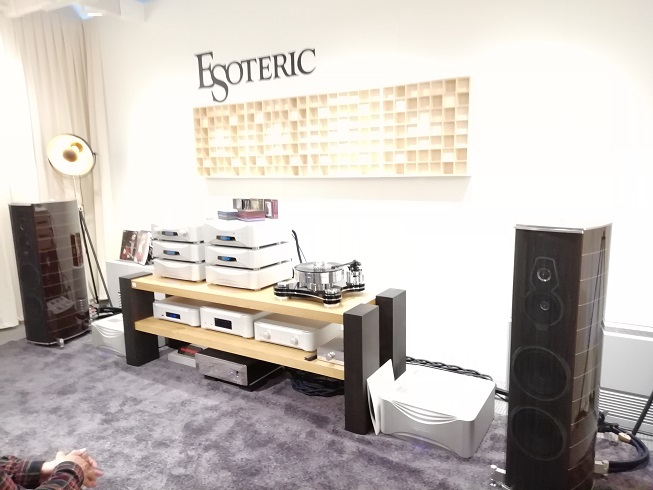 Then, the huge Monoliths by MARTIN LOGAN, back on its feet, very well sounding while driven by PASS electronics.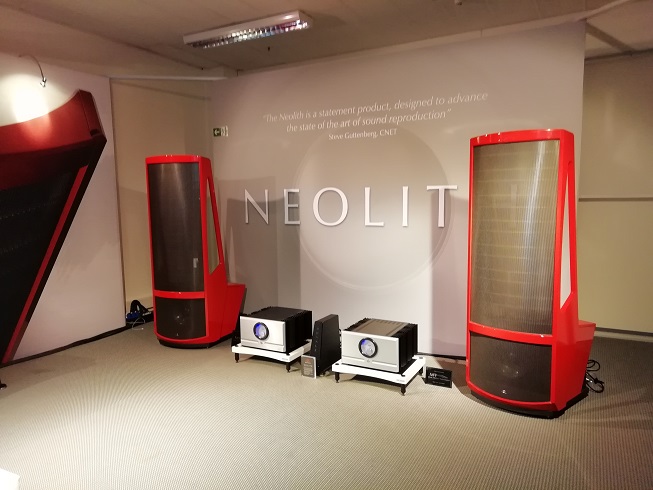 Here is the room where MSB electronics were driving a pair of Magico loudspeakers.

NAGRA set up a big system, driving even bigger YG loudspeakers.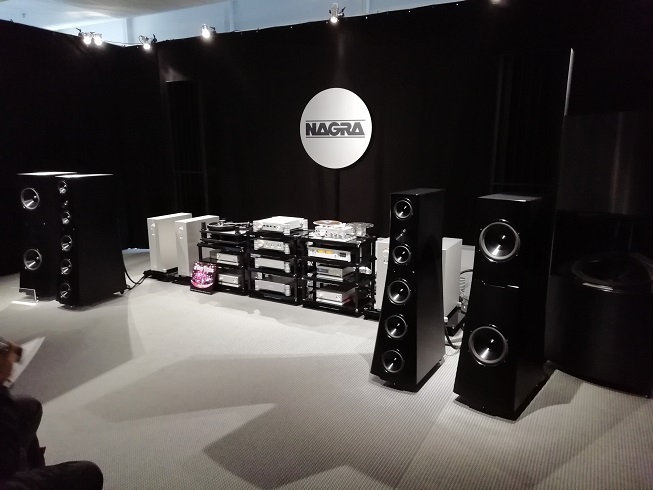 CABASSE set up a closed space in Halle 3, shared with the clever system by Pro-Ject that I described in the first part of this report. In the same "room", as I wrote, the main attraction was Cabasse's new Eur 5.580/pair The Pearl loudspeaker (the white ones in my picture). It has the brand's famous spherical shape, and it is an active loudspeaker, capable of accepting digital signals, also via WiFi, is DSP controlled, can be part of a system consisting of up to 8 of them, can stream music controlled by your cell phone, etc. It is one of those new objects, in the same category of Devialet's Phantom, but at a much affordable price and achieving the same (or similar) functionalities.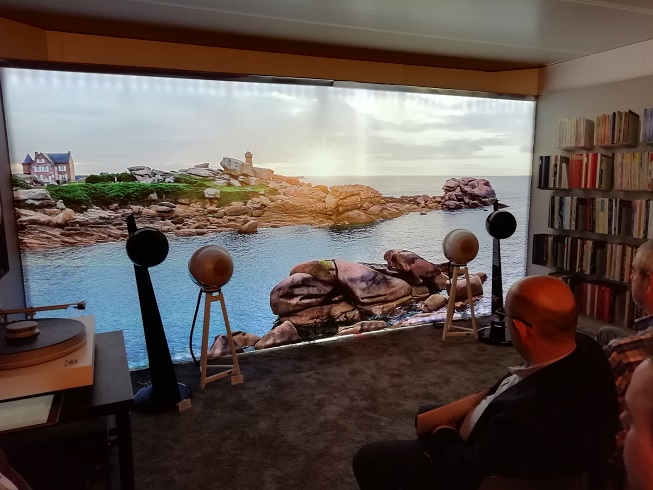 MARTEN exhibited several of their loudspeakers.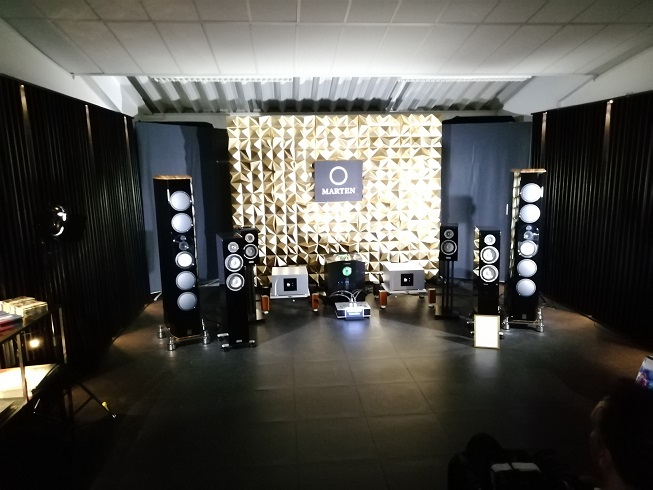 I couldn't fully appreciate the system's sound, however; also here the electronics were by CH PRECISION. Surely, a mere coincidence.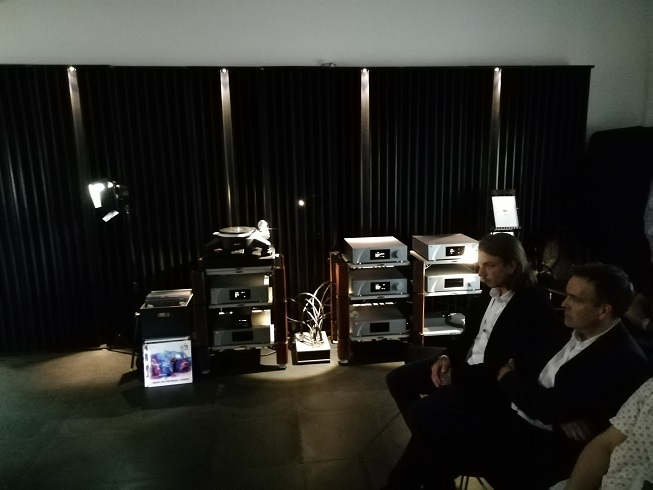 Usual big and pleasant sound in KHARMA's room, where they exhibited their Enigma Veyron EV-2.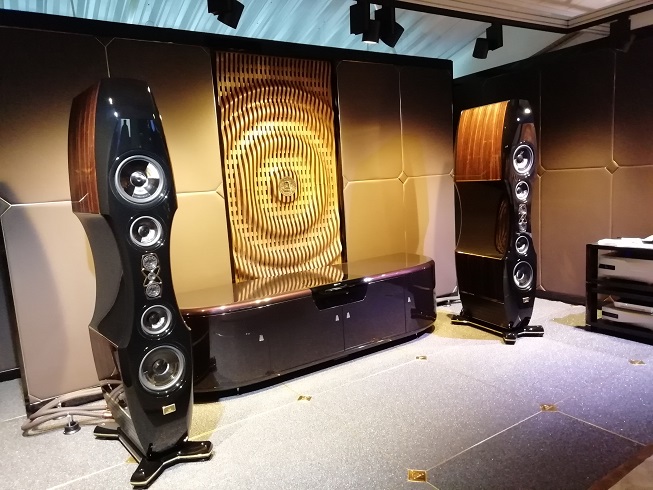 If only they hadn't that funereal look... :-)
And that's all
I should tell you about much more things.
A compact and easy to operate, advanced ultrasonic vinyl record cleaner by DEGRITTER, whose higher ultrasonic frequencies are said to produce tinier cavitation bubbles that better fit into the narrow grooves of you records, and whose active filtering removes dirt particles from the liquid in which your record is being cleaned. It's not cheap, though, at Eur 2.650.
The new ALCHEMY electronic line by ELAC, always designed by Peter Madnick: the Eur 1.000 PPA-2 phono preamplifier, the Eur 2.600 DDP-2 DAC/preamplifier and the DPA-2 power amplifier.
The surprisingly good, especially considering their price, gear by EMOTIVA, that allow you to build a good-sounding AND reasonably priced, very up-to-date multichannel system.
I guess that this is a good point to end my "report" from the 2019 Munich High End hi-fi Show, before it gets too long.
As every year, I invite you to plan in advance your "spring break" and include a week-end in Munich devoted to this show. Whether you may be in the market to improve your beloved system or to build a new one, whether you are simply curious of knowing what's going on in domestic audio reproduction, whether you simply want to stroll over a huge hifi-themed amusement park, you should consider to attend the Munich show. Here you'll also meet with the main players of this market and, above all, you will meet with other people suffering your same illness, be it the insane love for monotriodes or the unexplainable affection with record players, or the chronical desire to possess the rarest (or the newest) vinyl issue of that famous jazz combo, you will surely find lots of reasons to be there.
Moreover, once the show closes its doors, there's a nice city offering lots of food and musical entertainment options.
For many of us EU citizens it's a breeze to fly over Munich; depending on where you live, you can even reach it by a short highway drive. After all, I bet that everyone of us reading these pages easily deserves an innocent and short vacation like this. I surely will try to manage to be there next year, too.
BTW, mark your calendar: the 2020 show will take place from May, 14th through May, 20th; as always, the first day is not open to a general attendance, but only to a professional one: dealers, distributor and... the press ;-)
Back to the first part
Back to the second part


© Copyright 2019 Carlo Iaccarino - www.tnt-audio.com
[ Home | Staff & Contacts | HiFi Playground | Listening tests | DIY & Tweakings | Music & Books ]