[ Home | Staff & Contacts | HiFi Playground | Listening tests | DIY & Tweakings | Music & Books ]
Victure Clip Sport M3 player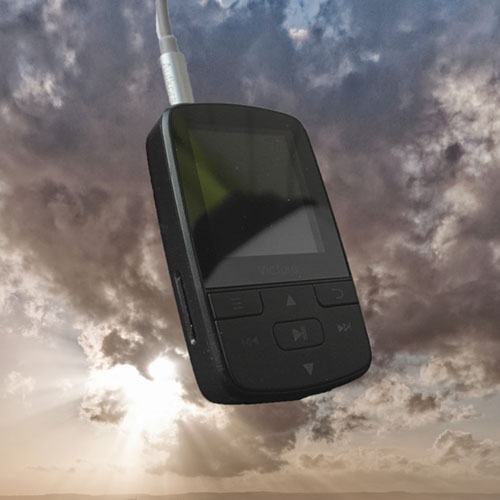 Quality on a budget
[Italian version here]
Product name: Victure Clip Sport M3 player
Manufacturer: Victure
Cost: Approx. 22 UK pounds (through Amazon where prices fluctuate up and down)
(Currency conversion)

Reviewer: Nick Whetstone - TNT UK
Reviewed: December, 2019
Last year I wrote a review of the Dodocool DA106 portable music player. I nearly didn't write it, wondering if a review of a low price portable music player was worthy of a place on TNT-Audio. I don't know if our esteemed editor, Lucio, thought the same but he published it anyway. And to my surprise, I received quite a bit of feedback on that review, and learned that some readers bought one as a result of reading it. Recently I decided that I needed a smaller, more lightweight music player, but something that could play my FLAC music files, and sound reasonably good too. If you have ever gone about buying such an item you will know that it is an exercise fraught with uncertainty, and a lottery as to what you will get for your money. So here is my experience, that I hope will point anybody looking for a portable music player, in the right direction. And let me stress; I bought the item in this review, and the manufacturer has not asked me to write this review.
I said that buying such an item is fraught with uncertainty so let me begin by explaining why. Once upon a time we didn't buy anything online simply because there was no 'online'. We usually went to the nearest shop or store that sold the item that we wished to purchase. If we were lucky, it was a store with a choice, and we bought the item that we most liked the look of, went home, and enjoyed our purchase. If something went wrong we could take the item back to where we had bought it from, and if it was still under guarantee, we got it fixed, replaced, or possibly received a refund. We did have some mail-order options too of course, but nothing like the plethora of outlets that we now see online.
Today, looking online is probably the first port of call for the vast majority of us. Ebay, Amazon, the newer Asian sites like Gearbest, offer a vast choice for almost any item that we care to search for. Often the choice is so large as to require a few weeks of full time research to try and find that 'best buy'. Another reason that making a choice is so difficult, is that the owner reviews are so contradictory. I'm sure that you have seen what I mean. An item with many five star reviews, but also a good percentage of one star reviews. That of course is down to the experience of the individuals who write the reviews, but it is also down to another factor; quality control, or rather the lack of it.
Many years ago, when I worked as a buyer for an engineering firm, we had a quality control inspector who was attached to our goods-in section. Our suppliers also had quality control inspectors in their factories, and between them, they ensured that the quality of the items that I, and my fellow buyers, purchased was of a reasonable and consistent quality. That was in an era where accountants sat in a small office checking the wages and other financial numbers, and had not yet been given a large say in how the whole business was run. When they did have that say, they went about cutting anything that they didn't see as strictly needed, and quality control was a major casualty. After all, they reasoned, why pay for a quality control department when the customer can do the quality control for us for nothing?
So today, we pay our money, and we take our chances. If we get a duff item we can return it as most countries have laws to protect the consumer. But it is still a nuisance, and a disappointment when you don't get what you expect to.
So back to my case. I had a look on Ebay and Amazon, and I landed up buying a tiny player, about the same size as a Sansa Clip that I owned a few years ago. The problem was that it was too small. Not only could I not read what was displayed on its tiny screen, the control buttons were placed so that it was extremely awkward to operate it. It had a pair of buttons on either side, and if I pressed on a button on one side, I almost automatically pressed on one of the buttons on the other side. So when it appeared to not to charge up fully I returned it and got my money back. Searching again on Amazon, I found one player with only five star reviews. Could it really be that good? I decided to give it a chance and ordered one. And what I received was so good, that it prompted me to write this review.
What I bought is made by a company called Victure. It is the Victure Bluetooth Clip Sport M3 MP3 Player to give it its full title. Despite the 'MP3' part of that name, it plays lossless files too, including APE, FLAC, WAV, WMA. Here are some other specifications:
BLUETOOTH 4.1 FUNCTION - Victure Sport Clip player works in both wireless and wired mode. The Bluetooth system supports 2.0 to 4.1, providing you a stable connection with other devices such as Bluetooth speaker or headset. Please be careful that Bluetooth function is only suitable for enjoying music, but not for FM Radio.
FM RADIO & LOSSLESS SOUND QUALITY - Victure Sports Clip player comes with a comfortable set of earphones and a built-in FM radio tuner, so you can listen to the radio or news everywhere. Many audio formats are supported such as WMA (NO DRM) and FLAC.
8 Gb of internal storage. The player will take up to an SD card up to 64 Gb in capacity to expand storage. (I have seen it claimed elsewhere that it will take a 128 Gb card but I have only tried my 32 Gb card))
LONG BATTERY LIFE - After charging about 1.5 hours (5V, 0.5-1A), you can get 30 hours of playback time with wired earphones, about 8 hours in Bluetooth mode.
Graphic equalizer with presets and user control.
Has Pedometer mode and a clock.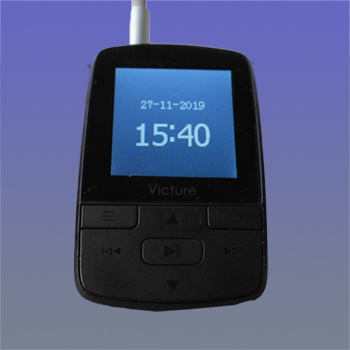 One of the aspects of buying new electronic items that I don't like is having to spend time learning how to use them. So I was very pleased with how intuitive the Victure was to use. I barely needed to look at the well written instructions at all. To date, I have found it to be about the easiest portable music player to operate. In that respect it is miles ahead of the more expensive Dodocool player. The only thing that I have not been able to do is to get the music on my my SD card to show up in the 'MUSIC' section of the player. But if I go to the 'FOLDER' section, I can find (and play) them straight away so it isn't really an issue. Other than that it all works perfectly, although I have to admit that I have not bothered trying the pedometer function. But I do like that it clearly shows the time when I need it.
The previous three players that I have used have also had an FM function but I found it to be almost useless. So I had another pleasant surprise when I tried the Victure's FM radio mode, and found several stations that came though loud and (very) clear. Apparently the Victure uses the headphones cable as an aerial so that may account for its success with radio reception. But whatever the reason, it works well.
I wrote about the Dodocool that it had a lovely sophisticated display, but that its content was difficult to see indoors, and just about impossible outdoors. Well there are no such issues with the Victure, and indoors or out, I can see what is playing, and navigate to another album or track quite easily and quickly. The tiny screen also displays album covers clearly, and any jpegs and videos that are stored on the Victure. That's amazing given its size!
So to the important part of any audio review, ie the sound quality. Obviously the sound quality depends a lot on the earphones/headphones, or earbuds that are used. Repeating what I wrote in the Dodocool review, I don't like paying out a lot of money for earphones as they tend to break or fail too easily. I am now on my third pair in the last year. Next time I will splash out a bit more for Bluetooth ones, as the usual point of failure is where the lead enters the minuscule jack plug. But currently I own a pair of (wired) Autkors, bought for under 13 pounds through Ebay. For the price they do a more than decent job (and are comfortable to wear). And the sound quality that I get with that combination is very good. Perhaps not quite as much weight as from the Dodocool, but not enough difference to make me aware of it all the time. The clarity is excellent, the bass more than adequate, and for listening 'on-the-go' it satisfies me. And I am quite fussy. The graphic equalizer allows the sound to be tailored to taste.
I use the player mainly for walks of about 40-50 minutes duration, and I find that the battery will last for four or five days after a full charge, and still have plenty of charge left. But I prefer to charge it up before it gets too low and I understand that this keeps it in better condition.
Lastly, the build quality appears to be quite decent. It's made of plastic but doesn't feel flimsy. The large clip on the rear of the case also seems robust, and I wouldn't hesitate to trust it to hold the player in place on a lapel etc. The buttons all work precisely. So all in all, I am very happy with this purchase. We all know that these modern pieces of electronics don't last as long as we would like. But at the price, I won't feel too bad if this player only lasts me a year or two. So if you like music on the go, and don't have, or don't want to run down the battery on, your phone, then I whole-hardheartedly recommend this lovely little player (and the Autkors earphones). Or you could could spend an awful lot of time looking for something better. I'd be very surprised if you succeed at anywhere near the price of the Victure Sport Clip!
DISCLAIMER. TNT-Audio is a 100% independent magazine that neither accepts advertising from companies nor requires readers to register or pay for subscriptions. After publication of reviews, the authors do not retain samples other than on long-term loan for further evaluation or comparison with later-received gear. Hence, all contents are written free of any "editorial" or "advertising" influence, and all reviews in this publication, positive or negative, reflect the independent opinions of their respective authors. TNT-Audio will publish all manufacturer responses, subject to the reviewer's right to reply in turn.

© Copyright 2019 Nick Whetstone - nick@tnt-audio.com - www.tnt-audio.com
[ Home | Staff & Contacts | HiFi Playground | Listening tests | DIY & Tweakings | Music & Books ]