[ Home | Staff & Contacts | DIY & Tweaks | Listening tests | HiFi Playground | Music & Books ]
May the fourth be with you
May Rockers - Angel Air Records
[Italian version]
May CD releases
Artist: Foghat: Not Live at the BBC
Artist: Stray: New Dawn and Alive and Giggin'
Artist: Robin George: Crying Diaminds and Dangerous Music live '85, him again?
Label: Angel Air Records
Reviewer: Mark Wheeler - TNT UK
Reviewed: April-May 2010

May the fourth be with you!
"So are these released on may 4th?" ask confused plebs, stage left,
No, they're released on May 3rd, replieth ye ancient scribe,

"Ha!" exclaim plebs, stage left, "The old git's just cracking off cheap puns even when they have no basis in truth. The journalism round here is really taking a dive this year."

Well this month there are 5 CD's reviewed if the doubles from Spray and the Wolverhampton Workaholic, Robin George, are counted as two.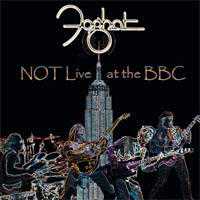 Foghat: NOT Live at the BBC
The plan to review this CD while testing the Waipuna Myrtle feet fell by the wayside as I just dug the drivin blues groove, man...

"Sheesh," splutter confused plebs, stage left, "The old scribe's spent far too much time in hospitality and is now lapsing into the argot of a forgotten generation..."

I first became aware of Foghat on seeing the name carved into the surface of a school desk at secondary school; no doubt some Foghat enthusiast had whiled away the hours using his geometry set to engrave this moniker instead of drawing circles with the compasses; desk graffitti was a good source of arcane music knowledge at school, I first became aware of the existence of Van Morrison's Vleedon Fleece sitting in 5Z during a 40 minute detention after school. Given that I am the old scribe, this is a less than subtle indication how long Foghat have been performing. Recorded in 2007, at EKO productions in New York State, this really is NOT Live at the BBC, just as it states on the cover. I think I did see an earlier lineup on the legendary BBC muisc show The Old Grey Whistle Test, which would therefore have been live at the BBC. However, this is NOT Live at the BBC recorded 7 years after the deaths of two founder members, but sounding like it could have been recorded anytime in between. Foghat's playing is tight and energetic. I listened to this one CD over and over again one night while trying to identify the qualities of the Waipuna Sound Myrtlefeet under a selection of CD players and amplifiers, and never got bored.
The Foghat CD stops you sitting still or concentrating on anything except boogie. Fuel up Canned Heat with some amphetemine and this is what you'd hear. I challenge any ageing blues rock fan to sit still while playing this; if you can sit still, you're either already dead or your audio system needs a complete rebuild. Has your hifi lost its PRaT? Get reading TNT-audio.com reviews, make audio purchases and set it all up as instructed in these pages. Foghat's closing track Slow ride speeds up towards the end in that classic just before we leave 'em wanting more stylee. Sloppy reflex alignments, excessive jitter, cr*ppy crossovers, mismatched output transformers etc will render this chaotic, great systems will leave you standing shouting "more" before you remember you're in your living room surrounded by dinner party guests.
Amazingly Fool for the City got played on BBC6 music on the 2nd May Sunday afternoon show, a much better effort than the morning show which cut 13th Floor Elevators short to tell us that there'd be a recipe later in the show; a BLOODY RECIPE instead of needletime. It was a rotten recipe anyway. Fool for the City stands up well among the fare from Muddy Waters, Whistling Williams and Bod Dylan that managed to interrupt the recipes and gossip. Stylistically, Foghat owe much to those bedfellows, offering eclecticism with quality playing and originalty.
In two consecutive months I have reviewed CD's with Shake Your Moneymaker as the penultimate track (last month was Eric Bell) which is almost as much as you need to know what this band will sound like live and on this CD. Turn it up, srand up and boogie. This is why you bought a big amplifier.
STRAY: New Dawn and Alive and Giggin
Funky bass lines, choppy rhythms and cheerful avoidance of formula create both studio and live CD's that keeps interest all the way through. How did I miss them first time around?
"Hah," gasp plebs, stage left, "How did the old scribe miss them first time around? His finger on the pulse credibility is shot to pieces"
Originally recorded in 1997 as the comeback album for a band who'd been around since 1966, recording since '71, with a 20 year recording hiatus from '77 - '96, New Dawn comes packaged with Alive and Giggin" from '96, now repackaged by Angel Air records for the princely sum of £8.96. The band's untimely break up in '77 was allegedly due to mismanagement and them having to sell all their assets and split. Guitarist Del Bromham lives in Milton Keynes (new town penance in itself) and regularly cobbled together bands form Stray's membership to perform the material from Stray's 11 albums (plus 3 live & two compilations) and they've been back together for the 21st century. Stray were once uncharitably described as "The poor man's Status Quo" (and my friends who changed from an original material band to Quo tribute band Shameless Quo discovered that's a much richer seam to mine).

Stray sound to modern ears more like the best of (newly rehabilitated) British Prog Blues, with an added dash of Canterbury style psychedelia. There are moments reminsicent of Mountain and indeed Stray once supported touring them and guitarist Del Bromham still tours with Leslie West of mountain, and hints of Iron Butterfly and Free, much more upbeat. I cannot imagine Stray audiences being sat down. The curious drum and synth opening statement sounds like it ought to be pipes and drums but after that it all settles into classic brit-rock grooves on drums and bass guitar overlaid with imaginative guitar parts, the whole sometimes reminiscent of influences as diverse as Link Wray to Caravan.
After material that would'nt've sounded out of play at Woodstock or monterey, Rock Steady (track 10) reintroduces us oldies to the fashionable effects unit of '77, the Heil Talk Box! This was a compression driver at the foot of a hosepipe designed to emulate the effect of putting your guitar amp speaker in your mouth and shaping the sound with the shape of the guitarist's embouchure! Back then I built a cheapo version using an old 150mm speaker and garden hose, but sadly my DPDT switching unit failed to cut the main speaker and as the guitarist stomped the footswitch I got a howl of microphone feedback through one earpiece that left me monaurally deaf for a couple of days. Hence, your old reviewer has unpleasant associations with the Talk Box. Stray redeem themselves with a homage to Jimi constructed mostly from Hendrix songtitles; corny but cute.
Alive and Giggin' is another reason to own a vivid sounding audio system. Recorded live in 1996 at the Robin hood R'n'B Club in the British West Midlands, the area that's produced more rock music than anywhere else in the world; the same venue where their Live: In Yer Face CD was recorded in 2002. No attempt has been made to remove 50Hz mains hum picked up by the microphones and leads, soundstage is bordering on mono, but it is vibrant lively and fun even if Buying Time (track 8) features that damned Talk Box again. Get home from a hard day at work, pop open a can and play this loud, it's as good a reason to own audio as any.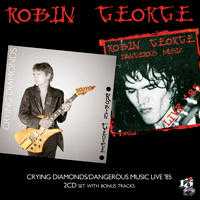 Robin George: Crying Diamonds and Dangerous Music Live '85
Robin George is fast becoming a one man music industry. Not only is his workaholic ethic plus obsessive attention to detail driving constant output and re-authored output, but in an unusual reversal of fortunes, his record company appear to be under Robin's yoke of workaholic oppression to issue this endles stream of product.
By what Faustian Pact at the Crossroads has Robin George achieved this? Demand Plebs, stage left
Faust only acquired from Mephistpholes a few cheap tricks (not Cheap Trick, the Aussie 12 bar band of the late 70s, famous for specifying 'piss yellow vinyl' for At The Budokan) in exchange for his soul. Has Robin George exchanged his soul for the opportunity to repolish his oevre and apply the craftsmanship gained over an extra quarter century?
"We know recycling is fashionable these days," whinge plebs, stage left, "but why should the same old stuff be foisted upon us all over again like when they conned us to buy CDs of stuff we had on LP?"

Robin anticipates his programme of reissues will offer superior sound quality and the chance to include tracks recorded at the time but rejected due to record company scissors and politics. Moving from those lumbering dinosaur major labels to the industrious scurrying indie labels is ironic for one who was once a mainstay of majors, but such things often travel in circles. Music is now so diverse it is no longer controllable by global industries so of no further interest to them except for cross platform reality show derived product. What goes around comes around (as Robin sings on track 5 of Crying Diamonds) and luckily for the survivors along comes renewed opportunity knocking to apply years of experience to achieve what was always in the mind's ear. Robin likens it to any art restoration project, to clean and illuminate hidden depths, which is what can be achieved by re-mastering recored music. The only risk is the time and trouble taken, he says, which is no risk at all if the result increases personal satisfaction and lays some old ghosts to rest... or even raises them Lazarus like to emerge from the cutting floor into the daylight of a re-release.
Robin George is determined to apply the skills acquired over the ensuing quarter century to hone and polish his earlier work to new levels of perfection using his own studio to achieve "the best possible audio quality utilizing the latest technology that helps me achieve this". Your old scribe has a splendid old '79 Triumph Bonneville which I've owned since '88; I've rebuilt the engine internals but the outside of the machine bears the patina of wear and of all that I have done with it. There are scars on the alloy engine cases from wear from rubbimg braided hoses; there are worn areas on the frame powder coating from where I bungeed a bag of 48 beer cans for a weekend away camping at a biker party, you get the picture. Fellow members of the Triumph owners club awarded it the De Grot rat bike trophy 2 years in a row.
Those same fellow Triumph owners take their bikes off the road in Winter and polish the engine cases with ever finer grades of abrasive polishing compound, retouch stone chipped paint, rechrome parts and reassemble with loving attention to detail. Hence it is a matter of taste, this persuit of polished perfection and the music on Crying Diamonds is immaculately played and produced, but it leaves me wanting more rough edges. It so so polished to perfection that it would sound just as fine on average audio systems. The opening track Learn The dance is one of the finest funk-rock tunes that should've been a hit single and rock club floor filler. Cocoon has more cohones on the recent Life project release, with less compression on drums and what sounds like lower average level on the CD too. However, Robin insists that he always records at just short of clipping (-0.1dB!) so it's a subjective effect and your old scribe can't be bothered to take the CD from the player to measure it. Hence my desire to crank Yesterdays News right up to really hit the spot; it could easily be a Free or an Argent song and Machine could be Heaven 17, such is the diversity. Rock needs a bit of rough. The title track and Kings Call (written by Phil Lynott) are both incredibly strong songs that I'd rather hear played unplugged at 3M distance in a pub back room.
Robin George notes that the differences between Crying Diamonds and Cocoon versions of Cocoon are also explained by Life featuring Nick Tart's more powerful vocals than Robin's own so they do not need to be as elevated in the mix. Life Cocoon is mostly analogue initial recordings while Crying Diamonds is mostly digital. Your old scribe is not suggesting either is superior because both digital and analogue master recordings are an order of magnitude superior to what is possible in the domestic domain, but that each tool invites its own aesthetic in response from the user.
"Two CD's are included in this purchase, so what's the other one like?" enquire plebs, stage left, perfectly reasonably

Absolutely brilliant! Quoth your ageing scribe. This live performance from 1985 has dynamics and you are there qualities in spades. Not the you are there qualities of crossed pair minimalist recordings of harpsichords in Rennaissance churches performing the pre-Bach repertoire, but the you are there qualities of live feed from the desk at the venue. Hence there are quirks (like "good night and see you soon" at the end of track 10, even though there are 6 more tracks to go, including the 4 BBC recorded In Concert bonus tracks. These are the rough edges that keep it fresh.
You can take the boy out of Wolverhampton (British West Midlands again) but you can't take Wolverhampton out of the boy as he thanks the audience with a cheery "Cheers!". Dangerous Music Live '85 alone is worth the cover price; the sound quality is more vibrant (and obviously less polished) with more of the edge and nuances that only good audio systems reproduce and that make the persuit of this hobby so worthwhile. every time I sat down to write this review I listened straight through. What more can I say.
Conclusion
More rock reissues and remasters this month. A salutory lesson in production values and audiophilia. It takes great skill to polish recordings to perfection so they will work fine on a wide range of systems. It takes great audio systems to bring out the best in less produced recordings, especially live recordings. Of the 5 CD's that make up these 3 releases it's the live discs that really make your old scribe move.
Without a supply of well recorded music (whatever the production values) there is no point in audiophilia nervosa. Fortunately the supply shows no signs of drying up.
Music enjoyed while writing this review
Foghat: NOT Live at the BBC release 3rd May 2010
Stray: New Dawn b/w Alive and Giggin', double CD, release 3rd May 2010
Robin George: Crying Diamonds b/w Dangerous Music Live '85, release 3rd May 2010
"When are we going to hear about some minimalist audiophile recordings?", complain plebs, stage left
When some appear with some great music. If you're making them, then submit them for review, clearly some labels don't have the chutzpah to submit their releases to this scrutiny, offers the old one in reply from his lofty mountaintop.
if your recordings, cds, lps or hi-res downloads demonstrate above average sound quality or interesting performances,
Whether you're a recording studio, label or artist,
this page will plug good recordings mercilessly.
Great audio is pointless without great music!
Copyright © 2010 Mark Wheeler - www.tnt-audio.com
[ Home | Staff & Contacts | DIY & Tweaks | Listening tests | HiFi Playground | Music & Books ]