TNT-Audio Readers' Corner
Monthly section devoted to your letters, positive and negative feedback about everything related to Audio and HiFi.
You are here > Home > Staff & Contacts > Letters of the month
July 2016
DACs comparison
Hello Nick,
reading your article about iFi iDAC 2 DAC, I'm wondering how it compares to the MHDT Pagoda as a DAC, also with or without advanced PSU adn iFi ipurifier 2. You say you tried the iDAC 2 playing through the Pagoda, but you didn't mention any comparison between the two as a DAC.
Best Regards,
Gianluigi - E-mail: gbaro (at) tiscali.it
NW
Hi Gianluigi,
I'm not sure if we can draw direct comparisons between these two DACs. The iDAC2 will play DSD files whereas the Pagoda won't. As regards sound quality, I slightly prefer the sound of the Pagoda, but that has a valve buffer, and it may be the sound of that, that I like. But both DACs would be more than welcome in my system, and given the price difference, and the fact that the iDAC2 plays DSD stuff, that would be my choice. With a good power supply, the sound is close enough to the Pagoda.
The prices are quite different too, so it is hard to recommend one over the other. It is sad that it is not possible to listen to these DACs at home if you are not a reviewer because most of them theses days are so good, that it really is down to personal preference, and system matching, to choose between them.
Regards,
Nick Whetstone
Passive preamps
Hello Nick,
Last year I started with the construction of my hifi equipment. Currently I would like to build with a passive preamp. After some research, I have taken two solutions shortlisted.
TVC volume Control (www.sacthailand.com or http://www.intactaudio.com/atten.html)
Lightspeed attenuator
I am very interested in your solution and have the following questions: is there a difference in sound to Lightspeed attenuator of George Stancheff? Which remote control I can control the volume, how does it work? Is the kit still available?
Thank you very much.
Best regards,
Jurgen - E-mail: j.krauss (at) bwk-dachzubehoer.de

NW
Hi Jurgen,
I have no idea if the Lightspeed attenuator is still for sale. You can contact them at georgehifi (at) optusnet.com.au to find out.
I do not have experience with TVCs, so I can't make a comparison with the optical volume controls such as the Lightspeed. As regards remote control (and I consider that mandatory these days) there are lots of kits on Ebay that come with a potentiometer type volume control that you may be able to adapt to work with something like the Lightspeed if it is still available.
I hope this is of help.
Regards,
Nick Whetstone

Nad c520 or Vela cd player?
Good Morning.
I have a cd player nad c520 playing with a Vela amplifier and would like to buy a CD player Vela to do together with the amplifier. Which is the best CD player? Vela or nad c520?
Thank you.
Best regards,
Carlos - E-mail: carlosperes (at) carlosperesarquitecto.com

LC
Dear Carlos,
I think the Vela CD is a better performer than the old (1999!) NAD C520. Moreover, the Vela CD would be a perfect match for your Vela integrated amplifier. Hence, I suggest to buy it. Do not expect a giant difference in performance, as digital players all sound very close one to the other, when they belong to the same price class.
It also depends on the rest of the system/room: a highly revealing system might help in discerning differences while a lesser system might mask everything.
Hope this helped somehow,
Lucio Cadeddu

System upgrade
Just wanted to update my system:
NAD 3020
JVC XL-Z1050
DUAL 510 SHURE VST
MARANTZ 2220B
MAGNAVOX CDB 473
TECHNICS SL-1700 AT100E
INFINITY RS 4000a
ADS L470
All vintage for around $200. Can't afford the new stuff! How would this system compare to a newer system around the same value used today in your opinion?
John - E-mail: jtsowers62 (at) gmail.com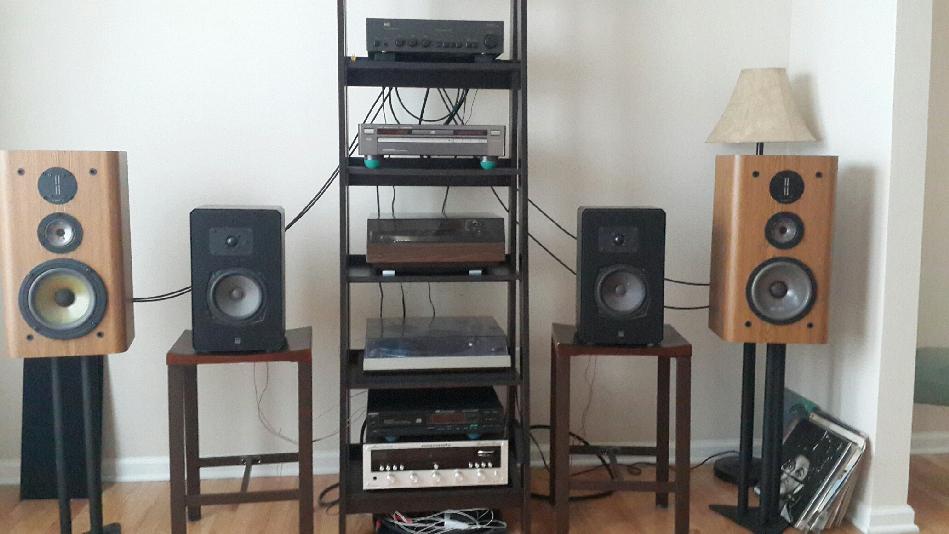 LC
Dear John,
your system is quite interesting and composed by some very nice piece of gear, namely the NAD3020, the JVC CD player, the MARANTZ 2220B receiver and the Infinity loudspeakers. It is not 100% clear to me the way you use these components. You have two turntables, two pairs of speakers, an integrated amplifier and a receiver. In any case, my opinion is that your system could be compared, performance-wise, to a modern system of, say, 2500/3000$. Have you really paid 200$ for everything or 200$ per piece? (which sounds reasonable to me).
I just have only a simple advice: choose the components which sound better, in your opinion, and sell the rest. My best bet is: NAD 3020 + Dual 510 + JVC XL-Z1050 + Infinity RS4000a.
Happy listening!
Lucio Cadeddu

Thorens TD 520 Turntable
Hi Lucio,
Just briefly, hope you have a moment for some advice? My father, who passed away a decade ago left me with a Thorens TD 520 Turntable. I don't really own much vinyl and although a little tempting, my wife will kill me if I start collecting lp's now!
I want to move this turntable on, it seems to be fairly rare and fairly expensive. It has a SME arm and a Ortofon MC-30 Stylus and is in Mint condition. You may not feel comfortable in answering this request, but was just after a realistic figure that it should be sold for?
Regards,
Anthony - E-mail: abarkwith (at) hotmail.com

LC
Dear Anthony,
you're right, the TD520 is a rare and very good turntable. Considering the MINT condition I'm petty sure you could expect anything from 1500 to 2000€ (or $). Hence, my advice is to take some nice pic of your 520 and put it on Ebay, if you feel comfortable with this site. Otherwise publish a "for sale" ad on second-hand HiFi websites and start with a higher price (say, 2500€) then lower it if interest seems low. It all depends on how quickly you'd like to sell it.
Hope this helped somehow,
Lucio Cadeddu

Downsizing
Hi Lucio,
Hope you are doing well. A temporary change of residence and moving into a much smaller space means that I have to economize on my audio as well - for the moment. Here they are:
An old PC with foobar, hysolid & lots of flac / wav
Meridian explorer DAC
Belkin RCA to 2 RCA
Naim Nait 5i-2
Klotz 11 gauge speaker cable with OFC banana spades
JBL Control One speakers
which translates into very good stereo music. Of course.. large speakers do large scale music well & I guess happiness is where you find it!
Best wishes,
Mahesh - E-mail: mpwaran (at) yahoo.com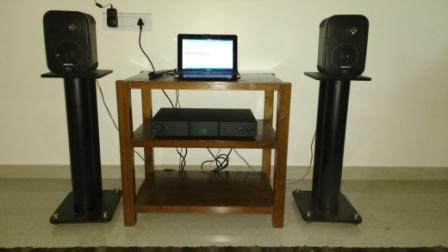 LC
Dear Makesh,
downgrading might be a surprising practice :-) Sometimes a smaller set up can sound unpredictably good, sometimes even better than a more expensive system. A smaller room might help as well. The most important thing is that we can still enjoy the music!
Happy listening!
Lucio Cadeddu
TNT Readers' Corner archives (most recent at bottom)
[ 01/2000 | 02/2000 | 03/2000 | 04/2000 | 05/2000 | 06/2000 | 08/2000 | 09/2000 | 10/2000 | 11/2000 | 12/2000 | 01/2001 | 02/2001 | 03/2001 | 04/2001 | 05/2001 | 06/2001 | 07/2001 | 08/2001 | 09/2001 | 10/2001 | 11/2001 | 12/2001 | 01/2002 | 02/2002 | 03/2002 | 04/2002 | 05/2002 | 06/2002 | 07/2002 | 09/2002 | 10/2002 | 11/2002 | 12/2002 | 01/2003 | 02/2003 | 03/2003 | 04/2003 | 05/2003 | 06/2003 | 07/2003 | 09/2003 | 10/2003 | 11/2003 | 12/2003 | 1/2004 | 2/2004 | 3/2004 | 4/2004 | 5/2004 | 6/2004 | 7/2004 | 9/2004 | 10/2004 | 11/2004 | 12/2004 | 1/2005 | 2/2005 | 3/2005 | 4/2005 | 5/2005 | 6/2005 | 7/2005 | 9/2005 | 10/2005 | 11/2005 | 12/2005 | 1/2006 | 2/2006 | 3/2006 | 4/2006 | 5/2006 | 6/2006 | 7/2006 | 9/2006 | 10/2006 | 11/2006 | 12/2006 | 1/2007 | 2/2007 | 3/2007 | 4/2007 | 5/2007 | 6/2007 | 7/2007 | 9/2007 | 10/2007 | 11/2007 | 12/2007 | 1/2008 | 2/2008 | 3/2008 | 4/2008 | 5/2008 | 6/2008 | 9/2008 | 10/2008 | 11/2008 | 12/2008 | 01/2009 | 02/2009 | 03/2009 | 04/2009 | 05/2009 | 06/2009 | 07/2009 | 09/2009 | 10/2009 | 11/2009 | 12/2009 | 01/2010 | 02/2010 | 03/2010 | 04/2010 | 05/2010 | 06/2010 | 07/2010 | 09/2010 | 10/2010 | 11/2010 | 1/2011 | 2/2011 | 3/2011 | 4/2011 | 5/2011 | 6/2011 | 7/2011 | 9/2011 | 10/2011 | 11/2011 | 12/2011 | 01/2012 | 02/2012 | 03/2012 | 05/2012 | 06/2012 | 09/2012 | 10/2012 | 11/2012 | 12/2012 | 1/2013 | 2/2013 | 3/2013 | 4/2013 | 5/2013 | 6/2013 | 7/2013 | 9/2013 | 10/2013 | 9/2013 | 11/2013 | 12/2013 | 1/2014 | 2/2014 | 3/2014 | 4/2014 | 5/2014 | 6/2014 | 9/2014 | 11/2014 | 12/2014 | 01/2015 | 02/2015 | 03/2015 | 04/2015 | 05/2015 | 06/2015 | 09/2015 | 10/2015 | 11/2015 | 12/2015 | 1/2016 | 2/2016 | 3/2016 | 4/2016 | 6/2016 ]
[ Home | Staff & Contacts | DIY & Tweaks | Listening tests | HiFi Playground | Music & Books ]