[ Home | Staff & Contacts | DIY & Tweaks | Listening tests | HiFi Playground | Music & Books ]
Paul Beaudry & Pathways - "Americas"
Jazz in full Real Stereo effect
Artist: Paul Beaudry and Pathways (official website)
Album details: "Americas" - 2012 - SR-1004 by Soundkeeper Recordings
Musical genre: 100% jazz
Approx. price: 15$ (direct from Soundkeeper Recordings)
Reviewer: Lucio Cadeddu - TNT Italy
Reviewed: June, 2012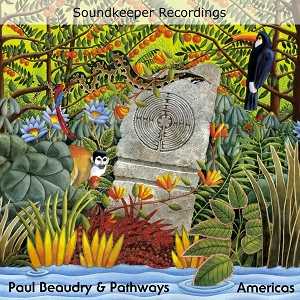 Paul Beaudry & Pathways "Americas"
I have been waiting for this recording for a couple of years, since when Barry Diament announced me he was trying to produce a pure, no compression Real Stereo album played by acoustic instruments only! For this ambitious project Barry Diament choose a jazz quartet. This album titled "Americas" features a standard jazz quartet led by Paul Beaudry. The rest of the band consist of Tim Armacost (tenor saxophone, soprano saxophone), Bennett Paster (piano) and Tony Jefferson (drums). Visit Paul Beaudry official website for more infos on him and his musical projects.
The recording was done in the same 1908 auditorium where the albums Equinox and Confluence, two albums we have already reviewed here on TNT-Audio. Bennett Paster used a 1908 Steinway grand piano. Technically, the recording makes use of the usual Soundkeeper set-up: a two-mic stereo array consisting of a matched pair of Earthworks QTC-1 microphones, separated by a custom-made absorbent baffle (a variation on the Jecklin Disk). The output of the mics was connected, by means of a pair of Nordost Valkyrja cables, to a Metric Halo ULN-8, which converted the signals to digital at 24/192 and fed the laptop hard drive via FireWire. All songs are complete performances recorded direct to stereo with no overdubs, no mixing. No processing (EQ, compression etc.) was used in the recording or mastering. Just pure music straight from the band and the mics!
This album contains 9 tracks and, except for Harmonia Mundi (written by Bennett Paster, the pianist), they all come from traditional American music, a choice inspired by a 2010 tour to Trinidad & Tobago, Suriname, Nicaragua and Honduras. Hence the whole CD is a celebration of North, Central, South and Caribbean music. The album includes songs from Argentina, Cuba and Haiti as well. Overall, this is joyous collection of different musical flavours that make the album extremely fun to listen to.
You can judge by yourself listening to the free track excerpts on the Soundkeeper Recordings website. The high quality of the recording can be enjoyed through these MP3 samples as well!

Jazz in full Real Stereo effect!
Before analyzing the most relevant technical aspects of this recording, let me show you the screenshot from the DR software applied to this recording. Let me remind you the DR software measures the amount of (average) dynamics contained in a recording, for more details please refer to our list of records analyzed via this software.

------------------------------------------------------
 DR       Peak   	   RMS    	 Filename
------------------------------------------------------

 DR14	  -0.85 dB	 -19.54 dB	 Track01.wav
 DR16	  -0.56 dB	 -23.19 dB	 Track02.wav
 DR16	  -0.36 dB	 -19.76 dB	 Track03.wav
 DR13	  -8.19 dB	 -25.56 dB	 Track04.wav
 DR13	  -8.48 dB	 -24.97 dB	 Track05.wav
 DR15	  -1.60 dB	 -21.26 dB	 Track06.wav
 DR17	  -0.97 dB	 -21.65 dB	 Track07.wav
 DR15	  -2.65 dB	 -22.26 dB	 Track08.wav
 DR16	  -0.34 dB	 -19.70 dB	 Track09.wav
----------------------------------------------------------------------------------------------

 Number of files:    9
 Official DR value:  DR15 

==============================================================================================

From the list above you can see the measured average is DR15, an absolutely stunning result, with three tracks peaking at DR16 and one reaching DR17!
Different formats available!

SR1004 	CD pressing 	$15
SR2004 	CD-R 	$20
SR4004 	24/96 (audio only) DVD-R 	$30
SR6004A 	24/96 .aif files-on-disc DVD-R 	$35
SR6004W 	24/96 .wav files-on-disc DVD-R 	$35
SR8004A 	24/192 .aif files-on-disc DVD-R 	$45
SR8004W 	24/192 .wav files-on-disc DVD-R 	$45

As usual with Soundkeeper zero-compression recordings, you need to turn the volume higher than usual to get right impact. The huge dynamics will do the rest :-)
This is not a spectacular recording as you might imagine: it sounds just like live music, lively, strong and communicative as only the real thing can be. No special effects, just an extremely realistic performance. What I call the out of the room test is jaw-dropping with this recording: just walk outside the listening room, go upstairs (or downstairs) or simply "outside" and listen to the sound: if it seems a jazz band is playing somewhere inside your house (I was outside, in the garden, for example) than the recording - and your HiFi system! - are doing what they are meant to do. Not even a trace of artificial or electronic sound! Just the illusion of real instruments playing somewhere for you...
Tuneful and thunderous bass frequencies are present throughout this album but this strong presence doesn't affect the precision and transparency of the mid range, for example the more delicate piano sections or the saxophone parts. The piano parts deserve a special mention, because the sound is extremely realistic, clean, natural as it rarely happens to hear.
Each and any of these 9 tracks can be successfully used as test tracks. My favourites are Every time ah pass (DR17!) and Nicaragua Nicaraguita (DR16) which are really explosive! You can turn the volume up, higher and higher, and the sound just gets bigger and bigger, apparently there's no limit to sound pressure and lifelike dynamics. Of course, you need a good HiFi system to fully enjoy this huge amount of energy!
El bananero is incredibly entertaining while Harmonia Mundi is an excellent test for its uncanny piano reproduction.
Finally, what would you expect from a two-mics Real Stereo recording? Excellent soundstaging, right? Oh yes, the virtual stage your system can create with the aid of this recording is huge, excellently stable and focused. Instruments are precisely located in space and have a really natural size. Height, width and depth are extremey good (depth, in particular) and it is easy to detect the sound of the hall where the band played.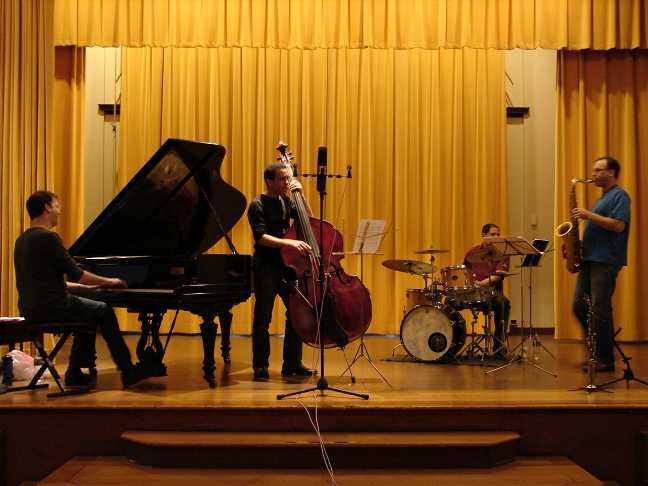 Please note the "Real Stereo" position of the mics
Conclusions
I don't know whether this is the perfect jazz recording, for sure it is one of the best I've ever heard. There are several excellent jazz recordings (especially from Reference Recordings and Chesky) but nothing comes close to Americas in terms of realism and presence effect. Need I say more?
Paul Beaudry & Pathway at Bryant Park NYC
© Copyright 2012 Lucio Cadeddu - direttore@tnt-audio.com - www.tnt-audio.com
[ Home | Staff & Contacts | DIY & Tweaks | Listening tests | HiFi Playground | Music & Books ]