[ Home | Staff & Contacts | DIY & Tweaks | Listening tests | HiFi Playground | Music & Books ]
High End 2006 Show in Munich Germany
Part 4: Even more Gentlemen in Audio Business
[Italian version]
Reporter: Hartmut Quaschik - TNT Germany
The show took place May 25th to 28th, 2006 in M.O.C., Munich/Germany
Entry fee was 10 EUR per day for normal visitors, trade visitors 20 EUR all days
Report: May, 2006
Website with lots of information High End Society.de
H.H.Moerch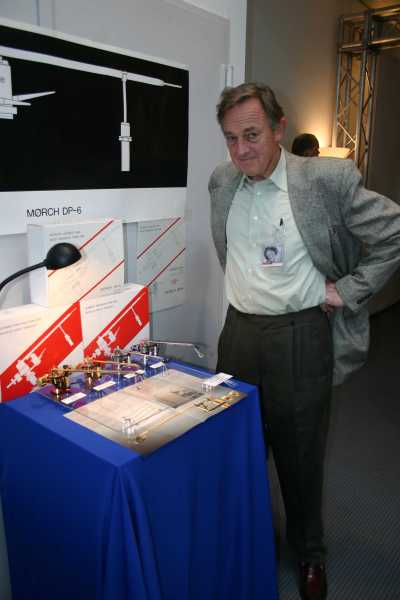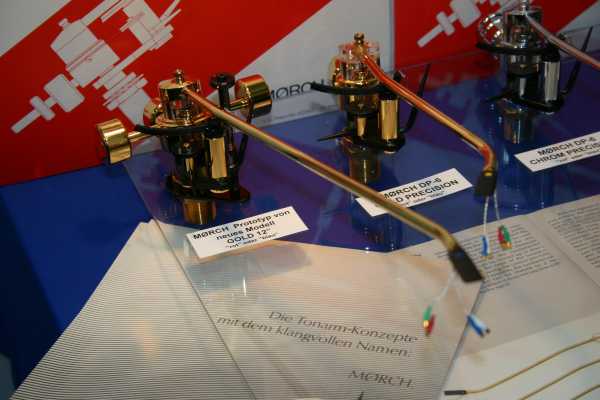 H.H.Moerch of Moerch tonearms from Denmark presented the new double pivot tonearm with double side weights.
Micha Huber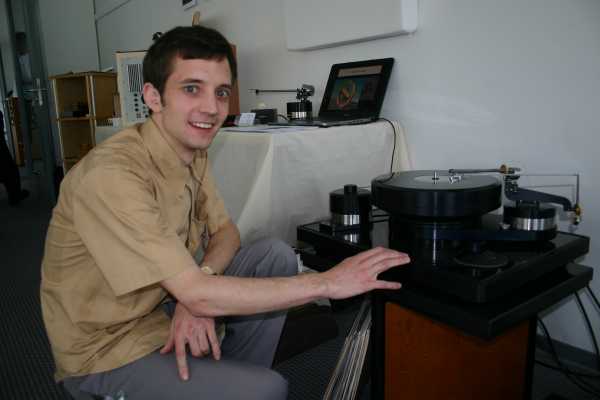 Micha Huber of Thales tonearms from Switzerland presented the Thales tonearm, which has a quite complex construction for eliminating the horizontal tracking error. The Thales tonearm was mounted on a Brinkmann turntable.
Manfred Stein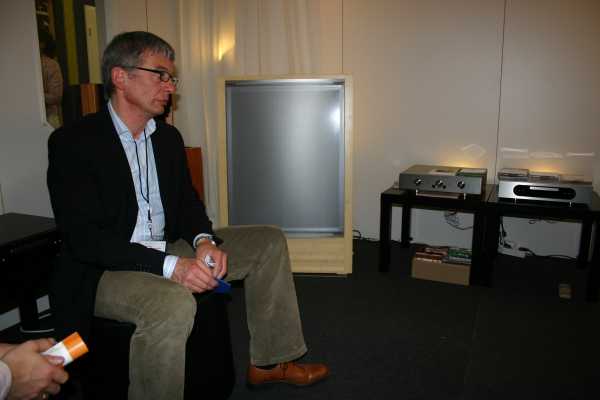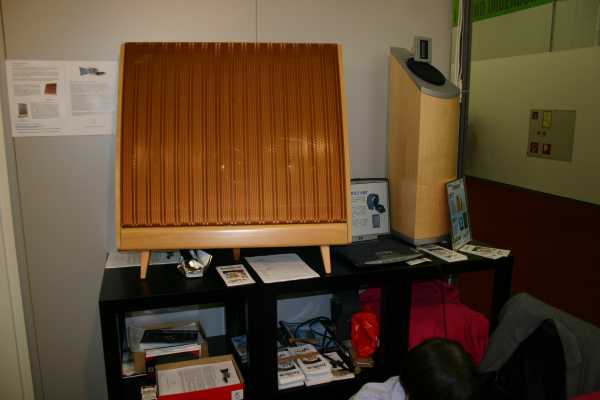 Manfred Stein of Quad Music Germany now is the one you need if you want to overhaul your old Quad ESL57 or ESL63 loudspeaker, because he owns the workshop stuff for the rebuild.
Eddie Driessen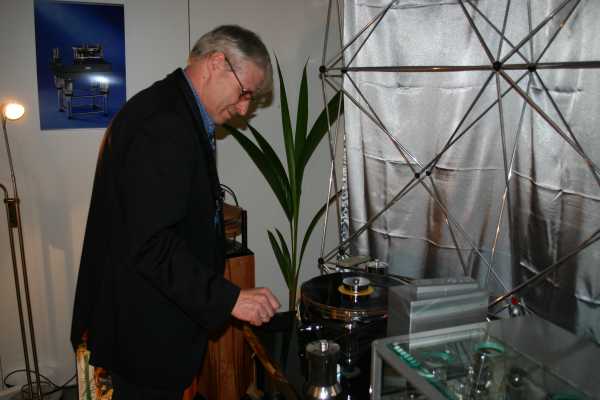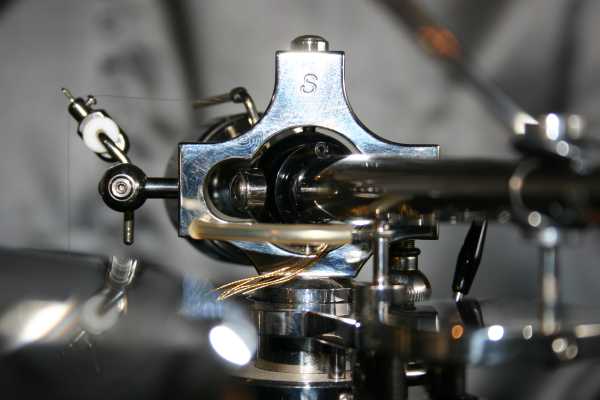 Eddie Driessen of Pluto Audio had his Pluto 10A turntable with 9A tonearm playing.
Fabio Camorani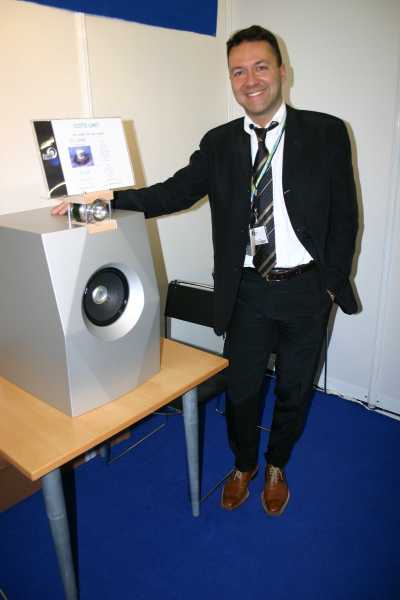 Fabio Camorani of Audio Nemesis had brought his loudspeaker made from GOTO drivers to Munich, but only one, and only for display. Fabio, please, bring to us a pair of speakers and some music next year.
Frank Schroeder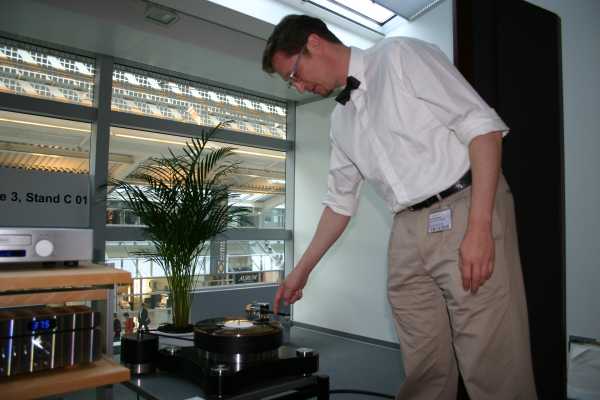 Frank Schroeder of Schroeder tonearms needs no introduction. He started making tonearms 20 years ago, and four years ago, suddenly, the audio world took notice of him. His tonearms were present at many places all over the show.
Terry and Nigel of Loricraft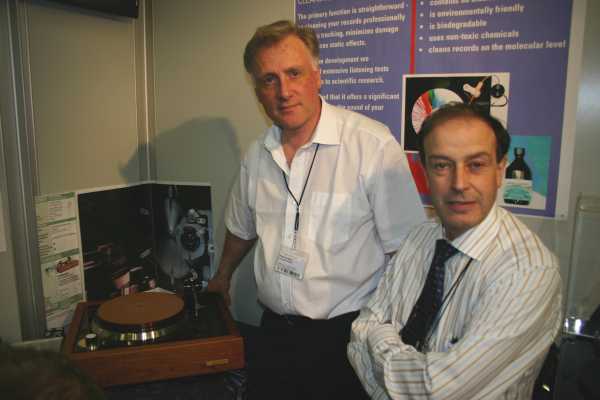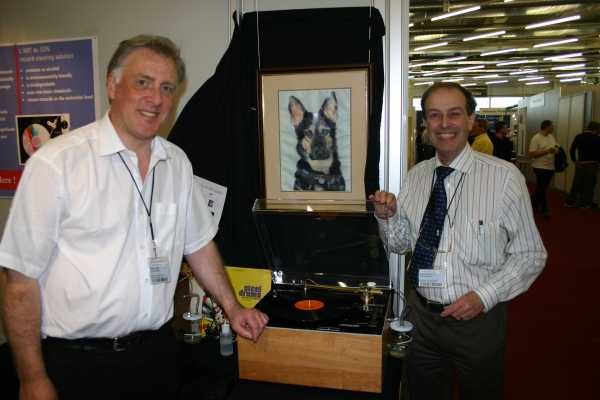 The Loricraft Uk based staff consisted of Nigel Pearson (left), Terry O'Sullivan (right) and Cindy O'Sullivan (the dog). Terry and Nigel tried to persuade me to believe a really weired story about Cindy, in a really Mr.Bean style.
Norbert Lehmann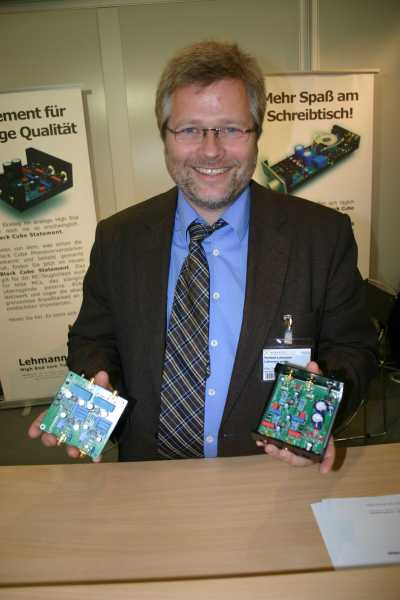 Norbert Lehmann of Lehmann Audio presented the new improved two successor models Black Cube Statement in his left hand and the new Black Cube (SE) in his right hand.
Heiner Basil Martion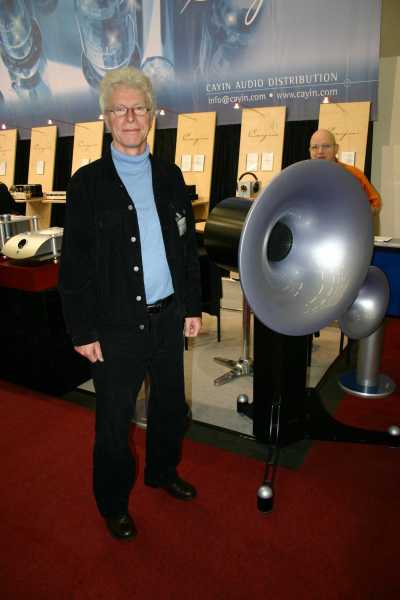 Heiner Basil Martion of Martion Speakers, who got my vote for last year's best sound, had his speakers playing at the tube power amp shootout of the German magazine "Stereoplay".
Go back to Part I | Go back to Part II | Go back to Part III | Fast forward to Part V
© 2006 Hartmut Quaschik - TNT Germany

[ Home | Staff & Contacts | DIY & Tweaks | Listening tests | HiFi Playground | Music & Books ]