A Visit to the High End 2022 show in Munich
Reporter: Carlo Iaccarino
The show took place from May, 19th through May, 22th, 2022 at the M.O.C. facilities, in Munich, Germany
Originally written: May, 2022
Website with plenty of resources: High End Society

Foreword
Here we are.
Along the long path towards a new normality we face also hi-fi shows' resurgence, thus I didn't miss the chance to be back in Munich for the High End show.
Once again, let me point you to the forewords of my 2014, 2016, 2017, 2018 and 2019 pieces.
This year, the mood was different, and it would have been weird not to expect it, due to the dark events that don't let us rest. But it's also pointless to try and hide you my curiosity in seeing how this industry is reacting. The most informead of you already know that recently two of the main north american shows just took place: AXPONA in Chicago and the Montréal Audiofest. Both events gained a massive (for our little world, naturally) media coverage that sported several thinkpieces about how demand and offer in this market changed.
Of course, this won't reduce the importance of the reprise of the Munich show; but, nonetheless, I expect it to be different than in the previous years.
For instance, in the exhibitor list you won't find the brands of the Fine Sounds group - other than the confirmed absence of MacIntosh, SONUS FABER IS MISSING, TOO (and Wadia); but you'll find Audio Research, that was recently buyed back by its former employees. Devialet was missing, too. Also other names were missing. I was sad for not finding the usual KEF's exhibition (albeit I saw their smart ambassador Johan Coorg walking through the MOC's aisles) - I counted on it for my chance of listening to their recently released LS 60 (oversimplifyng, it's the "tower" evolution of their acclaimed LS 50 wirleless). This may mean that firms aiming to the microluxury market find the "traditional" audio shows a not much representative communication channel. But what do I know? ;-)
Actually, I thought that the pandemic-inflicted home isolation could have induced an economical effect: make part of our spare - and not differently expendible - income available to improve our domestic environment. Should it be so, it could have had positive consequences regarding the increase of people interested in playing with our toys. And I actually saw lots of solutions pointing also towards ease of use, cohorting lots of functions into a single piece of gear. For instance, into the loudspeakers (and not only in the top level products, like the aforementioned LS 60s) you can find also a streamer, a DAC, the amplifiers and - why not? - even the DSP to correctly "pilot" every driver; and everything is controlled by a remote or your smartphone/tablet.
But not all signals are easily deciphrable. This year the days reserved to the trade and press public increased to two, while those opened to the general public shrinked to saturday and sunday; moreover, tickets are only ditigal and you could buy them only in advance and online. H.E.S. said this aimed to reduce all non-necessary contacts (and I may add, to track and plan the presences - tickets were issued nominally and in fixed quantity). But, if you want to reduce personal contacts, why concentrate them in two days, intead of keeping them diluted in three days? I don't know if they expected a reduced public presence, or if they preferred to barter a reduction of the general public for a better conduction of B2B contacts (to me, this could be a wise move...).
Anyway, some emotion was also felt during the traditional opening press conference.
As expected, H.E.S. provided brilliant figures. Let's start by saying that this was their 40th birthday - their teutonic precision led to their embarassed regret that the pandemic pause prevented them to celebrate also their 40th show. The Society counts 68 members for 258 brands - I liked their candid ammission that their 68 members were ALMOST all present at the show :-)
This year exhibition spaces were increased - also to secure social distancing - up to 29.00 square meters (more than 310.000 sq.feet), and all the exhibition spaces available have been sold out. Answering a specific question, they told that maybe next year they will expand in the finally completed motor exhibition facility across the street.
This year 450 exhibitors were present, for 800 brands, coming from 41 countries. The mandatory previous sale of the tickets allowed them to know in advance the coming of 4.000 industry members from 47 countries and 250 journalists from 33 countries. Actually, the infection situation in Asia prevented the presence of lots of oriental public and exhibitors; neither I saw the usual lot of Russians... All this was of concern for more than one exhibitor, thus confirming that this market looks more at East than at the Old Europe or North America. Yet, a wise exhibitor told me that the absence of the main order placers can also be read in not completely negtive terms. Paucity in materials and parts plus the huge slowdown in logistics and transportations brought with them not only a big raise in prices, but also a real difficulty in producing things. So, the fact that NOW orders were not placed could also be seen as a positive contigent fact for an industry, like ours, that is basically backordered. Its'possible that this first reprise period that separates us from a regained normality could allow companies to fulfill their old orders and confidently accept new ones.
Anyway, I'd say the the general mood was aptly represented by this big sign that you'll certainly find in all the show's coverages.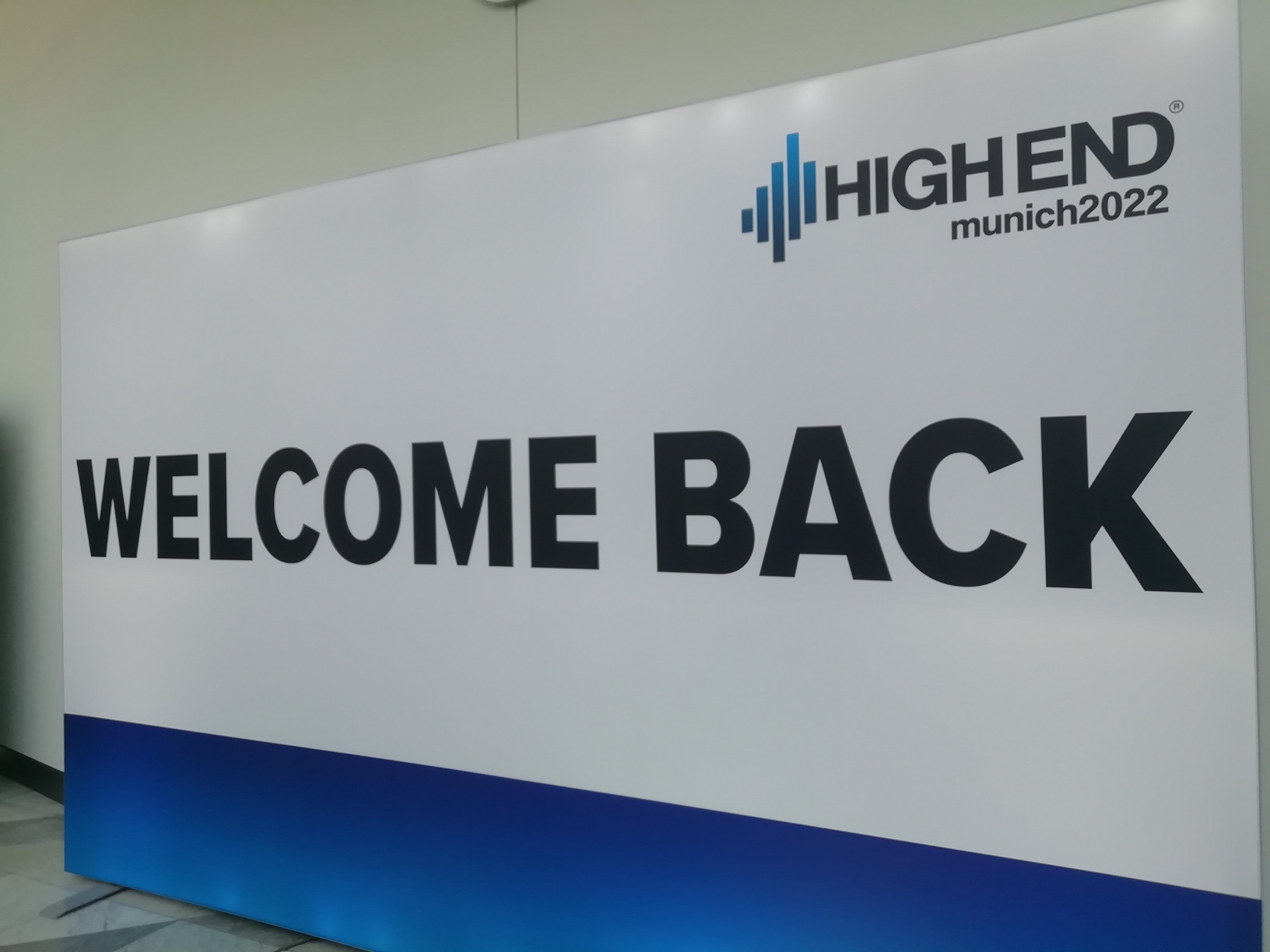 Speaking of emotions, I was surprised to see H.E.S. leaders loosing their usual professional attitude, repeatedly underlining how important was for them to have been able to bring the show back after a two-year stop. Their "boss" also wanted to call on the speaking stand his whole team, who actually kept contact with exhibitors, sold the spaces, etc., to tribute them public thanks and asking us to applaude them. I'll be naive, but it seemed to me a spontaneous and not planned move (the team's faces were surprised and a little imbarassed by this public exposition), and, above all, a nice one, towards people who use to work in the shadows of the show.
This year, the brand ambassador chosen by H.E.S. was Alan Parsons, bespoke sound engineer, famous for his work with the Pink Floyd, but also successful musician with his own group, the Alan Parsons Project. It was a choice already made for the 2020 edition of the show, then canceled. It was in clear artistic continuity with the immediate past-ambassador, Steven Wilson. On the H.E.S. Youtube channel you can find an agreeable chat of those two.
Parsons recapped his personal and artistic history, saying two things that I found particularly fascinating. First, he thinks he lived through the best of times for someone with his job, either artistically, either technologically - he started with an humble 4-track analog tape recoder and ended with a whole digital system. Speaking of wich, and we are at the second interesting thing he said, he told us that now digital audio is finally matured; yet, we can say it only because we have lived through its evolutions. In the beginnig, CD gained a pratically universal praise, but now we know that that early digital audio, with its resolution of 14 bits and 44.1 kHz, is simply not enough. But we can say it now, after our ears have been "educated", while at the beginnig, CD was like a gift from the Gods. Moreover, technological development in digital audio changed the way he works as a music producer: now the mixing phase for him has become like a formality, whilst his interest is now aimed to finalize a master destined to immersive audio. He can do now and well what they tried to achieve with quadrophony, but with less technologically advanced means and, above all, according to Parsons, this is the direction towards which musical production is now aimed, while no one cares anymore about "old" stereo. People want to be immersed in sound, thanks to their earbuds, always on. That's why Parsons think this is the path now to be followed - he achieves this by recording everything in Dolby Atmos. Digital audio and the current possibility of its elaborations also changed the way he records music. Now it doesn't make sense anymore to think that the reproduction presented by a record is like the photography of musicians playing together in a given place. Today, thanks to increased computing power and speed of data lines, often each musician records its part playing in the part of the world he is in that moment; moreover, not having to move people around allows for healty savings in production costs.
Another statement that cought my attention was that, in his opinion, the loudness war is NOT to be blamed on the sound engineers (don't tell me...), BUT to the record companies: he doesn't care, when he makes a recording, if his record will play louder or softer than the others: for that, the listener can use his volume knob...
Lastly, answering to a specific question, he definitively ended a long debate: he was effectively present at the Beatles' famous rooftop concert - now the evidence was provided by a couple of frames in the "The Beatles: Get Back" movie recently released, where his presence is recognized also in the movie's final credits. So, yes, he was there, and for him that is an unforgettable day.
This year also was confirmed the Sounds Clever organisation introduced in the past edition. Let me point you to my 2009 show report; here I just tell you that with this organisation H.E.S. invited exhibitors to setup good-sounding systems cheaper than Euro 5.000. Yet, this year the number of proposals was reduced to six, and I also thought they were much less interesting than the previous ones. Anyway, only two proposed system included a material source, while the other four proposed a system destined to play an immaterial flow of music. Since many of them were well under Euro 5.000, I think this was a precise choice, made not for restraining prices, but imagining the real needs of the possible customers, young, always connected and without their own collection of CDs or LPs, even without the space needed to keep it, also considering the new generations' always increasing geographical un-stability.
Yet, I must say that this year was very difficult to find these systems materially exposed, although H.E.S. provided explicit signals to put on - I may even be distracted, but I wasn't able to find almost any of them, in the exhibition mare magnum
Finally, let's close with a very positive note (pun intended). A great applause to H.E.S. for organizing the concert by Lori Lieberman, a singer much appreciated also by the audiophile audience, that she unusally dedicated to the American Songbook. Unfortunately, external factors forced me to loose it, to my great regret.
One last difference I noticed for this year show is related to its media coverage: I didn't see much advertising around.
In the subway, from time to time, Alan Parson's big face appears among the video ads, or on some posters on the wall; other posters could be sometimes seen in the city.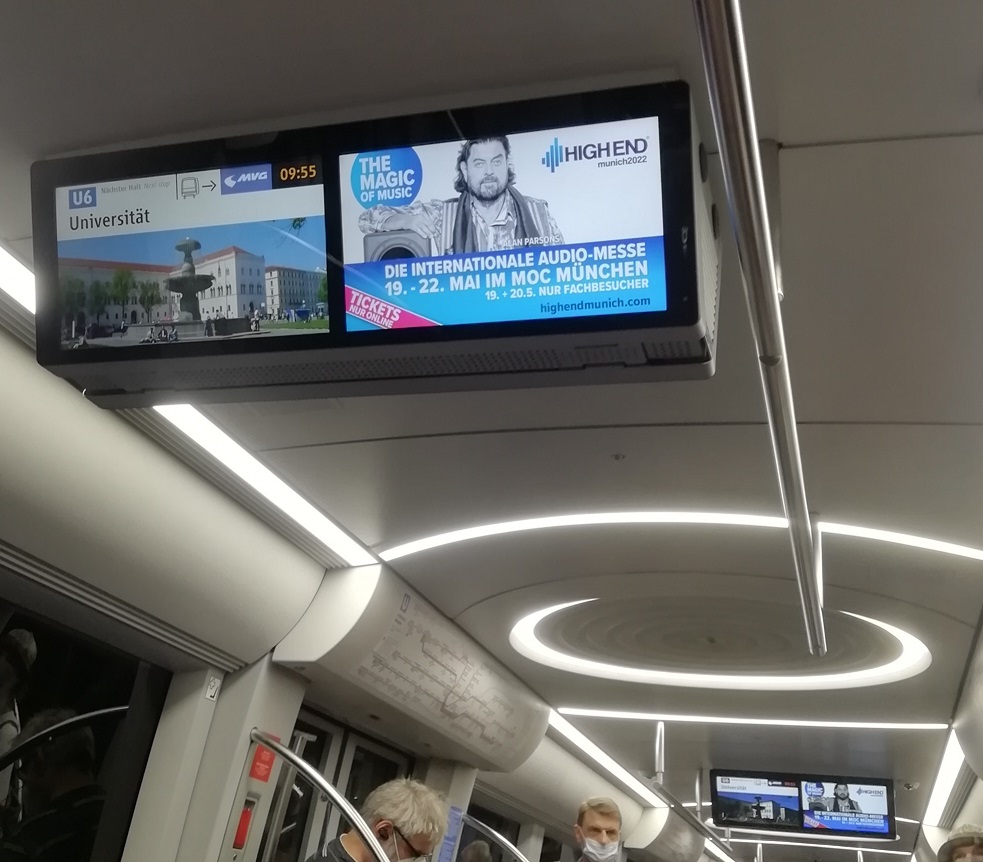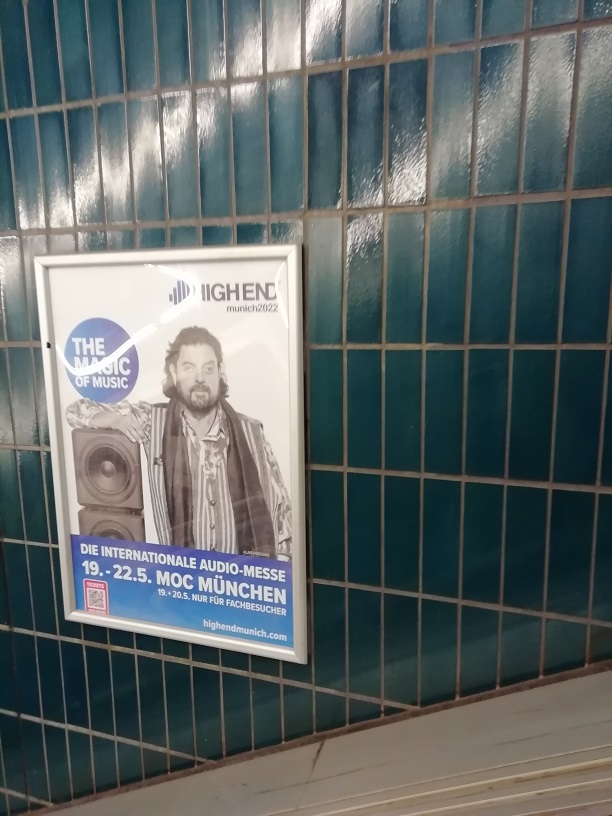 Let me end with my usual, due, disclaimer.
I have always clarified that I am not a professional journalist. I simply write my impressions walking through the show, like we were visiting it together, among friends. I leav to real journalist their job to provide to you (and me) professional reports. I must say that this year I saw less non-european journalists than usual: it can well be just my sensation and, in any case, it would be absolutely justified, provided that half the world's population is still coping with problems much heavier then an audio show. Anyway, the Stereophile team was present, even with Editor Jim Austin; also Michael Fremer was present, and he did a fun intervention in the Nagra room with his own LPs and lathes.
Let the dance begin
I think it's fair to start with the rookies. What used to be labeled as the "newcomer stand" now turned into the "Start-Up Area". It was dedicated to eight exhibitors... yet they were seven, because one didn't show up ;-) Anyway, this year also H.E.S. confirmed its wise choice not to charge anything for the exibiton stand to the admitted companies, selected upon request.
Here we go with a brief presentation for each of them.

Luphonic is a new turntable producer. Behind the companies you'll find Mr. Luh, proud to introduce a turntable entirely designed and made in Germany. As for now, there are two models. They both are belt-driven, with a synchronous motor; they both sport a rigid, H-shaped plinth and a platter made of Corian (chosen after a listening test of different materials). Both turntables mount a straight arm, with the armtube made of carbonium and the headshell made of a mineral composite with some glass particles (this, too, chosen "by ear"); everything can be regulated: VTF, VTA and Azimuth.
The basic model (H1) plint is made of a single foamy layer covered on top with a thin rigid layer, so it's very light: only 600 grams. A separate box houses the motor's speed controller.
The superior model (you guessed, it's named H2 - oh, such a teutonic concretedness :-) ) sports a three-layered plint: the external two made of Corian and the middle one made of a foamy material about which Mr. Luh was righteously shy, but I suspect it's close to the one used for the H1 model, while the vibrating parts of the motor assembly are insulated by Sorbothane gaskets. No separated speed control boxes, here; and a funny operative mode. The switch/speed selector is a button that looks like a casino fiche, with one side black and the other one white; when you place it on the left leg of the H-plinth with the white face up, the motor starts and the thin top surface of the plint shows the backlit numbers of the speed (33 or 45) you select by rotating the puck; and when you want to shut off the turntable, you simplt flip it and place it on the plint with the black face up, and the backlit display indicates the off status. Mr. Luh is well aware that this button will end up anywhere, so he's prepared to sell you how many spare buttons you want ;-)
Prices? H1 for about Euro 1.700 and H2 for about Euro 2.500 - at the show it's not always easy to be sure if prices are to be intended V.A.T. included (and, if so, they calculate it with the German 19% rate).
I am very sorry that I wasn't able to shoot any decent picture of the turntables, that deserve to be seen, so, please, visit the companys website, where you'll find good, real photos, and not my horrible attempts.

Arakas, Mr. Grunewald's company, produces sound mirrors. Those tiles, covered with a special material, are designed to intercept the indirect sound emanating from loudspeakers and properly reflect it back towards the listener, instead of letting it go cahotically against room walls. The aim is to create a predetermined soundfield into which the listener is immersed.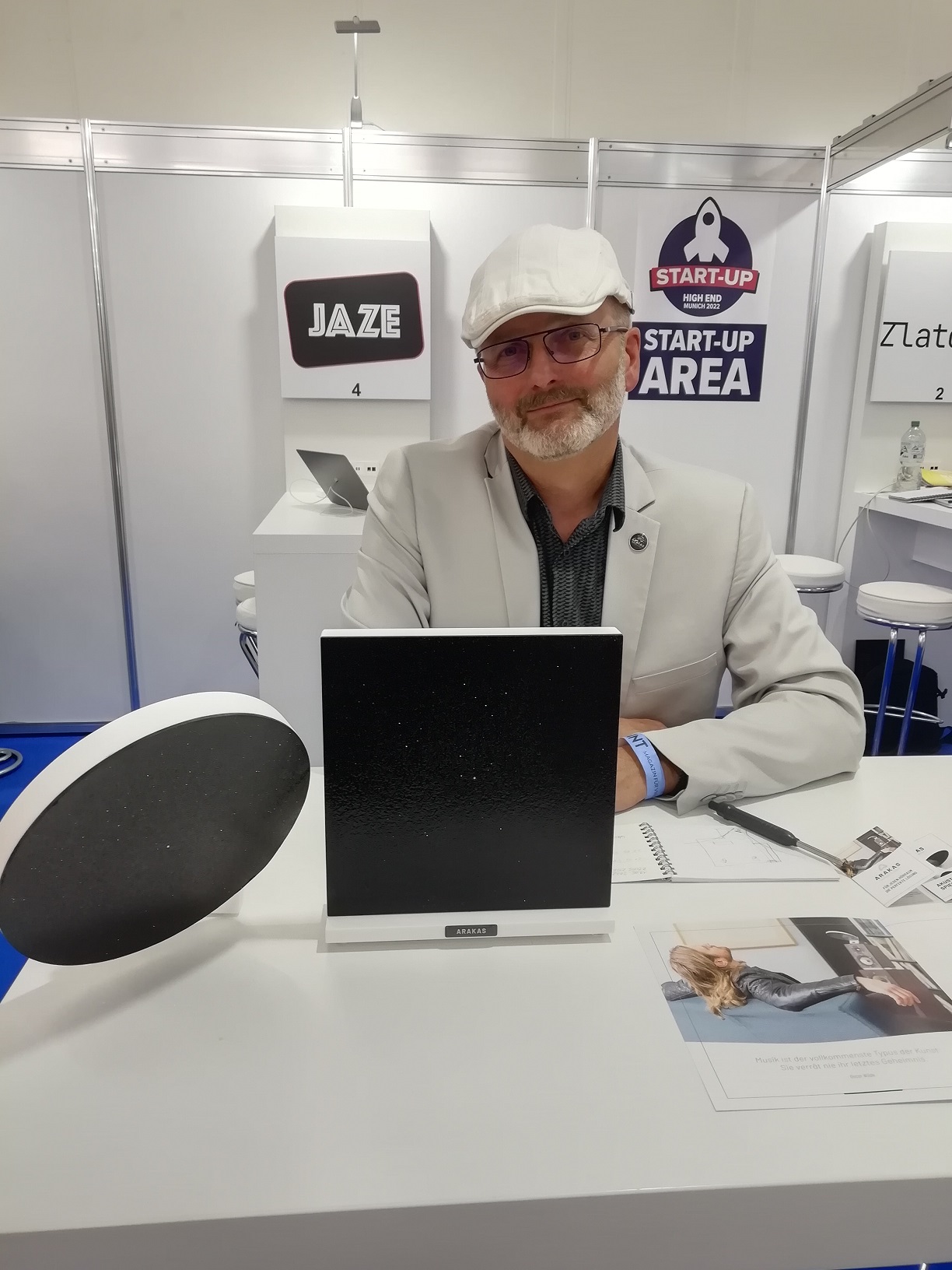 There are two models. The "basic" treatment can be obtained using the round ones, for about Euro 1.300 each, that must be placed, using its dedicated support, on the top wall of the loudspeaker and must be aimed where you prefer (Mr. Grunwald sells you an accessory that allows you to mount a laser beam on its disc). The upgrade models, squared, for about Euro 960 each, must be hung on the room walls in the positions indicated by the company. After mounting the two discs on each loudspealers, the upgrade path starts with one squared tile placed on the room wall behind the loudspeakers, midway between them; then you can add two more square tiles, each placed on the same wall, halfway between the former and each loudspeaker, but this time at tweeter level; lastly you can place two mirrors at the opposite angles of the room, behind the listener (aiming at which, the laser beam comes very handy).
I stayed very skeptical, but Mr.Grunewald firmly believes in his acoustic treatment.
Fulianty Audio is a polish company that developed his own headphone amplifier.
Nothing strange, you'd say - "personal listening" is a growing audio sector since some time, now, and the so called headamp have become a common piece of gear. This, though, is particular. Its banal (or arrogant) name is "The Headphone Amplifier". It is a device, all in all, very old-stylish. It's just an anlog amplifier: it doesn't have a DAC, it doesn't take care of digital signals, it doesn't elaborate anything - just three analog inputs, one line output, one headphone output and, on the front panel, one knob to select inputs and one knob to adjust volume. That's it. But here are the unusual things. Input and output stages are tubbed, and the valves provided are all NOS (the output tube is a 300B). Power supply is internal, and it's linear (not switching). The chassis, holding all circuits, is said to perform as a Faraday cage.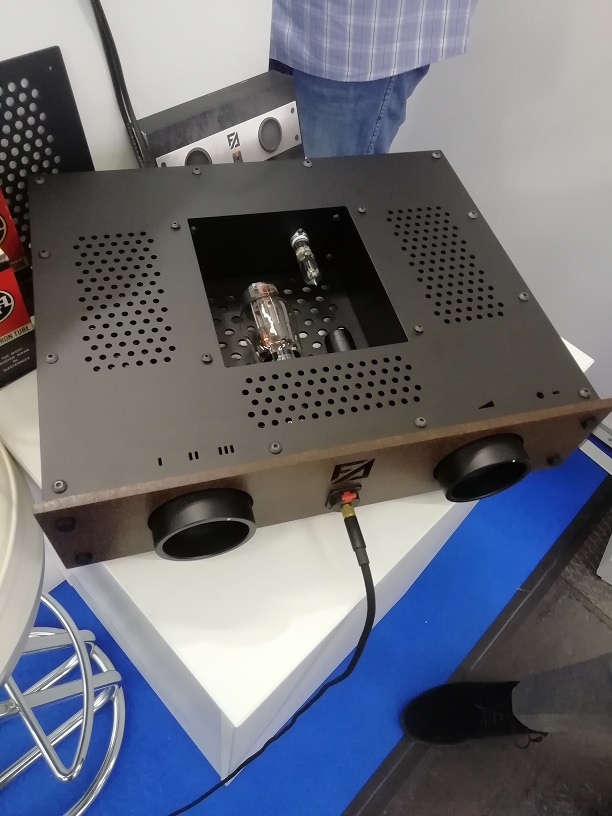 Cabling is of the point-to-point type. The device is customizable: if you don't plan to use some inputs, they can be omitted; as well as they can mount XLR connectors instead of the normally provided RCAs (but the circuit it's not balanced). Also aesthetics is out of the ordinary in relation to an ordinary headamp: the front fascia is made of Cortén steel.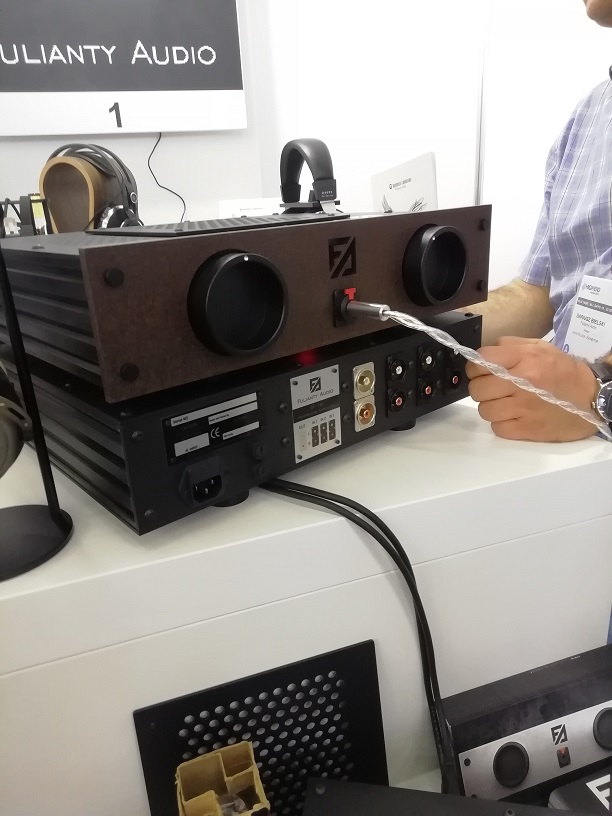 Last, if you communicate which headhone you will use the amp with, they accordingly adjust the output stage impedance, for a dedicated match. Price? Euro 5.500, but they already said this is going to raise. Of course, they sell direct.
Operly is a company I don'think is very young, since they exposed their Intelligence III, described just as "the new generation of our full-range speakers". Anyway, it's a single-driver loudspeaker; the driver is charged by a C-shaped folded horn, with a wide mouth. It is an unusual shape, so you'd better watch the following picture.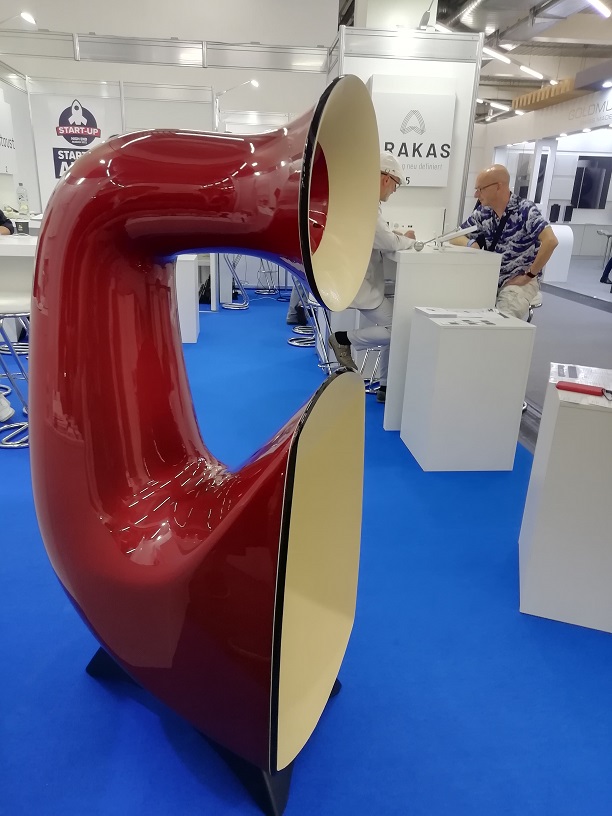 They use a Visaton driver, but they heavily modify it, starting from the inner mebrane (that I initially misinterpreted as a whizzer cone, but it isn't).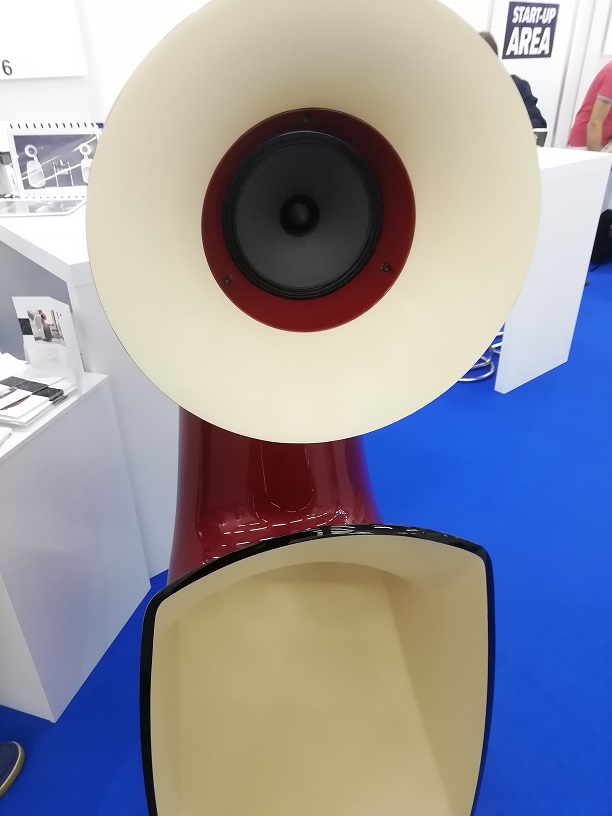 Asked price? Just Euro 27.000/pair.
Houchmand is another company that produces a loudspeaker, but it's totally different. It's an active loudspeaker, with streaming functions (thus, inside there's a DAC, too), with a rigid and traditionally shaped cabinet, but finished in precios metal or piano lacquer.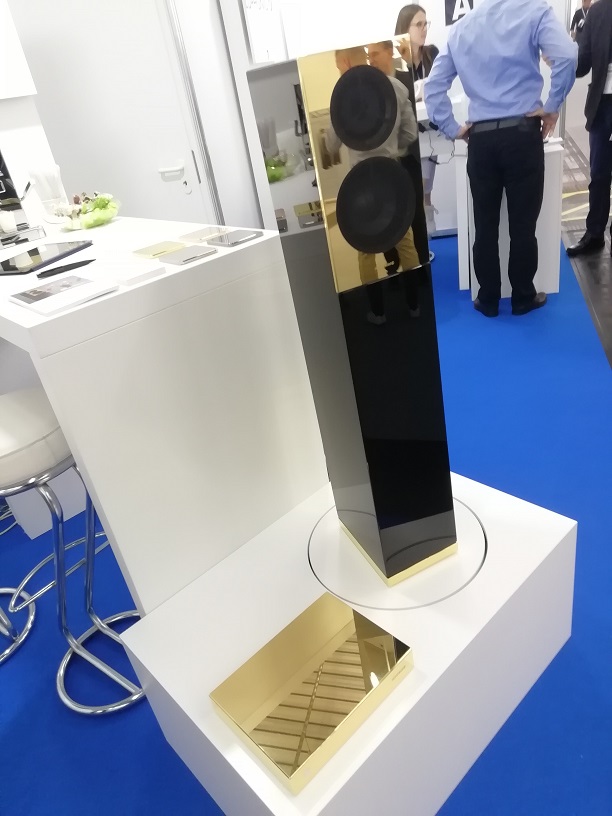 So, either substance and appearance, although such a particular choice of coating with gold or platinum could turn some nose up. It obviously is a rich man's stuff, and the asked price is Euro 65.000/pair. A start-up company with a very precise marketing strategy...
Bausound is another company exhibiting a loudspeaker, this time very unconventional. It's a big cube, with round corners and black or white walls. The face firing towards the listening area sports a center-placed tweeter surrounded by four woofer, whose mounting plane is folded by 30 degrees relative to the (imaginary) tweeter's baffle. Here, too, a picture is worth more than one thousand words.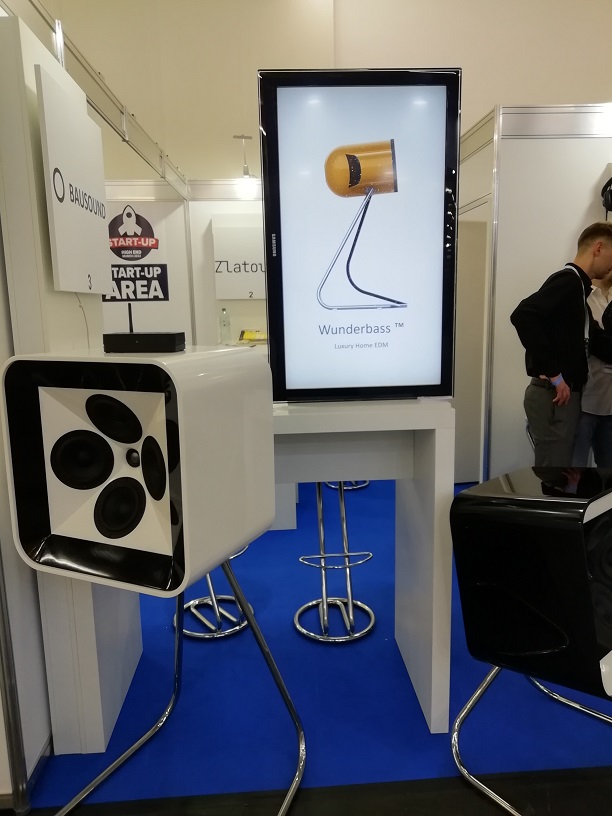 This weird configuration is intended to irradiate not only one precise sweet spot, more or less extended, but a real listening area: it's a loudspeaker designed so that "normal" people can always listen well to the music in the house; people that, normally, when at home, always do something else other than just listen. The company provides two models: one is to be mounted on a higher stand and is destined to medium-little rooms; the other one is to be placed on a lower stand, and is intended for big rooms. They are both designed to not be listened in near field. The company makes either an active and a passive version of those loudspeakers, for the same price of Euro 15.000.
Zlatoust is a brand belonging to a two-boys company that propose... a stereo analog preamplifier. Just that and nothing more. A preamplifier that looks like it's just coming out of a '70s catalogue: many knobs and pushbuttons, each dedicated just to one and only one function. The goal was to make a preamplifier surely good sounding, but, above all, easy and user-friendly, intuitive, with no programmable functions or hidden behind a sequence of pushbuttons.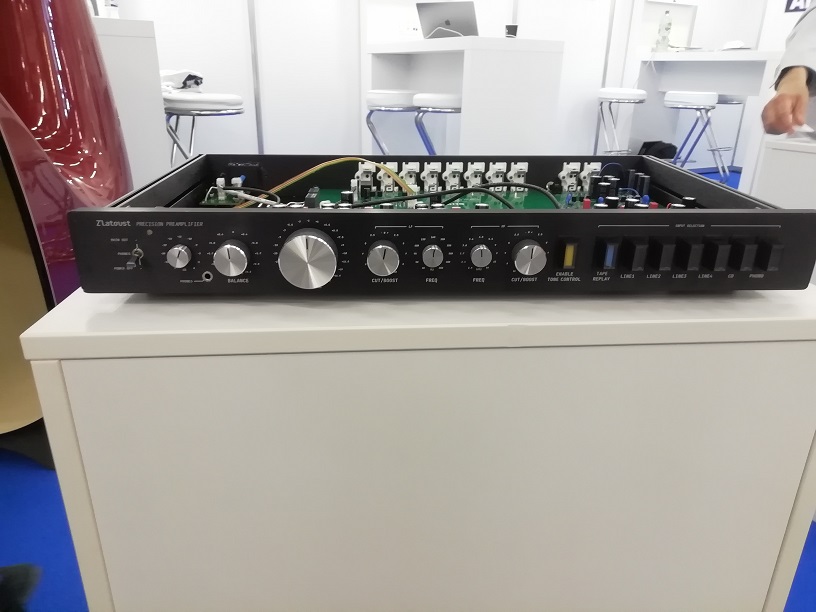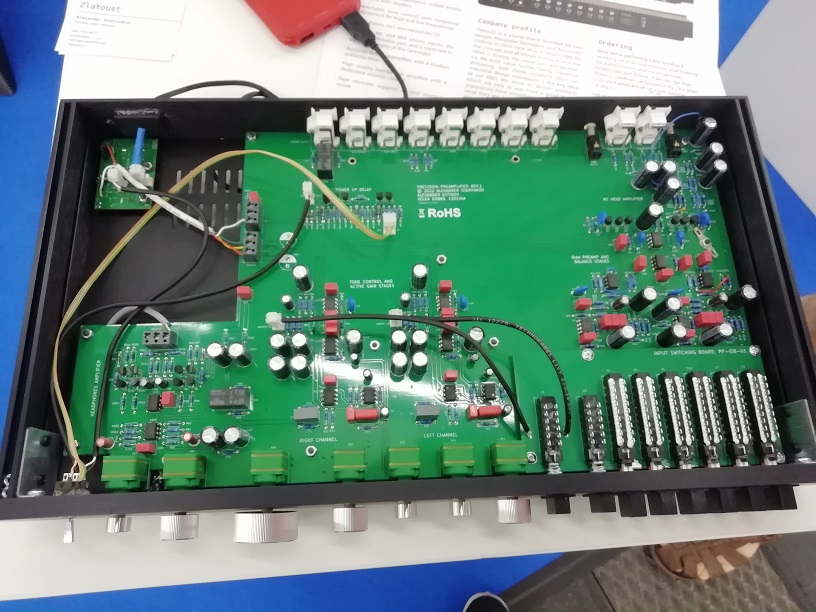 At the show there was the designer, a young boy telling a story also similar to that of the great names in 70's HiFi: he was looking for a good sounding preamplifier and couldn't find it, he was looking for an intuitive device and he couldn't find it, so he self-built one for himself. Friends and acquaintances appreciated it and started to asking him to build one for them; thus he decided to start a professional production of that device. Of course, the circuitry is cared for, the pushbuttons are reliable; there are even tone controls, but - this is very '70ish, too - they are parametric; the headphone output is controlled by the general volume knob, but its gain is fine controlled by its own potentiometer.
There are two phono inputs (they cannot work simultaneously), each for either MM or MC cartridges. The MC input sports an active pre-phono section. So we can connect a turntable with two arms, one for mounting MM cartridges, and the other one for the MCs.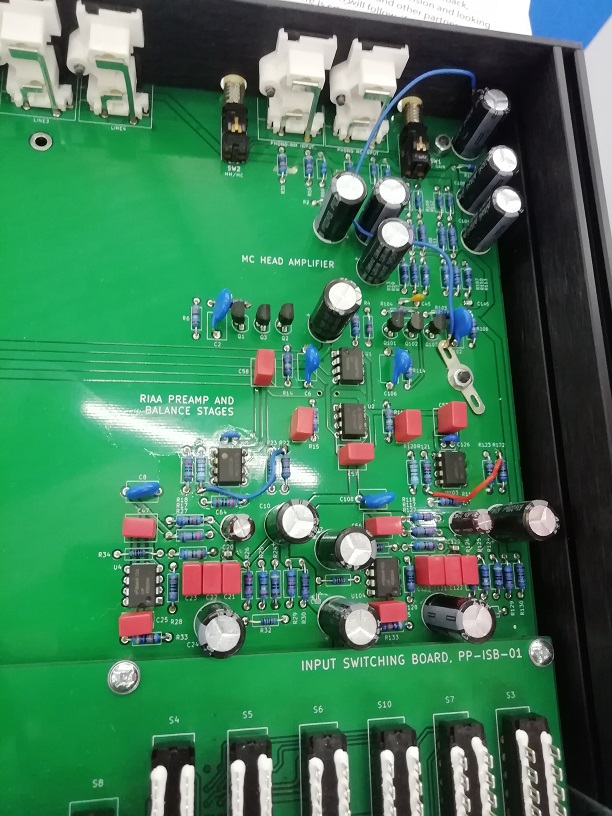 Obviously, production numbers are reduced, and they are planning to sell direct - this means you have to pay in advance the preamplifier they send to you and, after a certain period of home trial, if you don't like it, you can send it back and get totally refunded, less your mail expense for returning it to them. The asked price is Euro 1.500.
I told you that there should have been another exibitor, Jaze, but they didn't show up, so I cannot tell you nothing about them. And it's a shame, since it looked interesting: a provider of high definition audio/video stream focused on jazz concerts... Stuff not exactly popular on the traditional streaming services (I know, I know, on Youtube there's everything, and it's free....).
Friends
I thought that, since in some ways the show was where we all met again after quite an absence, it should be good to start by greeting our old acquaintances.

LAB 12
It's true that every time we met at the show we joke a bit, but I didn't expect such a warm greeting - thank you!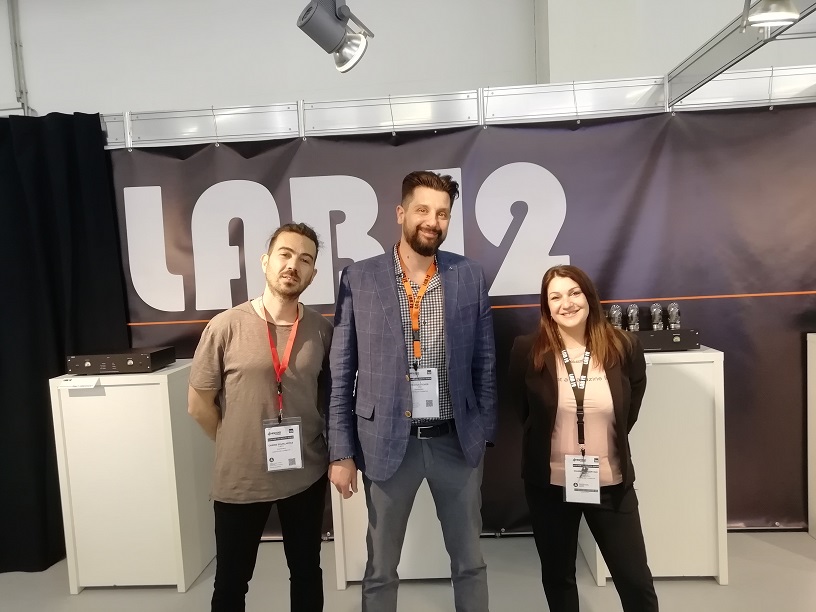 I, too, was happy to find our Greek friends in perfect shape. They have to stop, like everyone, but they didn't rest.
Mr. Vichos pointed me to the defintive version of their MELTO 1 phono preamplifier, that is planned to be sold for around Euro 2.300.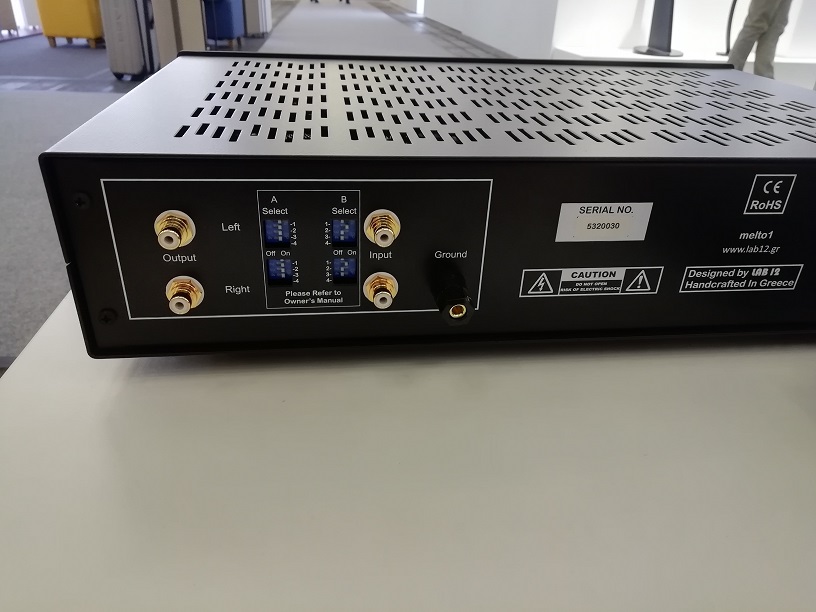 Moreover, they built a big monoblock, the IRAMA,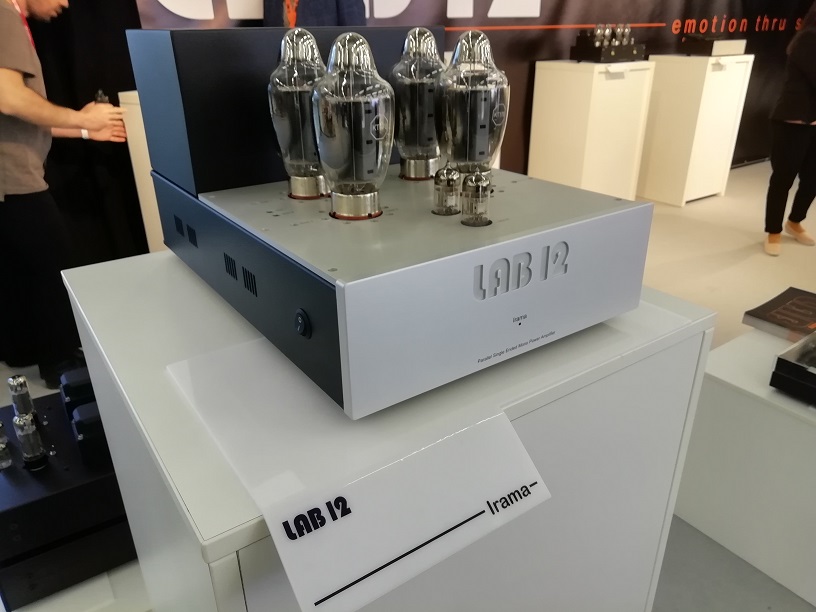 whose output stage uses a KT 170 quartet,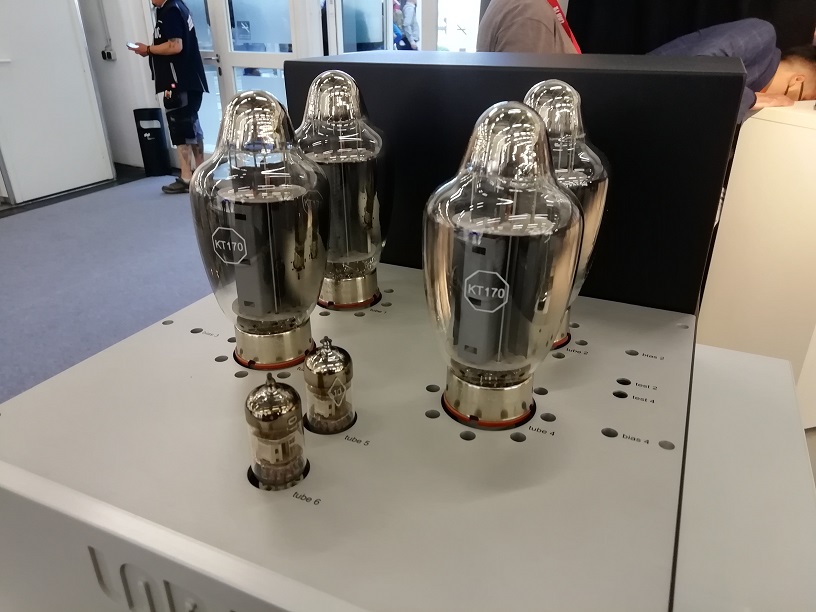 and whose planned price is around Euro 10.000; a preamplifier and a stereo power amplifier will complete the line, but they are still under development.
Here's another piece of news: their cable line, developped in conjunction with Signal.
They make a line cable, for Euro 600,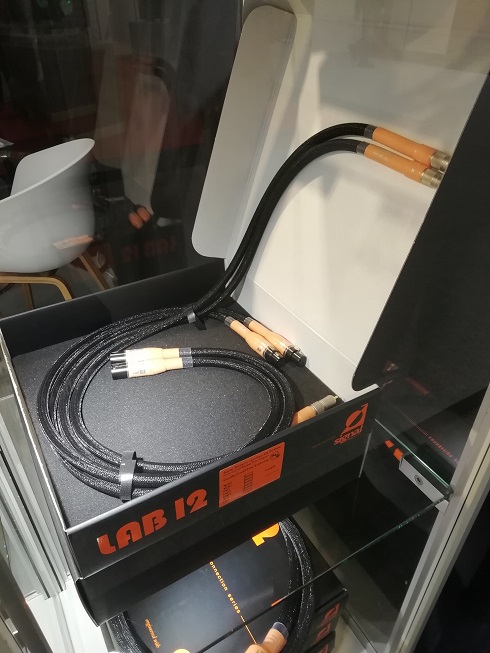 a loudspeaker cable, for about Euro 1.200 (loudspeakers come in pairs...),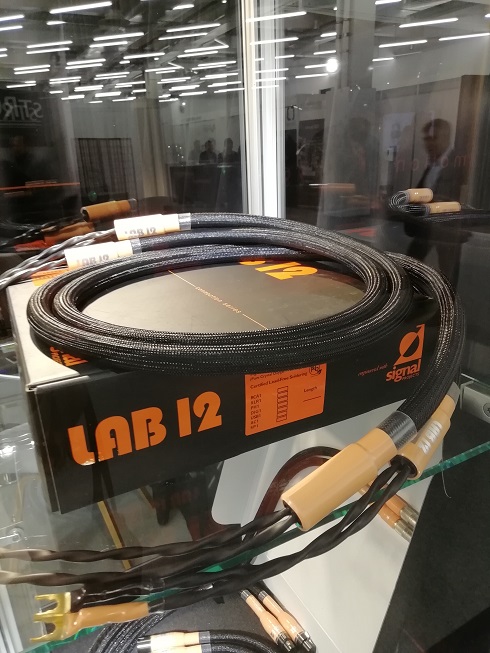 and a power cable, for about Euro 500.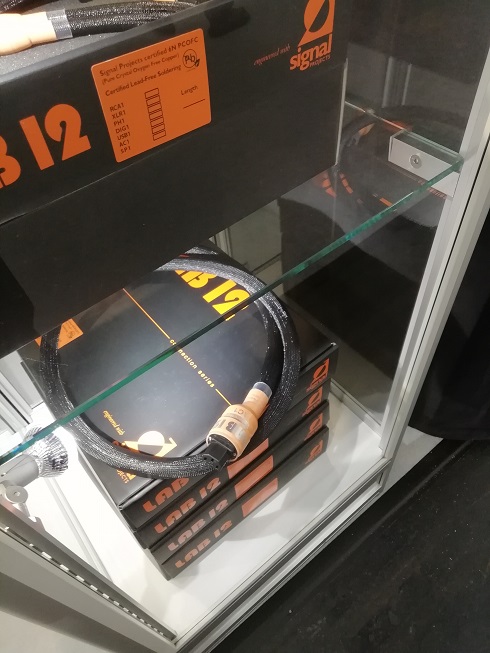 From present Greece to its former colony, Magna Graecia, it's not a big leap; and here we are at the Trinacrian, er... Sicilian TRINAUDIO booth, headed by chief Engineer, Mr. Martorana, always up and running.


They, too, produced new gear, but had to cope with the paucity of materials, and when materials could be found, their prices had already skyrocketed. That forced them to re-project some of their circuit that were already good to be used (for instance, one chip used by Mr.Martorana in the volume control circuitry is used also with militar purposes, so, the production batches left available after mliitary orders were fulfilled was reduced, thus making its price raise insanely).
Let's remain in Italy, heading north from Sicily and arrive to Naples, where we meet Luca Chiomenti and his RIVIERA AUDIO LABORATORIES
Luca, as you may know, is friend not with this magazine, but with this very writer, so I am completely biased :-)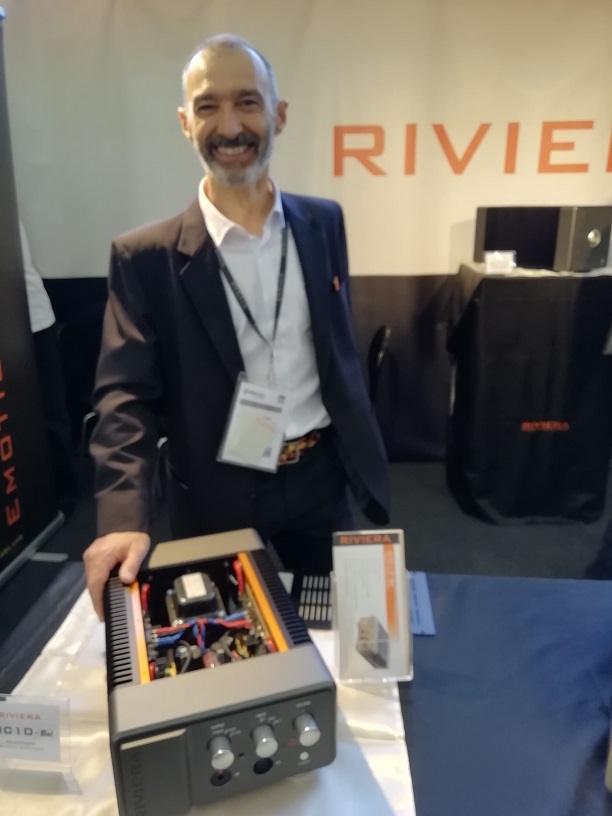 Luca, too, didn't rest inactive, and kept producing his gear, relying on a strong demand coming mostly from eatern countries; which is not strange, due to Riviers's prices, challenging to say the less...
They had their own static exhibition space, where you could admire their several models: the APLO1 S.E. preamplifier, for about Euro 40.000


the LEVANTE integrated amplifier for a little less than Euro 20.000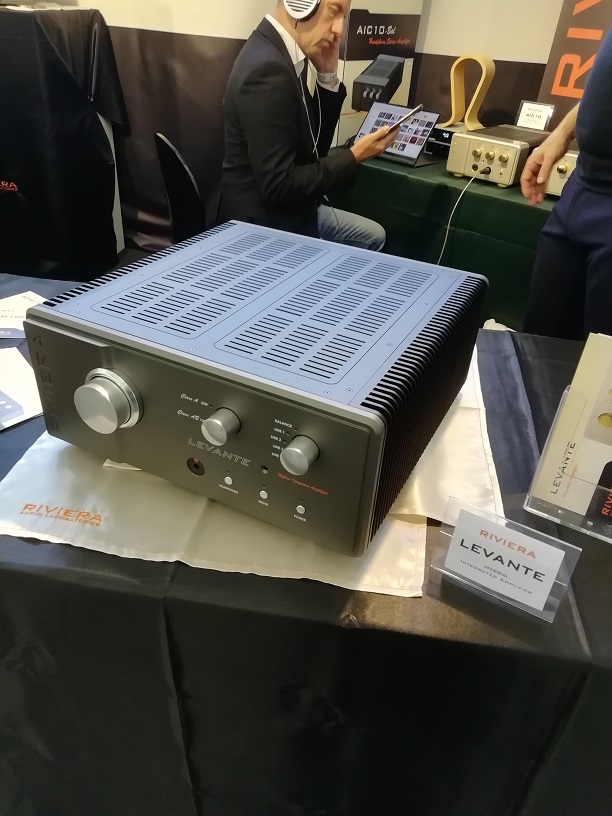 the AIC 10 BAL headphone amplifier, for about Euro 16.000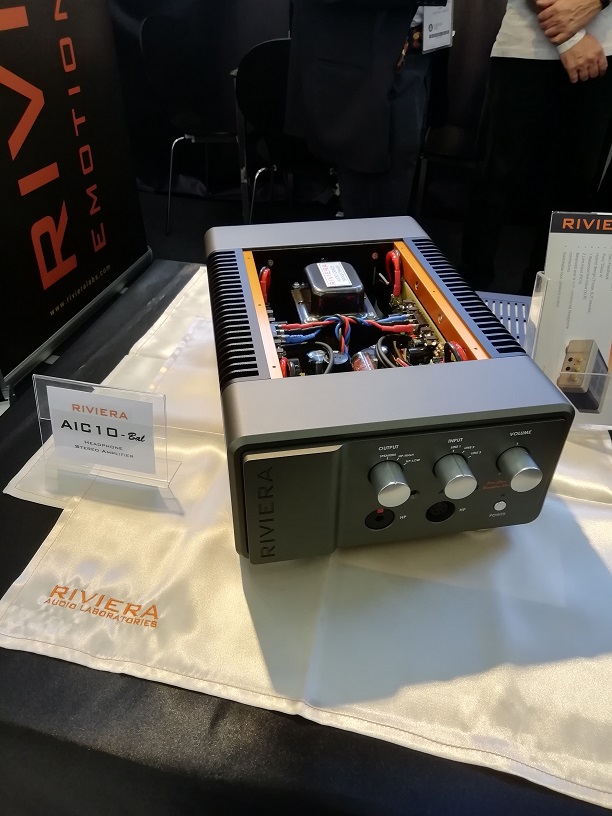 their other preamplifier, the APL 10, for about Euro 15.000, and their other headphone amplifier, the AIC 10, whose suggested price I forgot to scribble down.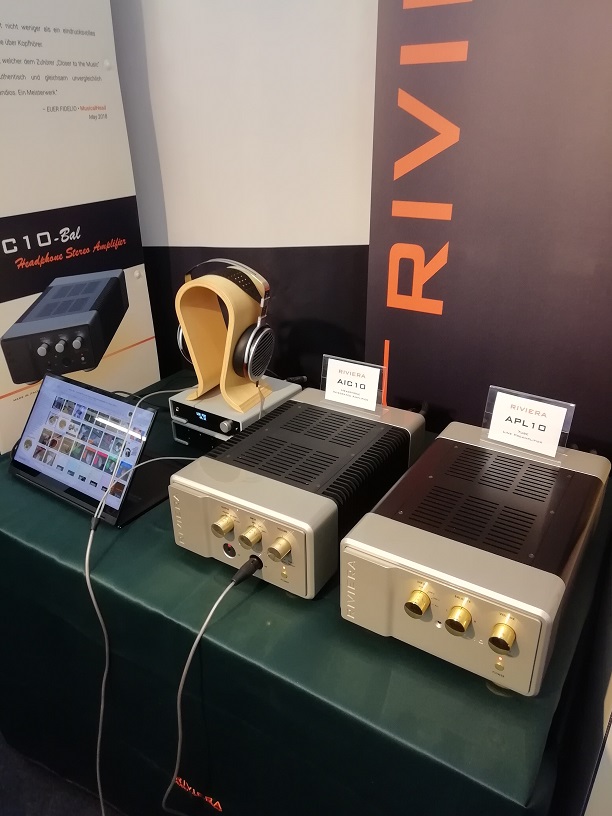 Yet, gear by Riviera weren't exposed just statically, they could be found playing amplification duties in other exhibitors' rooms. Like the room setup by GoldenEar, the company that makes very good loudspeakers, formerly owned by Sandy Gross, who sold it to Bill Low ("Mr. Audioquest"); Bill much appreciates Riviera gear, and a Levante integrated amplifier drove the top Golden Ear loudspeakers exposed by this US company.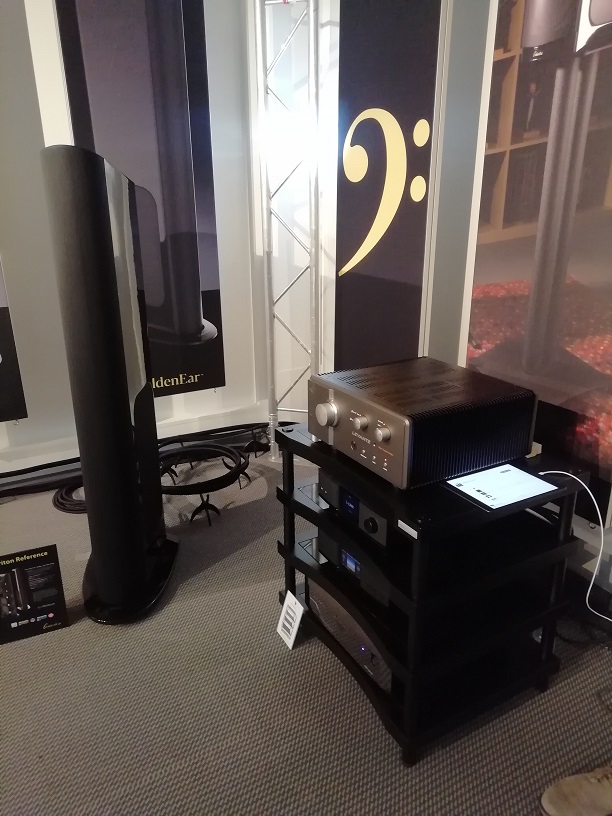 Heading more northbound, we end in Augusta Taurinorum (the present Turin), where we meet our old friends from AUDIODINAMICA
They completed their famous little cubes line, expanding it with a step-up for MCs better than the old model tested by this magazine. Now they have the SUT No. 2 model.
Here we go with a good family portrait.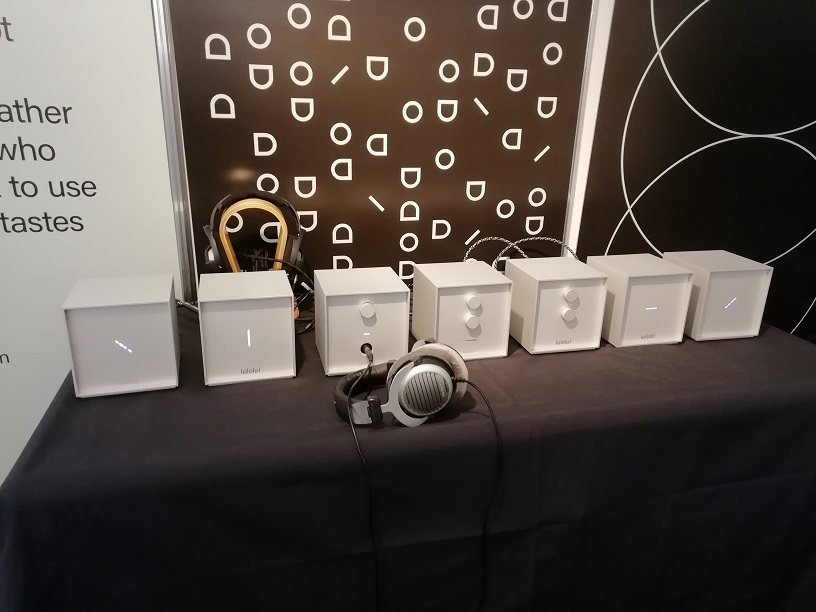 L-R: a BeCube Mono Amp (Euro 2.500), BeCube Power external power supply (Euro 1.800), the BeCube Headphone Amp (Euro 1.500), the BeCube Line preamplifier (Euro 2.300), the aforementioned BeCube SUT No. 2 (Euro 2.000), the BeCube Phono phono preamplifier (Euro 2.800) and the other BeCube Mono Amp.
You'd be probably surprised, like I was, to see them in this (euphemistically said) neutral color, while still remembering the wonderful tonal palette with which they formerly presented to this world. Don't. They obeyed to the market's request, whose aesthetic decision-makers are evidently flattening on the nordic minimalism, Ikea-style... For the ones among us who still dare, the color choice is not only confirmed, but also widened: here we go with a taste of some of the options available, headed by the crimson king model :-)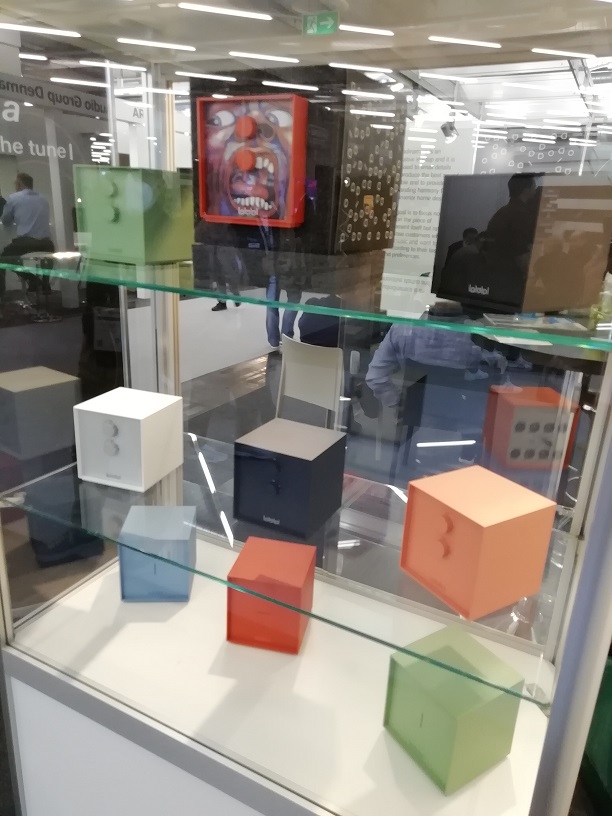 More Italy
Since we are here, let's keep on visiting our Country's companies.
From Turin, let's descend along the Thyrrenean coast and arrive to Pisa.
Here we find the space of Mr. Manunta, chief Engineer of his M2TECH.
This year, he renewed the EVO series gear, collecting them all under a new brand, MANUNTA by M2Tech; according to their reduced (relatively to the remaining models) price, he thinks to sell direct, unlike the remaining lines, that stay under the M2Tech brand.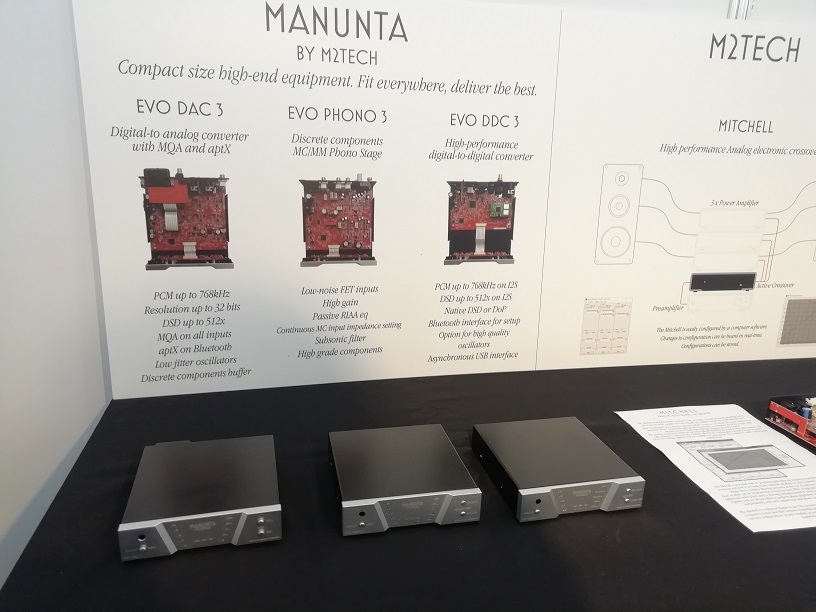 The EVO series now is composed of:
- EVO DAC 3 (Euro 758); its reference is the Young model. It's a DAC. It's also a MQA decoder. It sports a bluetooth aptX input and a high-resolution I2s over HDMI input; it can read signals up to PCM 758/32 and DSD 512x.
- EVO DDC 3 (Euro 105); this device takes a digital stream form an USB input and send it out either on SPDIF and I2s over HDMI (it adheres to the same wiring standard as, for instance, PS Audio...). What's special, here, is thet it treats natively also the DSD signal, without having to convert it into PCM (DoP), unless it is required by the DAC.
- EVO PHONO 3 (Euro 650); here, the reference is the Nash model. Its circuitry sports the first two stages with the discrete component technology, and a passive RIAA de-emphasis.
- EVO SUPPLY 3 (price tbd, probably around Euro 550), an external power supply good for the former devices as well as for other gear, since it can output 5, 9, 12 and 15V.
Near the EVO models they exposed, completely naked :-) , the MITCHELL,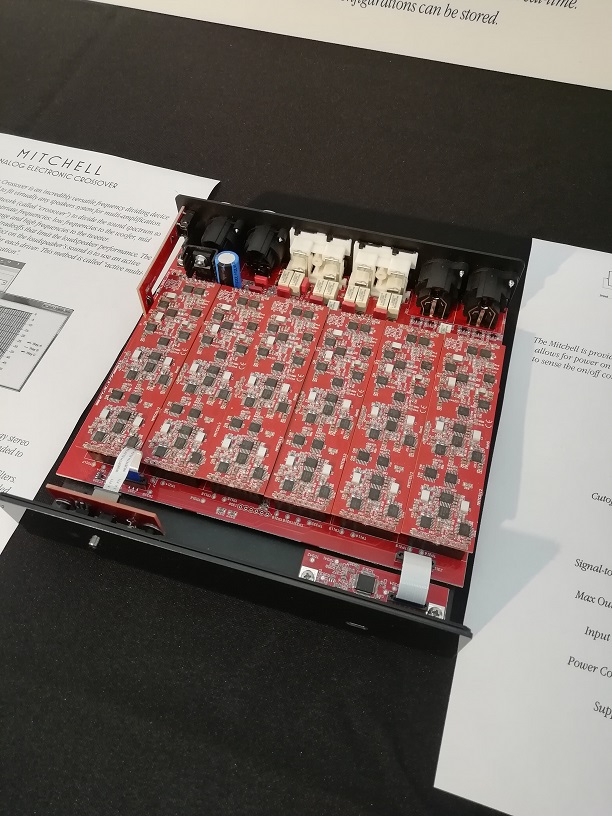 a completely analog programmable 3-way electronic crossover. Here prices climb sharply and arrive to about Euro 4.000. But we are now in the Rokstar series and the brand is M2Tech...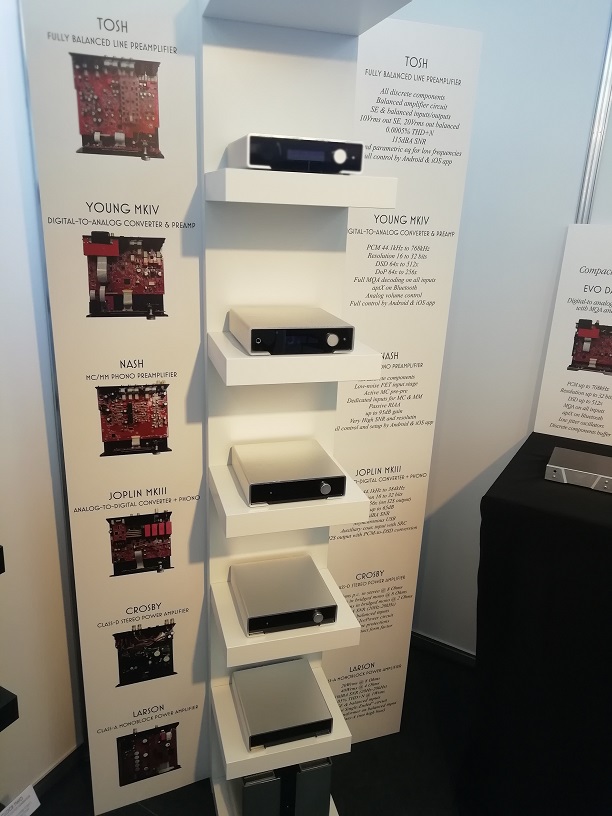 Let's remain in central Italy, and let'svisit other old acquaintances, the guys from New Horizon, this year, also, present with their eco-sustainable stand.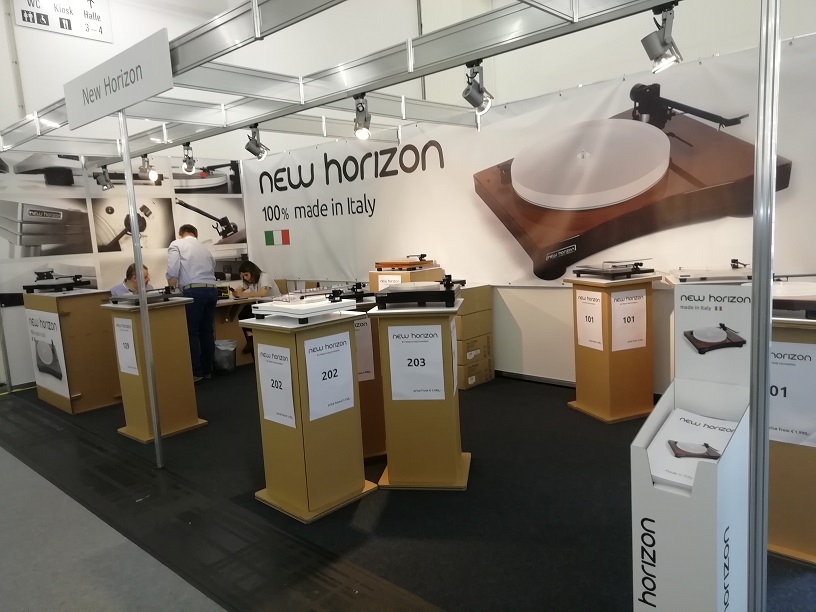 THey kept on bravely build only turntables, entirely procuded in Italy, with a Km.0 parts sources. Moreover, this year they developped their own cardanic arm line that are mounted on all their models, except che cheaper one, the 101 model, that keeps on mounting a Pro-Ject arm. Now platters sports a refined edge, so the belt cannot escape, and are realized by using extruded metacrylate, and not the molded one, that is cheaper, but forms platter with slight ondulations on their edges and top side, here totally absent. It's a matter of high precision workmanship, and it's good to know that we have a company that is able to perform it while keeping accessible prices. There's an alternative to the " usual suspects" from Austria, and we don't mind its' Italian ;-)
Let's start with the 129 model (about Euro 600) - already with the arm mounted on this turntable, you can adjust azimuth.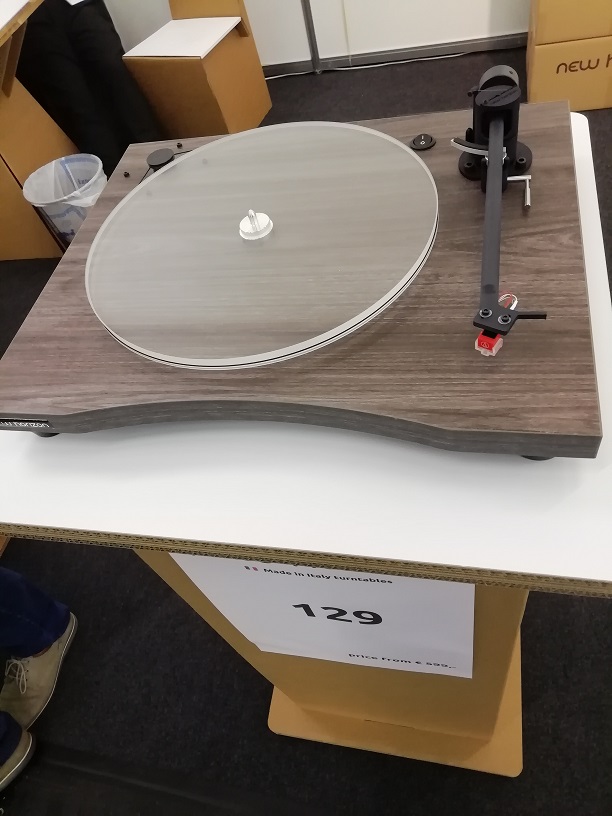 Let's move up and arrive to the 200 series, whose price range from Euro 1.000 and Euro 1.500, with three models that differentiated themselves, essentally, by the number of layers that compone their plinth. In this series, the arms allows also for adjusting VTA.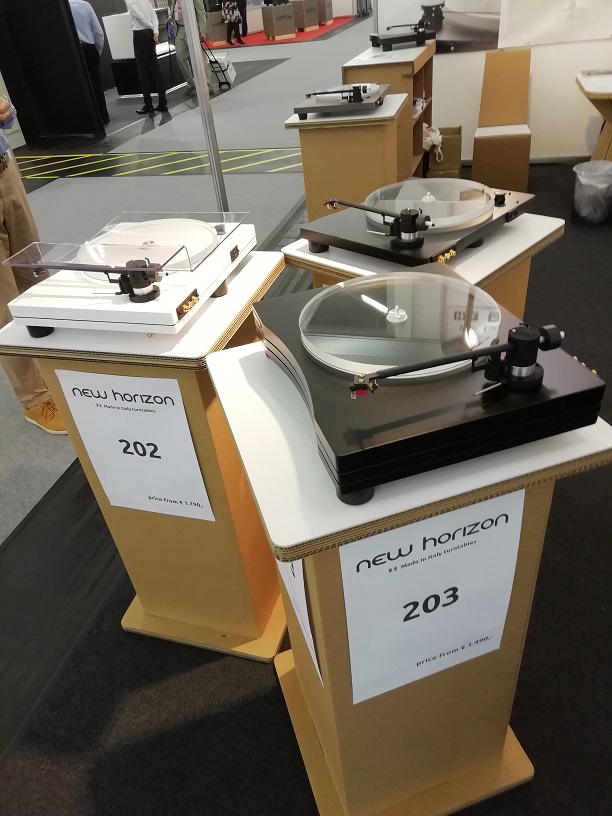 THen we have the 300 series, with prices between Euro 2.000 and Euro 2.500, whose upper model arms sports, in addition, more precise ceramic balls, unlike the steel balls mounted in the other arms.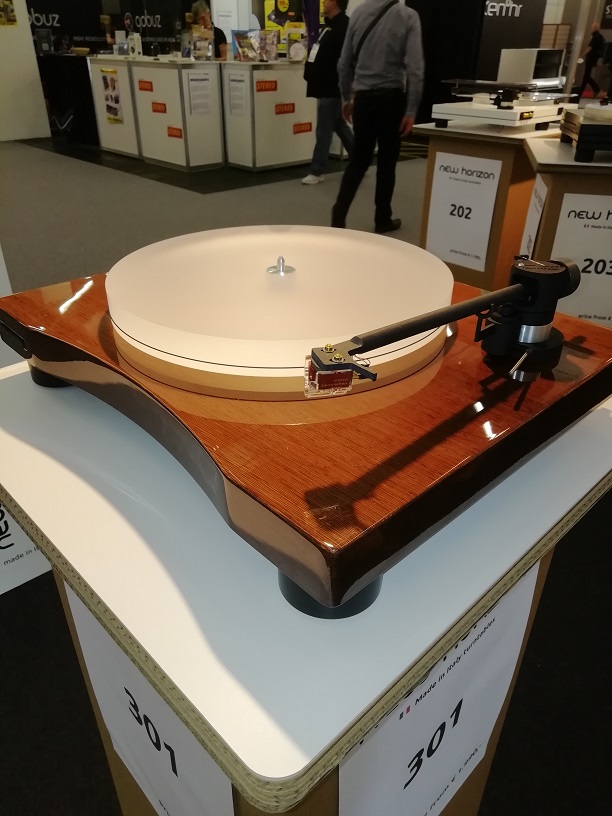 Thier top model is the GDS II, whose price starts from little less then a Euro 5.500, and whose arm has also a brass armtube, unlike the aluminum armtube of the other ones.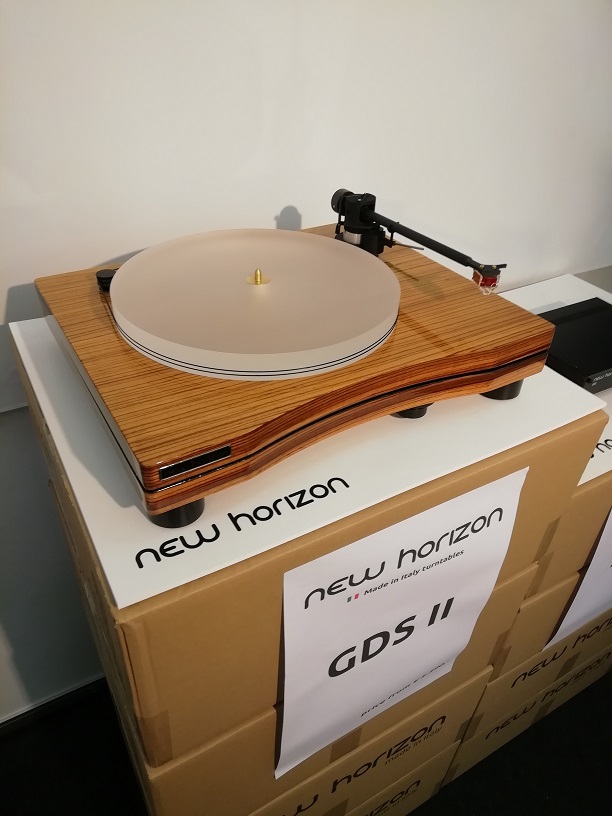 Still in central Italy, but back to the Thyrrenean coast, here we go to Civitavecchia, visiting AUDIA Flight
It's a company well known for their appraised electronics, and this year they made them sound with their own tower loudspeaker, a pretty novelty, named REMIGA 2, for Euro 75.000. For their loudspeakers, they developped an ad hoc brand, ALARE, that keeps the graphic sign of the smile that can be seen in the Audia's electronics' fascia. It's made to give continuity, while allowing for different, autonomous commercial agreements for either brand.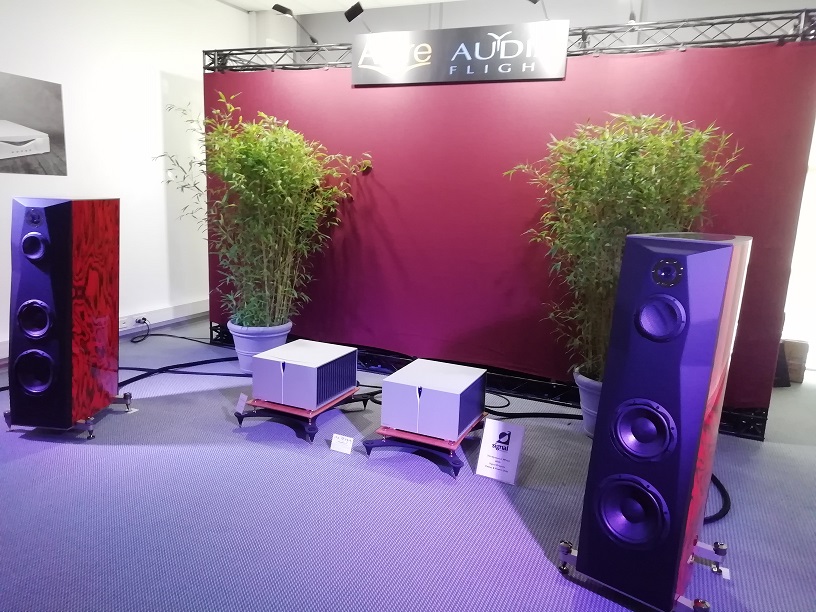 They showed a system composed by the Strumento 1 Mk2 peamplifier, form about Euro 18.300, and two Strumento 8 monoblocks, for about Euro 26.000 each.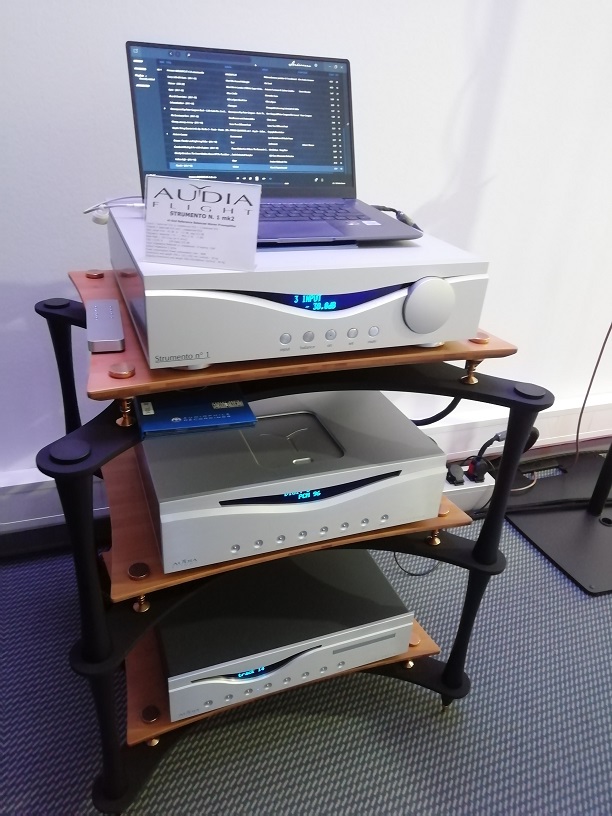 Those same electronics by Audia Flight were the engine choosen by another important loudspeaker Italian company, Albedo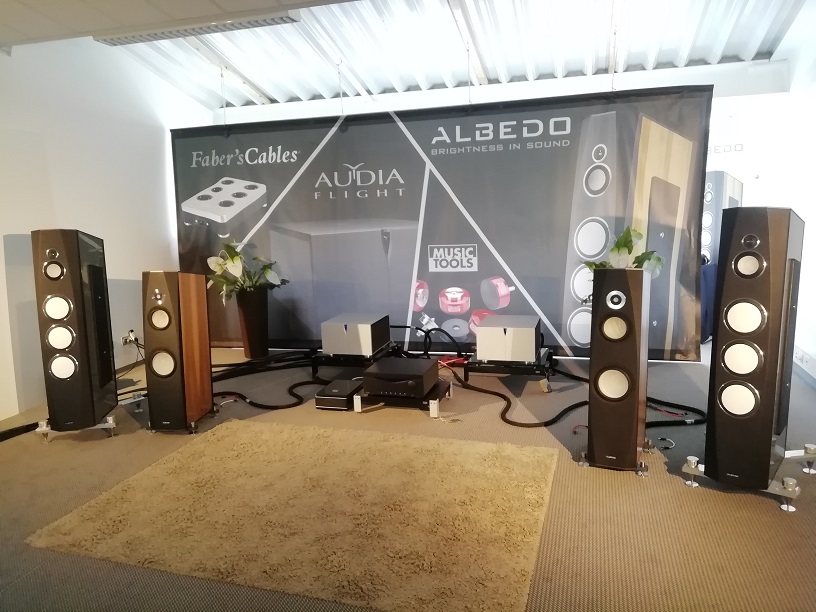 In their room they exhibited their Agadia, for Euro 22.000, and Acclara Diamond, for Euro 69.000.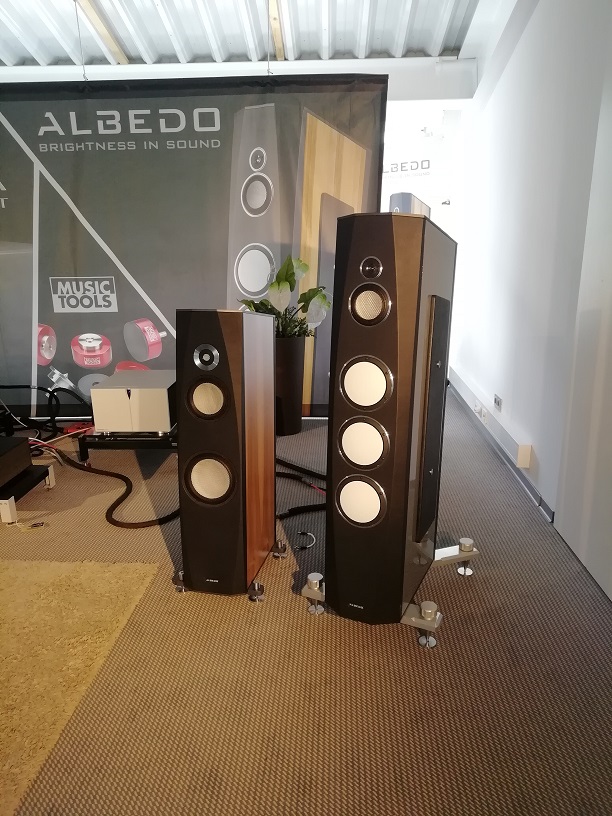 Pit stop
I could keep on, also with other Italian companies, but I think that, for a first part, it can be enough. The second part (and the third, the fourth ... who can tell?...) will arrive - I don't know when, but they'll arrive ;-)
DISCLAIMER. TNT-Audio is a 100% independent magazine that neither accepts advertising from companies nor requires readers to register or pay for subscriptions. If you wish, you can support our independent reviews via a PayPal donation. After publication of reviews, the authors do not retain samples other than on long-term loan for further evaluation or comparison with later-received gear. Hence, all contents are written free of any "editorial" or "advertising" influence, and all reviews in this publication, positive or negative, reflect the independent opinions of their respective authors. TNT-Audio will publish all manufacturer responses, subject to the reviewer's right to reply in turn.


© Copyright 2022 Carlo Iaccarino - www.tnt-audio.com
[ Home | Staff & Contacts | HiFi Playground | Listening tests | DIY & Tweakings | Music & Books ]