[ Home | Staff & Contacts | HiFi Playground | Listening tests | DIY & Tweakings | Music & Books ]
Joachim Bung:
SCHWEIZER PRÄZISION 3rd edition
SWISS PRECISION: The Story of the Thorens TD124 and Other Classic Turntables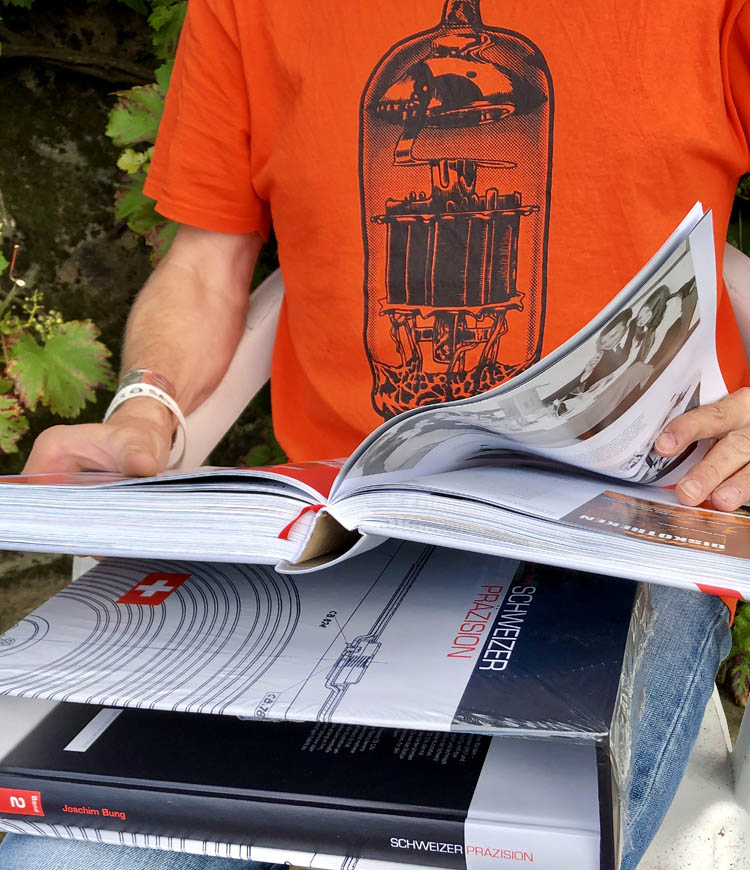 The THORENS TD124
book review
and some other Thorens, Lenco & Garrard too
[Italian version here]
Book: Schweizer Präzision
Author: Joachim Bung
Price: 198€ (Euro), English 2nd edition 69€
Reviewer: Mark Wheeler
Reviewed: All Summer 2019 Published: October, 2019
Introduction
This is more than a labour of love, this is an obsession. It is wonderful for the rest of us that there are those committed souls in our midst who are willing to undertake such monumental tasks as the research and writing of the first edition of Schweizer Präzision: The Thorens TD124 Story. The author, Joachim Bung created a masterpiece in that first edition. Inevitably more material emerged, and any enquiring mind will continue to follow side paths from their original intent long after their first project is in print. Joachim Bung did indeed follow that first edition with a lavishly produced hard-bound second edition of Schweizer Präzision, which also appeared translated into English and reviewed a decade ago by David Holgate for TNT-Audio in these pages here.
As yet more material emerged and the market for an even more comprtehensive study became apparent the latest, Third Edition of Schweizer Präzision, becomes possible, now spread over 2 volumes:
Band 1: Die Geschichte des Thorens TD124 und anderer Klassiker HiFi-Plattenspieler (658pp)
Band 2: Thorens-Vertrieb in Deutschland, der Schweiz, Grossbritannien und den Vereinigten Staaten (306pp)
This immaculately presented lavish new 2 volume set supercedes the second edition of Schweizer Präzision (Swiss Precision) - The Story of the Thorens TD124 and Other Classic Turntables - grows dramatically to 962 pages from the 288pp 2nd edition.
The new two volume edition of Joachim Bung's Schweizer Präzision arrives in a strong card slip case. There is a ribbon bookmark attached to the spine binding. The aesthetic signifiers speak of a sacred text. From 20 years of Thorens ownership, since his student days, and acquisition of supportive materials, Joachim began to realise that there was enough material for a book on these audiophile products of originally Swiss origin, following a century of other precision manufacturing, including that staple of domestic listening, the music box. This was duly published, generating sufficient interest to prompt a second edition and an English translation over 10 years ago.
So much more material then arrived on Joachim Bung's doorstep, following publication of the first and second editions, and there was such positive reaction to the earlier editions, that Joachim had the courage to overhaul the original completely. Joachim's goal was a more comprehensive edition of the history of Thorens in Switzerland, more detailed an accurate, with better photographs and higher quality. Even the paper is specified, Igepa Profisilk 135g/m. Such paper is more usually the preserve of coffee table art books. From the first chapter, setting the Sainte-Croix context, additional data and explanation, backed up by more images, thicken the narrative of the gradual growth of the Thorens Saints-Croix premises to reflect the spectacular fin-de-siecle growth of the company.
The new opening paragraph of the preface (the German term vorwort bearing a surprisingly homophonic similarity to the English term foreword) pays homage to similar tomes appearing from other authors, celebrating other icons of audio folklore from a golden age. The first edition of Schweizer Präzision appeared in 2005 and was presented to Robert Thorens and his wife, who had both sadly died, in 2007 and 2006 respectively, before the 2nd edition appeared in 2008. This was translated into English, by popular demand. Schweizer Präzision (Swiss Precision in English Language) 3rd edition is vastly expanded (including 1870 images) into the most thorough and comprehensive audio history book currently in print.
Every section is expanded; there are new sections, hundreds of new images, both photographs and reproductions of sales and technical literature. In an attempt to identify which sections and chapters have gained, you Old Scribe checked pagination, additional verbiage and illustrations, to find that few sections remain unaltered. Much of the new material is from English speaking markets, which perhaps might be less recognisably curious to those who don''t read English, but their graphic design and typefaces are so evocative of their time that their aesthetic qualities will please in any language.
While awaiting help with understanding the German text, your Old Scribe compared the second edition with the third edition, page by page and image by image to identify which sections have more material. All sections have more material, both visual and textual. This review assumes readers have either read David Holgate's review or already own an earlier edition. Pagination (962), text and illustrations (1870) and layout are all improved, as is the layout and production qualities.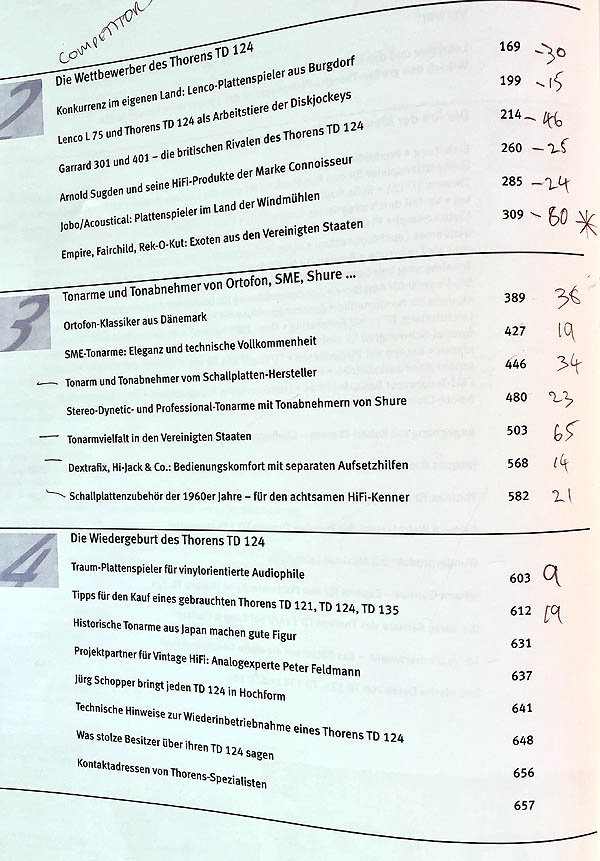 On Thorens penetration of the North American market (particularly the USA) A few pages in the 2nd edition expands to a whole chapter (chapter 4) with 4 sections and 126 pages in volume 1 of the 3rd edition. Your Old Scribe wonders if the publication of the 228page 2nd edition translated into English prompted contact from around the anglophone world offering further material. So much material in fact, that just volume 2 of the third edition runs to 306 pages alongside the weighty 658 volume 1 of the 3rd edition of Schweizer Präision.
Swiss German speakers tend to regard Germany as the Canton in the North, although Sainte-Croix is in the Western, more Francophone region. The useful chapter covering the history of high fidelity in Germany moves to volume 2 where it is substantially enlarged (more than twice as much material) and prepares readers for the German chapter of Thorens' history and production.
The structure of these two seminal volumes is such that the reader can become sufficiently immersed in the narratives to forget the era we are now in, and become carried away with the stories of technical progress and rivalries between companies that are mostly now defunct. Many of those great names appear only occasionally in the 21st century, on badge engineered Chinese manufactured products. In Bung's pages these once great marques come alive again and readers experience a flavour of what it might have been like to live when top domestic audio was a key consumer aspiration and genuine technical progress was more significant than marketing hype. Or perhaps nostalgia is not as good as it used to be.
That your Old Scribe has spent an entire Summer immersed in this book is recommendation enough. That this was achieved without your Old Scribe being able to read, nor to speak, any German adds weight to this position. Relying on help from someone whose German is primarily from literature and theatre but not at all technical added to the challenge. A dictionary and some online translation software had to cover the gaps somewhat clumsily. Joachim Bung's Schweizer Präzision rewards this effort. This is a scholarly tome of far broader appeal than merely to owners, and former owners, of Thorens TD124 turntables.
Conclusion
There is as much new material in the third edition of Joachim Bung's Schweizer Präzision as there was in the original. More than doubling in pagination, beautifully printed on paper that is a joy to hold (justifying the continued existence of real, physical volumes in an age of downloads) presented like a sacred text, this 2 volume audio history will delight any German speaking audio anachrophile. Any audiophile, curious to explore the history of the whole philosophy of trying to extract musical data from a wiggly groove (and capable of understanding the German text) will become equally absorbed in the beautifully reproduced contemporary material.
This is a book to which readers will return, time after time. As with most worthwhile products in the world of audio, Joachim Bung's Schweizer Präzision, 3rd Edition rewards in the long term, with pride of ownership, sensory satisfaction and intellectual stimulation. An audiophile book worthy of a bibliophile aesthete.
"Is this how the Old Scribe spent the Summer?" Query Plebs, stage left, "Reading a Thorens book, even on his holiday? The Old Scribe is up to something" they warn ominously
Music enjoyed during this review
Reference system
On vinyl of course:

Muddy Waters: Hoochie Coochie Man, Johnny Winter production
Bruce Springsteen: Western Stars, double blue vinyl
Led Zepellin: In through the out door reissue with bonus LP of alternate mixes
Little Feat: Little Feat OMR MFSL 1-299
Miles Davis: Miles in the Sky OMR MFSL 2-437
Alice Cooper: Pretties for You 50 years after its original release

Equipment used in these reviews:

Turntable support 1: modified Origin Live Ultra wall shelf, tuned with PolyCrystal vibration control devices and 12mm laminated glass shelf
Turntable shelf 1: 10mm laminated glass
Turntable shelf 2: Torlyte
Turntable shelf 3: Origin Live 18mm 'Super' HDF shelf
Turntable shelf 4: Something Solid
Turntable shelf 5: ERaudio
Turntable shelf vibration control: PolyCrystal Point Discs sadly now obsolete but absolutely superb and superior to RDC cups and Michel Tendercups
Turntable shelf wall isolation: RCD Cups (larger surface area than Polycrystal Point Discs reduces wall plaster deformation)
Turntable shelf support: Rawlbolts embedded in hard plaster
Turntable 1: Michell Gyro SE on PolyCrystal point discs with top hat PSU PolyCrystal point disc and BrightStar Isonodes
Turntable 2: Michell Orbe SE on PolyCrystal point discs with Gyropower PSU PolyCrystal point disc and BrightStar Isonodes
Turntable 3: Spoked Linn Sondek LP12 Valhalla with full Audio Files aerolam subchassis & Spoke modifications
Turntable 4: Thorens TD160BC with rebuilt plinth & subchassis
Pick-up arm 1: Hadcock 242SE Silver silver wired straight to silver bullet plugs
Pick-up arm 2: Michell Tecnoarm
Turntable 3: Audio Files Spoke Modified Linn Sondek LP12 with aerolam subchassis and triple Spoke modification
Pick-up arm 3: SME 309
Turntable support 2: kiln dried sand filled Wilko (Wilkinson Stores) table, without glass shelves
Turntable 5: Garrard 401 with plywood, concrete & kiln dried sand plinth
Pick-up arm 5: SME 3012 Series I and aftermartket thread & weight bias assembly
Pick-up arm 6: SME 3012 series II with FD200 damper
Pick-up arm 7: SME 3009 series II
Pick-up arm 7: SME 3009 Series II improved detachable headshell, on the Thorens
Cartridges:Dynavector XX2 MkII; Benz Micro; Cartridge Man MusicMaker II; Modified Decca London; Audio Technica VM500 and VM95 ranges
Phono pre-amplifier 1: Canor TP306 VR+ phono-preamplifier
Phono pre-amplifier 2: Gold Note PH10 phono-preamplifier
Phono pre-amplifier 3: QHW The Vinyl phono-preamplifier
CD Player 1: Shanling CDT100c modified by Chevron Audio
CD player 2: Avondale Audio AAA5
Phono and CD player supports: Yamamoto PB9/PB10 feet; ERaudio SpaceHarmoniser violin plank; ERaudio steel cones; Something Solid shelf: Something Solid XR4 rack; Something Solid Missing Link feet.
Audio Research Reference 3 pre-amplifier
Vibration Control includes BrightStar Isonodes and BrightStar Little Rock on Something Solid shelf & rack
Integrated amplifier: Canor TP106 VR+

Pre-amplifier 1: Audio Research Reference 3
Pre-amplifier 2: Yaquim MS12B
Pre-amplifier 3: Naim NAC42.5 test mule in various cases powered by various DIY overkill power supplies including Sonic Link/Audiokits parts and Avondale parts
Pre-amplifier 4: Quad 44 with versatile tone tilting and shaping
Power amplifier 1: hot-rodded Assemblage SET300B Signature from the DIY wing of Sonic Frontiers
Power amplifier 2: Burson Bang
Power amplifier 3: Graham Nalty designed & built Care Music prototype
Power amplifier 4: Paravicini designed 4W SET3080
Loudspeakers: TQWP/Transmission-line hybrid passive loudspeakers (18mm & 25mm birch-plywood cabinets; long fibre natural wool stuffing; Deflex panel lined) based loosely on the late John Wyckoff's Hammer Dynamics
bass-mid driver and crossover (with litz-wired inductors & couture capacitors) and B&C DT400N tweeters.

Loudspeaker supports: Yamamoto PB-18 African ebony & ceramic loudspeaker spike receiver bases

Some wire is used to join these components together too. No interconnects cost more than 10% of the device at each end, much of it made by the Old Scribe mostly from Neutrik, Van Damme and Sonic Link/Black Rhodium components. Speaker wire is ultra-low impedance Black Rhodium S900, a prototype variation on the Black Rhodium S600 cable that came out well in Ben Duncan's objective and subjective correlation tests.
DISCLAIMER. TNT-Audio is a 100% independent magazine that neither accepts advertising from companies nor requires readers to register or pay for subscriptions. After publication of reviews, the authors do not retain samples other than on long-term loan for further evaluation or comparison with later-received gear. Hence, all contents are written free of any "editorial" or "advertising" influence, and all reviews in this publication, positive or negative, reflect the independent opinions of their respective authors. TNT-Audio will publish all manufacturer responses, subject to the reviewer's right to reply in turn.
Copyright © 2019 Mark Wheeler - mark@tnt-audio.com - www.tnt-audio.com
Images free to use or creative commons.
[ Home | Staff & Contacts | HiFi Playground | Listening tests | DIY & Tweakings | Music & Books ]