TNT-Audio Readers' Corner
Monthly section devoted to your letters, positive and negative feedback about everything related to Audio and HiFi.
You are here > Home > Staff & Contacts > Letters of the month
December 2009
Please take a moment to review the How to use the Readers' Corner manual
Bookshelf speakers
Dear Lucio,
I am pissed at most speakers makers: no value, no sound, no logic. Only money money and mental masturbation... Please look at the image below: years ago, I found this combination to be logical, cheap and awesome...
The open baffles sound awesome but the small SINGLE SPEAKER FULL RANGE FOSTEX bookshelfs are EXCELLENT too.
I can email you the size specs of the wood, if you like...
They sound awesome...even with the original T-Amp!
And as the sources get better, so do these speakers! I like, for open baffle, the Fostex FE 126E. This is mind blowing, in transients, and overall balance of all frequencies. Quite efficient too: 1 W to 5W sufficient for good loudness.
For bookshelf, the one I made, I used the faster FE 103E, amazing: almost electrostatic speed, with the right infronts. So please note.... these options for cheap and even better sounds than commercial ware that cost way too much and sound so damaged.
Did you know, 10 years ago in Japan Yamaha and JBL offered their MINI versions Yamaha NS 10 MMT the mini version sounds so GREAT! And it was about usd 200 per pair...
JBL did the same trick too for Japan market...these were tiny... 12 x 25 x 25 CM and sounded SO NICE for the money and so accurate.
Take care,
Kishore - E-mail: kbharva (at) hotmail.com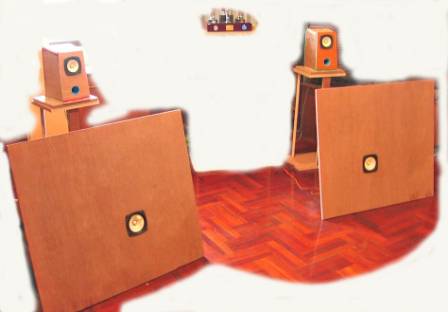 LC
Dear Kishore,
thanks for the feedback. Yes, many loudspeakers are overpriced but the flood of Chinese HiFi components is somehow affecting many audiophiles' way of thinking. Once one discovers many "good brand" speakers are made and sometimes even DESIGNED in China...it is hard to shell out big bucks without thinking and pondering.
Also, the more the Net becomes widely available the more DIYing becomes a good option to get good results with less money. This is a kind of revolution: once DIY designs were rare and available on HiFi mags only. Nowadays it is easy to find DIY designs everywhere, together with real opinions from real people who have actually built them. This makes a big difference.
Happy listening,
Lucio Cadeddu
CD player damping
Hello,
I enclose a feedback on your tweak on damping. I have bought in Paris at the hardware store (Castorama) anti-vibration rubber sheets for washing machines (size : about 10 x 20 cm, 2mm thick), and put them on top of my CD player.
This product is also very good under the feet of the hifi components (CD, amp, speakers, ...): better than Vibrapods. Here is the link to the product: www.castorama.fr/store/patin-electromenager-215x80-PPRDm182196.htm. Each package contains two sheets.
I put my tuner (4 normal feet) on top of the CD player to add weight, no other weight added.
The result is incredible:
much deeper soundstage
more layers in depth of soundstage
instruments of orchestra sounding more natural, and better separated. They also sound bigger.
much deeper bass.
a much better reverberation: for classical music, you hear clearly the room acoustic. For classical music instruments, you hear very clearly and much longer the extinction of the notes.
more transparency of the sound on good recordings.
This tweak costed me 15 Euros. The result is like changing the amp or the CD player to a much more expensive component. The great thing about this tweak is that is significantly improves the already very good equipment.
Best regards,
Stephane - E-mail: sschwartz (at) 9online.fr

LC
Dear Stephane,
thanks for the feedback! Vibrations damping works quite well though it should be applied with moderation. Too much damping can kill the Music. Also, certain components seem to sound better with no damping at all. For this reason we always recommend to test listen any tweak before applying it throughout. If it works on a certain component it might not work on another one.
Happy listening and let me wish you all a Merry Christmas with this masterpiece, a live version of Merry Christmas Mr. Lawrence by Ryuichi Sakamoto: 4:36 minutes of pure genius, emotion and energy.


Lucio Cadeddu

Previous weeks letters

Havana DAC - system choice
Dear Nick,
thank you for your reviews. I kindly ask your opinion regarding possible partners for the Havana DAC.
Taking into account that my room is 16 sqm, my budget around 6.000,00 € and the music I heard classic or pop, the question is: Which amplifier, speakers and cables do you suggest for. Don't tell me that the choise is mine, I know, but give me some indication to test. Thank you for your help,
Best regards,
Mirco - E-mail: Mirco.Magnabosco (at) andritz.com

NW
Hi Mirco,
Yes, you guessed, it is really hard to suggest a system for somebody else. More so for somebody who you don't know, and don't know their listening room etc.
However, for speakers that I would recommend the Hawthorne Duets with the Signature drivers. And to drive them something like the Virtue Audio V1/V2 (they have new models coming out very shortly). You could use one, two or three of these amps to tri-amp the Duets. Of course, you would need to have the baffles built for the Hawthorne drivers as I guess it would be too expensive to have Hawthorne build them and ship them to Europe. And you would need a crossover/filter for the woofer amps. Alternatively you could use plate amps for the woofers that have a filter included.
Alternative amps on my recommended list would include the FV-Yarland Audio 34C valve amp from AAAVT, or the Monrio MJ that I only recommend when used with a valve stage in front of it.
I hope this helps and I'm sure that other TNT reviewers will have their own recommendations.
Regards,
Nick Whetstone

Scythe amp
Hi Lucio!
The Scythe SDA-1100 is already available on Ebay at US$ 49.75 - I've bought one and it wil be at my hands in a few days.
You was right when informed the price would not change, now the only remaining about it is your very accurate test.
As you was the first person that proclaimed the virtues of the early model SDA-1000, I think you are in this just moment listening and evaluating the new version, doesn't need to say you that I am waiting your test with much curiosity.
Another equipment that I urge you to try to test is the new OPPO BDP-83 http://www.oppodigital.com/blu-ray-bdp-83/ - multi digital player (Blue Ray video / DVD-Audio / DVD-video / SACD stereo and multichannel / CD redbook / CD-R-RW / DVD-R and other formats) that costs only US$ 499 !!!
The price is very fair and the player just appears to be very good, the OPPO people promises a very good digital to analogue conversion, and the video quality was considered extraordinary by some testers, lacking only a good test of the digital to analogue conversion, what I expect you would done better than the writers of commercial sites.
Keep up the good work.
Dario - E-mail: dariomelo38 (at) hotmail.com

LC
Dear Dario,
I know the review of the new SDA-1100 and the matching Kro-Kraft speakers is longly due and I do hope to be able to finish and publish it either before Christmas or rigthly after New Year's Eve :-)
Many readers ask for more infos about these two products. What's interesting is that Scythe has understood this can be a niche market worth exploring (as this wasn't their core business!) and announced they will be releasing new Class D amps in the future, with more power and features.
And everything will be down_to_Earth priced. As for Oppo new BlueRay player I don't know if or when we'll review it.
So...stay tuned and please be patient with these busy guys :-)
All the best,
Lucio Cadeddu

Burson regulators
Hi Nick,
I have just perused your review of the Burson regs (2006). Do I get the idea that the 15v reg can be adjusted to provide 18v?
Many thanks,
Dave - E-mail: davedlightcam (at) aol.com

NW
Hi Dave,
Burson do an LM317 replacement, and that would be adjustable to 18v.
Regards,
Nick Whetstone

Naim IBL speakers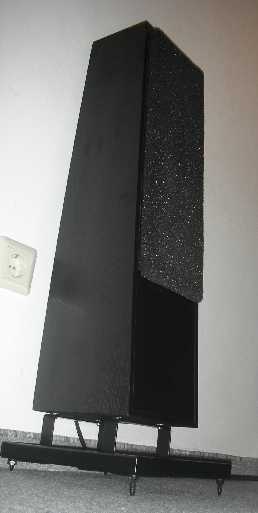 Hello,
I recently bought Naim IBL mk2 in mint condition, serial number 46797.
I discussed mk1 and mk2 with a friend and in this discussion I found out that the serial number actually does not fit with a mk2 version. Also I noticed that the frame on the base plate of the IBL is missing. They do have the screw holes in the base. They came with the original box and I bought them because of the description clearly as Naim ibl mk2 in mint condition. Now I am a little concerned about this fact that they are not mint because the wooden frame screwed on the baseplate is missing and the serial number shows not clearly mk2.
Could you help me to find out what I have.
If they are mk2 I will keep them but I have to remake that wooden frame. Would you have a detailed photo with dimensions to be able to replicate it.
Thanks,
Gerry - E-mail: Gerald.Fischer (at) austrian.com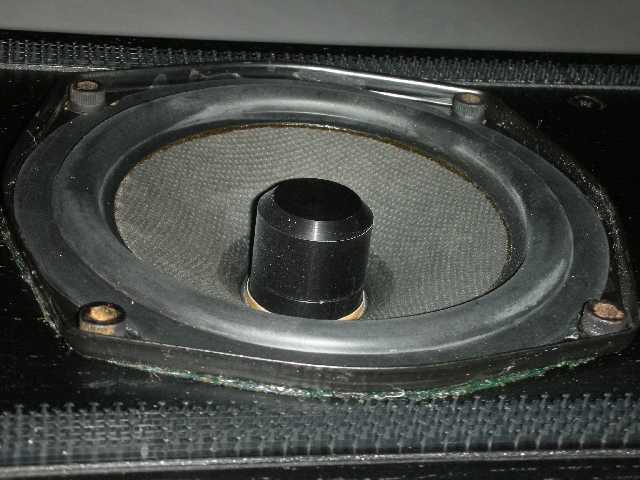 LC
Dear Gerry,
first of all relax, sit down and listen, trying to enjoy what you hear. Perhaps your IBL's are mkI's upgraded to mk2's later. This was common practice. You should appreciate their sound without thinking whether they are real MK2's or not. Even the MK1's sounded pretty good. Anyway, looking at the pics you've sent they seem MK2's woofers to me while the bottom of the cabinet looks a bit strange, I admit.
The second thing to do is contact Naim Audio UK, their after sales service is legendary. I'm sure they can help you reconstruct the entire history of your speakers from the serial number (they normally keep track of factory-installed upgrades, for example). Eventually send a couple of close pics to the Naim Forum where Naim experts and employees will help you understanding what you have.
Generally, don't be fooled by the mk1's, mk2's paranoia: sit down and listen. The IBL's were magic, everything else doesn't really matter.
Hope this helped somehow,
Lucio Cadeddu
Tripath dilemma
Hi!
I would appreciate your help.
I was wondering which chipset sounds best? I have a large stereo with large speakers. I'm trying to decide which Class T amp to get - 2024, 2021 or 2020.
As you know there are many units with these 3 chips. I would like to know the general advantages and disadvantages of each.
Thanks,
Louis - E-mail: lou707 (at) msn.com
LC
Dear Louis,
the 2024, 2021 or 2020 chipsets are mostly equivalent. If your speakers aren't sensitive enough ("large speakers" means nothing at all) you need more powerful chipsets, such the one used by Virtue Audio for their One or Two models. There are newer and even more powerful versions available right now, see the official Virtue Audio page for details. They use Tripath chipsets, so the family sound you're looking for is certainly guaranteed.
Hope this helped somehow,
Lucio Cadeddu
Not all agreee
Listen, you guys still promote "Real Stereo" for a reason. So why abandon one of the main media?
CDs themselves have had their problems, sure. They're finally getting their due. But it's more than bits and bites, it's also the joy in the multifaceted experience that is being dismissed.
Same as for physical books, the press to do digital ink is becoming a war chant. That, despite the fact that many of us (maybe, um, at least 2 still living generations) much prefer the experience of holding and reading a physical BOOK.
There are plenty of us who still do enjoy holding a physical object, like a CD or an album, putting it on a physical machine that spins, and then sitting back to enjoy it.
Sorry, amico mio, but it's NOT the same as scrunching in front of the damned screen playing with a computer interface. Yes, you might well have reached the same level of sonic resolution on your computer and yes you might even exceed the CDs very shortly. But you too, dear Brutus, will find yourself pushed out of the audio marketplace by all the teenyboppers listening to really crappy stuff on compressed MP3s. Or worse, people our age who listen to crap in crappy formats as digital background noise.
Non si sa mai....
So don't be so cheerful about this brave new world as yet.
Bart - E-mail reserved
LC
Dear Bart,
thanks for your feedback! I assume you are referring to my recent editorial about Linn giving up on CD players. Don't get me wrong, dear friend, I'm not against physical media, but the only physical medium I love is vinyl!!! Moreover, using files instead of CDs doesn't necessarily imply you will be forced to stare at a PC screen. Many music servers don't work this way! Also, when you buy hi-rez digital files (e.g. Linn Records) you can download ready to print high quality CD booklets. You can build your own physical medium at home, if you wish! This way we can also save tons of paper and, hence, a couple of trees as well. Not to mention air pollution when you no longer have the need to move tons of CDs from one Country to another! As always, let's try to see the positive side of things. CD was bad but extremely easy to use, digital files might sound better and are even easier! Liquid Music isn't necessarily teenagers' MP3's. I strongly suggest you to have a look at the Linn records website for getting a more precise idea. And don't forget liquid Music is giving small artists the chance to avoid Majors' necklaces. See for example the brilliant example of OnClassical.com online label where profits go directly to artists!
My glass is always half-full, not half-empty! :-)
Open mind for a different view...and nothing else matters [Metallica - "Nothing else matters" - 1991]
Lucio Cadeddu
Still on CD death
Hi Lucio
Read your article on Linn. Here is a company that has used it's customer base to the full. Look at the evolution of the LP12 and the string of upgrades that they have added over the years. Very clever marketing wouldn't you say? The CDP market at all price levels is very competitive as you know and there is only so much a company like Linn can do to develope it!
From their point of view promoting digital streaming is much better marketing as there are very few competitors in that section of the market and prices are (very) high at present. They will of course exploit their existing customer base by trying to convince them to upgrade. Whether their new Streamers are any better than a good CDP is a moot point and perhaps the folks at TNT will be able to tell us in the near future. For myself I find the CD medium to be very good with the right player. Until recently this wasn't the case but advances in dealing with problems like jitter have advanced it soundwise.
The great thing with the CDP is that you don't have to spend a fortune to get a good sound. The Harman Kardon HD990 is a case in point, especially as you can buy one for £300 on Pixmania.
To suggest that CDP is finished I don't think is very accrurate. If you cut through Linn's 'spin' what they are really doing is what is best for themselves!
Regards,
Mike - E-mail: mikebooth (at) talktalk.net
LC
Dear Mike,
you're absolutely right about Linn, they are an enterprise and must maximize profits, after all. Nothing wrong with that. The point which is interesting is that this is the first time in the history of HiFi that audiophiles can gain access to studio master files, i.e. the best quality which is available, by definition. We can say no thanks but it would be a giant mistake. In the past we paid extremely high prices to get original master recordings which weren't masters at all. Just copies. Let's try to be smarter now and exploit the possibility to get closer to the real thing (studio masters).
And, in the meanwhile, let's buy tons of CDs at sale prices!!! I've just bought Mark Knopfler and Emmylou Harris "All the roadrunning" (2006) for 5 € at the supermarket next door. It costs 14$ on Amazon (was 18$) and then you have to add shipping costs...food for thought, I think.
Thanks for the feedback!
Lucio Cadeddu
Still on bookshelf speakers
Dear Mr. Cadeddu,
I read your article about the lack of real bookshelf speakers on the market these days. The only one I'm aware of is the Cambridge Soundworks Model 6. It was Mr. Henry Kloss' last bookshelf design, and still selling rather briskly. I bought a pair a few years back just to have them - they're not at all expensive. A couple of links for you: www.cambridgesoundworks.com and www.cambridgesoundworks.com/pdf/manuals/m6.pdf.
In the manual linked above, Mr. Kloss stated that the best frequency balance will be obtained with the speakers positioned flat against a wall, as on many bookshelves, and called them the least expensive speaker he could make that you could live with for the rest of your life. I believe I could.
Sincerely,
John - E-mail: jaturner (at) 1scom.net
LC
Dear John,
thanks for pointing this out! I wasn't aware these speakers were still being made. Excellent good news, indeed. I'd love to review them, perhaps it's time to drop Cambridge Soundworks an e-mail!
Finally, something designed to work well on a shelf and priced reasonably!
Thanks for the precious feedback,
Lucio Cadeddu
Re: Record cleaning machines
Hello Arvind,
after sending my first comments to the TNT mag I also sent a follow up to the TNT-Audio forum.
In this I recalled that we had a "record cleaning" thread on the forum some time ago and that someone (can't remember his name, but no name, no misspelling!) had commented that they tackled the problem of a dirty platter contaminating the clean side of a record by having two removable mats: one for the dirty sides and one for the clean sides. Neat idea.
Best regards,
Michael - E-mail: michael_shanahan (at) telia.com
AK
Dear Mike,
I've seen that solution a few times on AudioAsylum, I am under the impression it was from more than one person but can't be sure. It is a clever idea, but unless you are cleaning really dirty stuff, I'm not sure it is really needed.
All the best,
Arvind Kohli
[ 01/2000 | 02/2000 | 03/2000 | 04/2000 | 05/2000 | 06/2000 | 08/2000 | 09/2000 | 10/2000 | 11/2000 | 12/2000 | 01/2001 | 02/2001 | 03/2001 | 04/2001 | 05/2001 | 06/2001 | 07/2001 | 08/2001 | 09/2001 | 10/2001 | 11/2001 | 12/2001 | 01/2002 | 02/2002 | 03/2002 | 04/2002 | 05/2002 | 06/2002 | 07/2002 | 09/2002 | 10/2002 | 11/2002 | 12/2002 | 01/2003 | 02/2003 | 03/2003 | 04/2003 | 05/2003 | 06/2003 | 07/2003 | 09/2003 | 10/2003 | 11/2003 | 12/2003 | 1/2004 | 2/2004 | 3/2004 | 4/2004 | 5/2004 | 6/2004 | 7/2004 | 9/2004 | 10/2004 | 11/2004 | 12/2004 | 1/2005 | 2/2005 | 3/2005 | 4/2005 | 5/2005 | 6/2005 | 7/2005 | 9/2005 | 10/2005 | 11/2005 | 12/2005 | 1/2006 | 2/2006 | 3/2006 | 4/2006 | 5/2006 | 6/2006 | 7/2006 | 9/2006 | 10/2006 | 11/2006 | 12/2006 | 1/2007 | 2/2007 | 3/2007 | 4/2007 | 5/2007 | 6/2007 | 7/2007 | 9/2007 | 10/2007 | 11/2007 | 12/2007 | 1/2008 | 2/2008 | 3/2008 | 4/2008 | 5/2008 | 6/2008 | 9/2008 | 10/2008 | 11/2008 | 12/2008 | 01/2009 | 02/2009 | 03/2009 | 04/2009 | 05/2009 | 06/2009 | 07/2009 | 09/2009 | 10/2009 | 11/2009 ]
[ Home | Staff & Contacts | DIY & Tweaks | Listening tests | HiFi Playground | Music & Books ]