[ Home | Staff & Contacts | HiFi Playground | Listening tests | DIY & Tweakings | Music & Books ]
Reviewer: Arvind Kohli - TNT USA
Reviewed: December, 2014


MANUFACTURER'S PUBLISHED DATA
Manufacturer
Oppo
MSRP - US market(USD)
$1199
Disc formats
BD-Video, Blu-ray 3D, DVD-Video, DVD-Audio, AVCHD, SACD, CD, HDCD, Kodak Picture CD, CD-R/RW, DVD±R/RW, DVD±R DL, BD-R/RE
Frequency response
(RCA) 20Hz – 20kHz: ± 0.2dB, 20Hz – 96kHz: -1.5dB.
(XLR) 20Hz – 20kHz: ± 0.3dB, 20Hz 96kHz: -1.5dB
THD+N
<0.0003% or -110dB (1kHz at 48k/24b, 0dBFS, 20kHz LPF), <0.0017% or -96dB (1kHz at 44.1k/16b, 0dBFS, 20kHz LPF)
Output level
2.1 Vrms (RCA) or 4.2 Vrms (XLR) at 0dBFS
Dynamic Range
>100 dbV
Channel Separation
>110 db
Power consumption
55W (Standby: 0.5W in Energy Efficient Mode)
Dimensions
16.8 x 12.2 x 4.8 inches (430mm x 311mm x 123mm)
Weight
17.3 lbs, 7.3 kgs
Parts and labour warranty
2 years
I hate clutter. And I hate myself when I make clutter. Yet I seem to always have a clutter around my audio rack, with all the CD cases that seem to be spritely when leaving their cabinet but return very lethargically.
The culmination of several technologies into a new category of product offers a plausible solution. We now have a small but growing category of products that I am convinced is the next firm step in music storage and reproduction. The category I refer to is Network enabled Universal Blu Ray disc players. These guys can play any CD sized audio [or video] format disc, including DVD-A and SACD. They can also connect to your home network to read files off a connected computer. But most importantly, and the way I intend to explore their use, is to burn all my CDs onto a portable drive and then permanently leave the drive attached to the player via USB, and other formats can be fed via disc till I get around to storing them all onto the portable drive. These devices have another great feature, where you can download an app on your tablet or smartphone to make it a smart remote, from where you can browse and control your media that is accessible through the player.
Of course, the feature set is outstanding and seems like it will be a great improvement in the enjoyment of my hobby. But the question of sonic performance hangs over the decision being final, and if there are no players on the market that are of snuff then for me this is not a viable solution yet. Looking through the offering in the marketplace I see that there are several brands of repute that make such a device, but it was Jason Liao of Oppo that was absolutely on the ball when it came to responding to my questions and furnishing me with a sample player. Hence, that is my first candidate in this quest, but rest assured I will be comparing to other players as well. This model was also previously reviewed here by our own Maarten van Casteren.
The BDP-105 has a host of features that shows the designers were very serious about the 2 channel audio performance of this unit. Components are housed in a passively cooled metal chassis. The unit is furnished with the SABRE32 Reference ES9018 DACs from ESS Technology, this DAC delivers a DNR (Dynamic Range) of up to 135dB and THD+N (Total Harmonic Distortion plus Noise) of -120dB. The BDP-105 uses two ES9018 DAC chips - one for the 7.1-channel output, and another for the dedicated stereo output. The BDP-105 features a dedicated 2-channel analog output with specially optimized ES9018 DAC and output driving stages. The stereo output offers both XLR balanced and RCA single-ended connectors. The balanced output features a true differential signal path all the way from the DAC to the 3-pin XLR connector. By transmitting a pair of differential signals, the balanced output provides better common-mode noise rejection and improves signal quality. A toroidal power transformer was choose as a juice source instead of a laminated steel core transformers. The amplifier driving the headphones jack is connected directly to the DAC.
A significant feature is that the player has a built in digital volume control. So for those of you who prize shorter and simpler signal paths, you could connect the player to an amp or active speakers for a streamlined, single source system. Now there is a lot of hand-wringing on the 'net about loss of resolution in attenuating in the digital domain, while I did not extensively test the quality of the volume control, I did not notice any loss of quality from the cursory listening I did while varying the volume.
In daily use the player had a few bits and ends that could have beeen better designed for usability. The buttonss on the front panel were the soft touch type mounted under a pad, and did not respond to my touch with 100% success. Also, you first have to press the close tray button and then play a disc - simply pressing play with the drawer open simply gets you blanks stares. And for a lot of the setup you need to have a tv monitor hooked up to the player to see the menu, this can be a real pain if you plan to use the player in a 2 channel only system like I did. Perhaps the feature I loved the most was the MediaControl app you could download to your tablet or smart phone. See screen shots of the app below to get an idea of the functionality available, this is a remote control on steroids.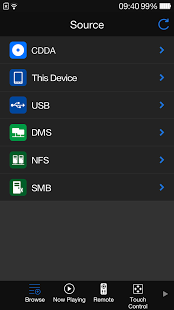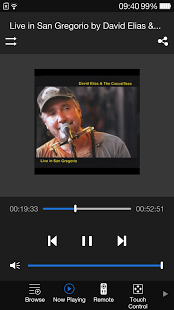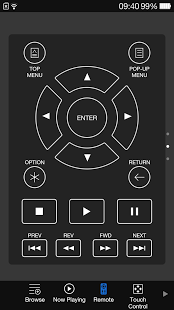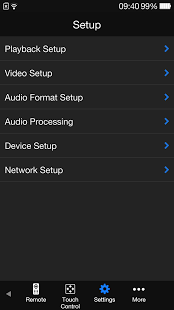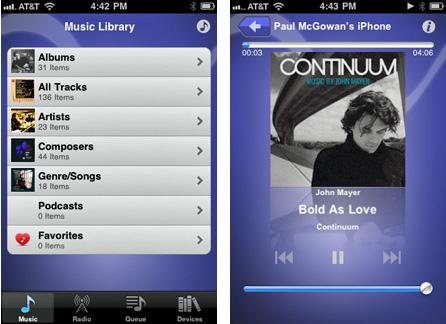 Listening
If you have read any of my previous reviews, you probably know of my fetish with direct comparisons of two or more components. I am convinced there is no other way to put context to what a component is really capable of. In this case I am comparing this disc player to my long time reference the Denon DV3910 with Level2 Underwood mods.
"Summertime" (Lesly Olsher; Stereophile Test CD1;Stereophile; STPH002-2 )
This is an acapella recording of a female vocal solo, with a huge dynamic range and quite a bit of micro detail too.
The Oppo had a much higher output, to match level for comparison I had to turn the volume down considerably when playing the Oppo. This observations is not surprising, since I was using the XLR outputs that is rated at 4.2 Vrms at 0dBFS. Also immediately noticeable was the obviously greater dynamic range of the Oppo. This was especially apparent during softer passages, where more detail was revealed through the Oppo. And when listening through headphones, the Oppo drove the amp to clip during louder passages if I had set the level too high. The Oppo also seemed to have a quieter background, but I cannot yet be completely certain of that - on to more tests to see if that is revealed further.
"All or nothing at all" (Diana Krall; Love Scenes; Impulse; IMPD-233)
This track features female vocals with a pretty wide dynamic range and a prominent double bass.
It was immediately apparent that the Oppo had the advantage on several fronts. After listening to the track many times on each player, here is how I can best articulate the differences. For one, the dynamic range is much much larger on the Oppo, at least in part that would be attributable to a much lower noise floor. But besides the lower noise floor (blacker backgrounds and all), the range was much larger and transients were sharper. To the point of that visceral thrill one gets when sitting close quarters in front of a live ensemble, and you realize how much power and dynamic range instruments and voices really have. On well recorded tracks featuring large dynamic ranges and transient, this player demands your attention - you will pay the musicians the proper respect they deserve, this is not background listening. And if all that was not enough, the Oppo also delivered quite a bit more distinction between notes and instruments. And finally, the Oppo also laid bare quite a bit more micro detail.
"Mo better blues" (The Branford Marsalis Quartet; Mo' better blues; Columbia; 46792; CD)
This track has quite a bit going on at the same time, though it is not very bombastic or have massive dynamics.
Again, the Oppo was immediately the better sounding player. Seperation of instruments and notes is where the biggest impact was noticeable. I never felt the modded Denon was ever a slouch, and frankly I'm very pleasantly surprised that there was that much more room for improvement. I also never realized how much of a difference it makes to the overall listening experience. For me, the cummulative effect of all sonic improvements in a playback system should bring us closer to the original event in terms of realism and immersion. After spending time with the Oppo it has become clear that the better a system can seperate instruments and notes, the more convincing it seems that one is listening to a live set of musicians and can follow them along on their journey. It becomes easier to get immersed and lost in the music, for me there is no higher reason to be in this hobby.
Conclusion
To be quite honest, I was not expecting the Oppo to be significantly better than my long time reference. I was expecting that at best, the Oppo would match or come close to the Denon in sonic performance and with the additional features it would justify replacing the Denon. But when the Oppo is simply and clearly better on virtually track I tested, the decision is a no brainer. Outstanding.
Next, I intend to compare the Oppo to other competing players to see how it stands up to it's peers.
© Copyright 2014 Arvind Kohli - arvind@tnt-audio.com - www.tnt-audio.com
[ Home | Staff & Contacts | HiFi Playground | Listening tests | DIY & Tweakings | Music & Books ]