[ Home | Staff & Contacts | HiFi Playground | Listening tests | DIY & Tweakings | Music & Books]
Pedersen Orbe build up - Part 3
Vinyl Frontiers: The Pedersen Subchassis Regime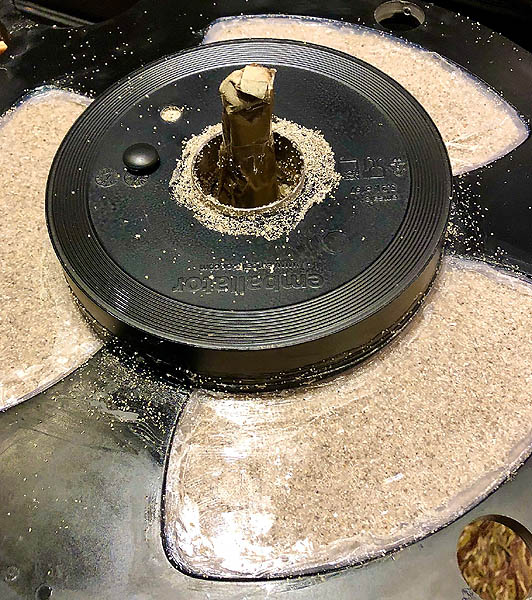 The Danelaw applied to the Mickey Mouse subchassis
Product: Turntable Modification service for Michell turntables
Manufacturer: Gert Pedersen, Denmark
Price: Depends on what you want doing to what turntable; See Pedersen price menu but as usual YMMV
Author: Mark Wheeler - TNT UK
Written: Spring 2020

Pedersen Orbe SE review part 3: The Subchassis
Pedersen subchassis modifications
In their drive to take the established and fundamentally sound Michell Gyrodec and Michell Orbe towards the modern high end, both turntables being around since the last century, Gert Pedersen and fellow Dane Niels Nørby investigated every aspect of the design except the platter, motor and power supply. In part 1 and part 2 we have learned a little about the changed sound and the development history.
Gert Pedersen and his friend Niels Nørby observed, as they developed their optimisation regime for the Michell Gyrodec, that the Achilles' Heel of the Gyrodec (and its siblings, the Orbe and the Spider Editions) is the massive Mickey Mouse subchassis. In engineering English, the term "Mickey Mouse" is usually applied to substandard finish or materials but in this case it refers to the shape of the bare subchassis resembling the silhouette of the popular cartoon rodent.
They had made, by trial and error of various ideas, the discovery that the steel springs added a resonance that both emphasised certain frequencies in the lower midrange and also time smeared the output. It is probably unsurprising that turntable subchassis springs in a lively soundfield will resemble the action of the old mechanical reverb spring in the bottom of a 1960s guitar combo. Gert & Niels observed that the steel springs, once removed, were not the only culprit in the subchassis resonance caper, as John Michell himself had observed and mitigated in the Orbe by application of Densodamp compound.
Having eliminated the audible contribution of the springs to the Michell Orbe/Gyrodec output, Gert and Niels were able to identify more accurately the profound contribution of the whole subchassis structure to the perceived colouration. John Michell had already identified this during the development of the Orbe turntable, and applied chipolatas of proprietary Densodamp to the hollows on the Orbe subchassis.
Replacing the Densodamp
However, John Michell discovered that there is an optimum point in the trade off between effective resonance control vs music retrieval. Just as Linn long ago discovered that the Linn Sondek's more endearing qualities are destroyed by any form of damping compound on the Linn Sondek subchassis, despite the remarkably similar Thorens TD150/TD160 benefiting from subchassis damping. Hence the little sausages of Densoglop meagerly applied to the Michell Orbe subchassis. Greater quantities do reduce resonances further, but also have unfortunate side effects. Hence, the task for Gert was to develop a more targeted effective solution to the identified problem.
"But wait!" Exclaim Plebs, stage left, "Surely there are other ways to control subchassis resonance than variations on Blu-tac or Play-doh?"
Indeed, your old scribe has been experimenting with various combinations of materials while undertaking some research for effective DIY vibration isolation tables. Gert had reached a remarkably similar approach a decade earlier. The Pedersen Orbe/Gyro subchassis has its underside cavities filled with Plastic Padding chemical metal. This adds mass and some rigidity to the cast aluminium Michell Orbe/Gyrodec subchassis. Gert Pedersen is so concerned that buyers will use the correct materials that he sends a tin of this with the kits, as well as the dried sand, bathroom silicon and wooden spacers to ensure the builder uses exactly the specified materials.
Your Old Scribe had already tried and tested the Pedersen recommended mineral loaded resin (Plastic Padding Chemical metal, along with Plastic Padding glass reinforced resin, Plastic Padding Type Elastic, another brand of aluminium loaded resin, casting resin, kiln-dried sand, bathroom RTV silicone and frame sealant in aluminium channels. Those findings were that the glass reinforced resin was more rigid and with a shorter decay time in aluminium channel than the Chemical Metal mineral loaded resin. It was also slightly more inert and considerably lighter. Wishing to retain the properties designed by Gert Pedersen as well as the extra properties afforded by the glass reinforced resin, you Old Scribe adopted an integration of both materials.
Just like Gert's Gyrodec, the surface of your Old Scribe's Orbe subchassis hollows were cleaned out first of all traces of densoglop and paint. The emery paper supplied by Gert (he really does supply absolutely everything except 1 thread tap) was not as effective as a small ball end grinding tool ("Fnarr fnarr," snorts one pleb) on a Dremel type tool, which is faster and more effective. Gert also supplies aerosol can lids for customers to perform the resin & hardener mixing tasks; one might expect the sort of person who takes a drill to their expensive turntable will own mixing boards as well as a drill.
Just like Gert's Gyrodec the inner surface of the hollows of the subchassis are coated with the supplied metal loaded Plastic Padding. However, your Old Scribe then filled the centre of each hollow with fibreglass-fibre reinforced resin. The glass-fibre resin begins slightly bigger than the notorious school sausage ("Fnarr fnarr," snorts the same pleb), as though sliced lengthwise horizontally to produce two semi-sausages ("Ick throop Fnarr," snorts that pleb overwhelmed by double entendres). This is moulded into the space left by the already curing Plastic Padding Kemical Metal. The combination performance exceeds the sum of the parts in experiments with aluminium extrusion. However from here-on-in readers will understand that results will not be identical with those of the Pedersen Orbe SE as made exactly according to instructions.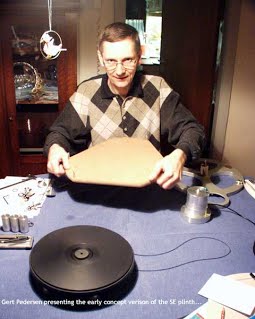 Gert wrote to your Old Scribe, "Mostly, we aimed to achieve, very low noise and resonances, damping the chassis and so, in the end it is the MUSIC we listen to and we love, and that's what it's all about, clear deep and natural sound"
An adhered solid material has effective damping properties (the aforementioned Sondek's glued subchassis replacing the old spot welded one being a fine example in this context). "We did it the empiric way, instead of the scientific and theoretical way, always keeping the resulting sound as the focus." Impulse testing the bare subchassis before and after the removal of Densodamp and application of Plastic Padding produced a sharper, faster sound at all positions tried.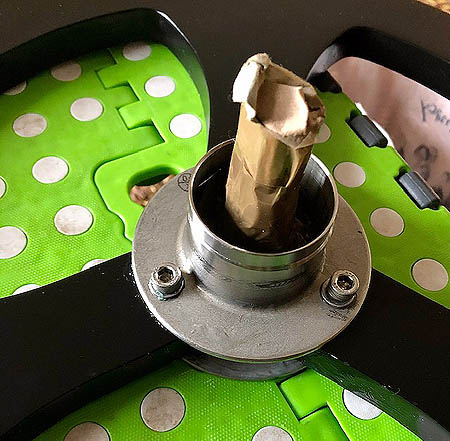 Main Bearing Reinforcement
Having identified this aspect of the Gyrodec's subchassis inherent limitation, as developments of other parts of the Gyrodec improved its performance, Gert Pedersen decided that the area around the main bearing was probably a weak spot. Gert designed a reinforcing flange that also acts as an inner wall to contain kiln dried sand. Hence any vibration generated in the bearing area will be distributed in this flange (as well as in the subchassis like a standard Orbe/Gyro. The flange, being in contact with a mass of kiln dried sand, acting as a perfect mass with no elasticity, will dissipate this energy as friction between granules (as heat). There has been considerable debate, for many years about the effectiveness of kiln dried sand in electromechanical audio components. Some experimenters maintain that filling equipment structures or supports with dried sand is the finest way to eliminate stored vibration, while others suggest that this material as a damping agent also affects leading edges and transients. The Gyro/Orbe has never been a front runner in leading edges performance (possibly due to the effects of those subchassis resonances combined with high mass) while ultra-light (often otherwise flawed by colouration) turntables do sometimes achieve stonking leading edges, in the manner that a Decca London cartridge does.
Where one might take issue with this approach is that the subchassis is drilled to bolt the reinforcement flange in place, potentially introducing a new weakness. Two-pack or cyanoacrylate adhesive might be as effective without drilling. The bolts are held by a second, tapped, flange below the bearing location so that the original Michell subchassis is held as the filling in a rigid sandwich. On the underside the flat flange is surrounded by a disc of clear acrylic. This is to retain the sand and would be better aesthetically if it was opaque. Opaque acrylic would conceal the inevitably wobbly bead of silicon with which it clings to the Michell subchassis and hide the sand within. Silicon bathroom sealant is readily available throughout the world, so Gert could save his customers the expense of shipping common impeller tubes of building materials around the world.
Son of a Beach
Three kidney shaped pieces of clear perspex (which do need to be clear in this location to ensure that sand is distributed right into the corners) are fixed around the upper bearing reinforcement. These will be hidden under the Orbe platter, but not the Gyrodec platter, which is another sensible reason to start with an Orbe rather than a Gyrodec. On top of these is mounted an inverted, painted and drilled plastic food container.
Fortunately this painted plastic food container is hidden under the Orbe platter, but is visible between the spinning gold weights of the Gyrodec. Gert supplies black ones for Orbes and silver-grey ones for Gyrodecs. On a Gyrodec it would be worthwhile to source a similar aluminium item from one of the many oriental online marketplaces. Even a Trangia camping stove aluminium pan could be made to fit (yes, your Old Scribe checked). This curious plastic subchassis extension is then filled carefully with kiln dried sand (also shipped from Denmark by Gert). It appears to be the same stuff used for patio paving gaps; the ultra fine sterile play-sand supplied by educational suppliers may have a different effect.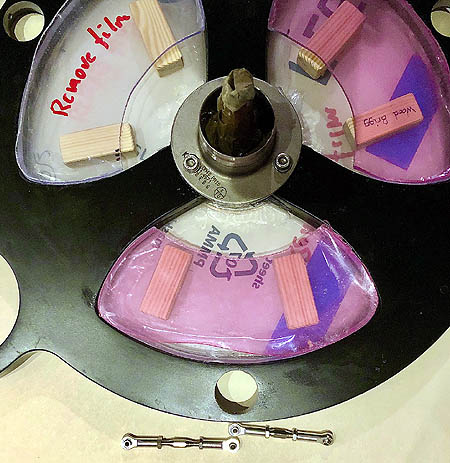 Sand gets everywhere during this procedure, despite careful use of a tiny funnel and very slow progress. The bearing well had been taped over from the start of the rebuild and escaped without contamination. The edges of the beads of silicon were thoroughly contaminated with sand that even a drinking straw taped to a vacuum cleaner nozzle did not fully remove every trace.
Of the subchassis, Gert wrote to me that the subchassis perceived limitations were a major priority. Once filled with sand, the subchassis is more substantial, considerably heavier and even more inert. Impulse testing by tapping now produces a dull thud. This does not have the speed of the sand free version but without FFT analysis further speculation is superfluous.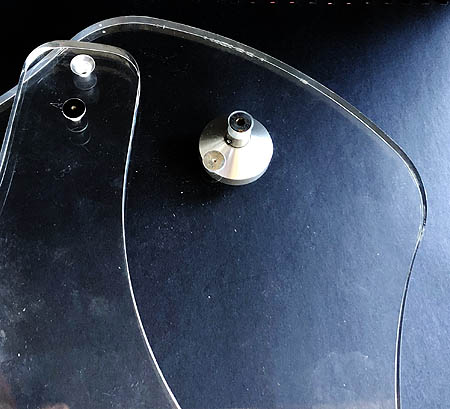 Finishing the Subchassis
There is considerable danger to the finish of your Orbe or Gyrodec subchassis. While in pieces it might be an opportunity to strip the finish and perhaps polish the aluminium like a classic sports-car, or have it anodised a novel colour. Drilling the holes for the Kevlar tie bolt requires precision and a steady hand. While on the subject, it would be more cost effective to reverse the positions of the 3 sets of 3 Kevlar tie pillars on the Spider Editions of the Orbe and Gyro so that the new bigger acrylic spiders (300€ for the Orbe) would no longer be necessary and the Orbe SE and the Gyro SE would retain their hovering aesthetic. This presumably came about when Gert adapted the Kevlar links from the full plinth Orbe and Gyrodec that were the R&D mules.
Floating or Sinking or What?
Unlike the original Michell Gyrodec and Michell Orbe models, the Pedersen Orbe and Pedersen Gyrodec are no longer floating subchassis turntables. The Pedersen versions might be better described as Isolation Subchassis turntables, or Decoupled Subchassis turntables. This is partly why the reduced subchassis resonances are crucial to the Pedersen concept, as we shall observe when we examine the suspension changes in the next exciting episode of Vinyl Frontiers: Pedersen Michell Modifications.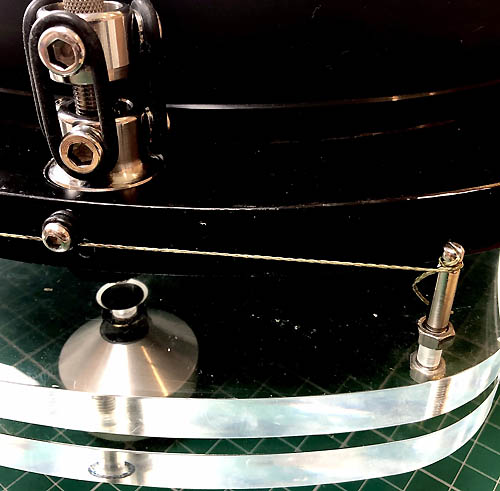 Music enjoyed while writing this review

Reference system

on vinyl of course

The Future Sound OF London: Archived : Environmental : Views
Albarn, Simonon, Tong & Allen The Good The Bad and The Queen
Hania Rani Esja stunning piano recording
Weather Report: Mysterious Traveller
Amon Düül II: Live in London
Doctor Feelgood: Sneakin' Suspicion
Free: Pop Chronik

Equipment used in this review:

Donor Turntable: Michell Orbe SE

Turntable Modification 1: Pedersen subchassis & suspension kit

Turntable Modification 2: Pedersen Orbe SE replacement 2 layer isolation

Turntable Modification 3: Pedersen Michell Armboard isolator

Pick-up arm 1: HadcockGH242 SE with all silver wiring from cartridge to silver Eichmann Bullet plugs

Turntable 2: Linn Sondek LP12 Audio Files aerolam subchassis & Spoke modifications with full

Pick-up arm 2: SME 309

Turntable support: Origin Live Ultra wall support, chrome plated, nylon cord replaced by chains

Turntable shelf: 10mm laminated glass

Turntable shelf to Orbe SE feet interface: PolyCrystal Point Discs sadly now obsolete but absolutely superb and superior to RDC cups and Michel Tendercups

Turntable shelf wall isolation: RCD Cups (larger surface area than Polycrystal Point Discs reduces wall plaster deformation)

Turntable shelf support: Rawlbolts embedded in hard plaster

Turntable shelf alternative: Something Solid end grain balsa

Turntable shelf alternative: ERaudio Large SpaceHarmoniser

Tuning: Yamamoto Sound Craft including Yamamoto PB9 & PB10 and BrightStar extra large IsoNodes and various vibration control products.

Various cartridges: Audio Technica VM95 range of all styli options; Dynavector DV XX-2 MkII; Decca London (Cartridge man mods).

Phono pre-amplifier: Canor TP306 VR+ still top phono-preamplifier, on BrightStar extra large IsoNodes

Integrated amplifier: Canor TP106 VR+

Line Pre-amplifier: Audio Research Corporation Reference 3 tube rolled and vibration controlled internally by Pearl valve cooler/dampers and externally by small ERaudio SpaceHarmoniser, RDC cones and separate sand-filled steel frame support, casework damped by BrightStar Little Rock 5

Crossover: Behringer CX2400 analogue variable Linkwitz Reilly (4th order) 3-way

Tuning planks: ERaudio Large SpaceHarmoniser

Passive Loudspeakers:TQWP/Transmission-line hybrid passive loudspeakers (18mm & 25mm birch-plywood cabinets; long fibre natural wool stuffing; Deflex panel lined) loading the late the late John Wyckoff's Hammer Dynamics bass-mid driver

Passive crossover with litz-wired inductors & couture capacitors) and B&CDT400N & B&C DE-35-8 tweeters and Fostex ring tweeters.

Active Loudspeakers: 3-way active loudspeakers:

Active Loudspeakers Bass drivers: Focal Audiom 12 VX with Cerwin Vega 2 layer cone roll surround, in 3 layer 25mm birch-plywood braced, hardwood – chipboard – fibreboard reflex (fbox 34Hz) cabinets, with Deflex subwoofer sheets & wedges and long fibre wool.

Active Loudspeakers: mid-range drivers: Focal Audium 7K with rubber solution surface damping removed. Mounted in separate enclosure with sculpted & radiused fiddleback sycamore baffle, 25mm birch-ply bracing, Deflex standard sheets. Rattletrap Extreme damped, decommissioned missile warhead, aluminium tipped copper mesh reinforced resin outer shells - literally.

Active Loudspeakers high frequencies: Focal TC120TDX with felt focus ring.

Active loudspeaker bass cabinet feet: Three tapped RDC cones seated in three Yamamoto Loudspeaker Spike Receiver.

Active loudspeaker bass cabinet to mid/top enclosure interface rear: Michell Tenderfoot into Yamamoto PB-21 pin point receiver base; front: Yamamoto VB-18 Ebony V groove tuning base

.

Some wire is used to join these components together. No interconnects cost more than 10% of the device at each end, much of it made by the Old Scribe from high quality components. Mark's amplifier-to-loudspeaker wire (full range, mid-range, tweeter) is ultra-low impedance Black Rhodium S900, a low-Z variation on the Black Rhodium S600 cable that came out well in Ben Duncan's objective and subjective correlation tests, selected primarily to match the OPT/driver damping factor, not for any magical qualities. Bass only loudspeaker cable Naim NACA 5, which remains unchallenged below 350Hz. Mains is supplied by an audio only ring main with Radex earth (ground) non-inductive connections and a technical earth. Crossover and power ampliers fed by a minimum connections hydra, sources and pre-amp from terminal blocks within the audio only ring.

Copyright ©2020 Mark Wheeler - mark@tnt-audio.com - www.tnt-audio.com
[ Home | Staff & Contacts | HiFi Playground | Listening tests | DIY & Tweakings | Music & Books ]