TNT-Audio Readers' Corner
Monthly section devoted to your letters, positive and negative feedback about everything related to Audio and HiFi.
You are here > Home > Staff & Contacts > Letters of the month
September 2013
Please take a moment to review the How to use the Readers' Corner manual - send then your enquiries to editor (at) tnt-audio.com or to the appropriate reviewer.

M2Tech HiFace Two
Nick,
I've read your review on TNT. I'm using an imac as a digital source for my liquid music (itunes + amarra). I've got a Beresford caiman as a dac, which features coaxial, optical and usb inputs, at the moment I'm using the built in spdif digital out optical) from the imac to the dac. Do you think that using the hiface two and the coaxial input of the dac could make a sensible difference compared to a direct optical connection? I was thinking that the optical output is already a "pure" digital output...
Thanks,
Mario - E-mail: mariolll (at) tiscali.it

NW
Hi Mario,
The only real way to know if the hiFace TWO would make a significant improvement would be to try one. I would guess that it would, and as an advantage it would would be able to use it with other DACs too.
I would also urge you to consider the hiFace DAC that I am fairly sure would improve on the Caiman set-up. These latest USB DACs really are a big step forward in sound quality.
Regards,
Nick Whetstone


Simple low cost turntable isolation platform (DIY)
Dear Lucio.
I have been interrested in HiFi for many years, and for the last couple have become involved in DIY HiFi, making a couple of class A monoblocks, converting a Rega Planar to an acrylic deck, (this is can be achieved easily and makes an amazing improvement). I think that some of the experience with my DIY might be of use to your readers.
I recently started to use vinyl again and using a Rega Planar deck and a glass ex tv stand found that light tapping of the glass stand was transmitted via the deck to the speakers. Looking for a simple low cost cure, I thought that foam would provide a possible solution. From the local UK supermarket I bought a pack of 6 washing up pads, the type that have yellow foam with a thin green layer, and are around 80*60*40 mm. I stuck a small piece of 4 mm ply on each planning to put them directly under the Planars feet, this worked for isolation but it was almost impossible to achieve a level deck.
So I tried with a platform of chipboard and also one of Perspex and both work. There is no transmission of a sharp blow on the glass stand to the speakers, even with the volume turned well up above normal levels. With a Rega, two centre back and one at each front corner works. Total cost around UKP 3.00 including chipboard, a bit more with acrylic.
Photo shows an example of type of pad, and one with more weight than Rega, and although over compressed still gives a reasonable amount of isolation.
Really enjoy your site knowing reviews are not influenced by advertising revenue.
Thanks.
Mike - E-mail: mikejn (at) talktalk.net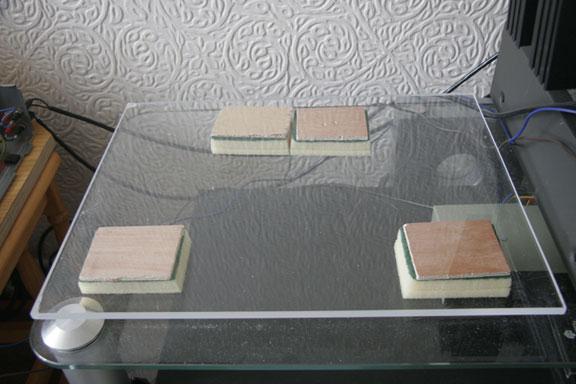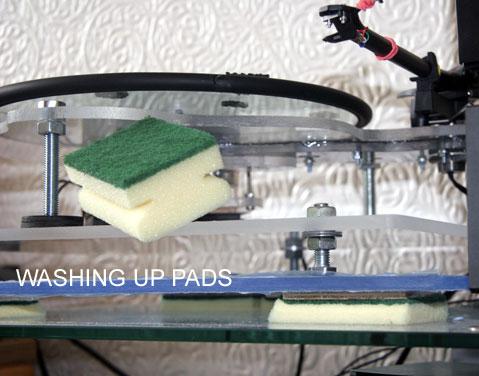 LC
Dear Mike,
thanks for your feedback! Of course, be sure that the platform is perfectly leveled since there could be small height differences in washing pads (before and after the cut). Moreover, different weight distribution inside the turntable chassis might alter the perfect equilibrium of the platform. If you wish to try cheap alternatives, tennis balls might be worth a try as well (half of them, actually).
Many thanks!
Lucio Cadeddu

Gallo Reference
Dear Arvind,
I read your interesting review about Gallo Reference 3.1 on TNT Audio. I'm curious to know if you listened also to the 3.5 model and which are your thoughts.
Thanks and best regards.
Angelo - E-mail: angelodegobbi (at) gmail.com
AK
Hello Angelo, No, I have not heard their 3.5 model. After my underwhelming experience with the 3.1 and their extremely poor responsiveness and complete lack of coordination, I don't think I will ever bother reviewing their products again.
Arvind Kohli

Infinity Reference 1 mkII - loudspeakers
You wrote 13 years ago:
The suspension of the woofer is made out of foam, the kind of stuff that evaporates after 15 years or so. OK, who's going to keep a pair of 200$ speakers for 15 years?

I did keep'em. My mkII set is 13yrs old now and the foam is falling apart. I'll try to find spare foam rings and replace them by myself, yes all 10 of them!
Cheers,
Mack - E-mail: macksters (at) gmail.com

LC
Dear Mack,
do you mean you own 5 pairs of Infinity REF 1's??? WOW, that should set a new world record! :-) As you see, my woofer foam degradation prediction was correct! Even a bit optimistic. I wrote 15 years, they're falling apart after 13 :-)
Anyway, glad to hear you're still enjoying these speakers after a so long time. A DIY repair is a very good idea, to cut down costs, otherwise the whole process would be definitely a nonsense.
Happy refoaming and happy listening!
Lucio Cadeddu


NAD 3020 partners
I have a NAD 3020 amp and would like to know if a Magnavox cd player with the ta 1541 chip be a good match with this amp or any other budget players? Also have DCM cx27 and wondering if you feel this is a good match or have other suggestion? Thank you.
John - E-mail: jsowers421 (at) gmail.com

LC
Dear John,
your Magnavox CD player is certainly better known, at least here in Europe, under the Philips brand. Actually, Philips acquired Magnavox in 1974 and started to sell CD players under the merged Magnavox Philips brand. Later they were sold as Magnavox only again, because the double brand was causing confusion to customers. Now Magnavox is a brand for products made by Funai (which has just acquired the Philips home entertainment activities). In other words, this means your CD player should be rather good sounding, especially if equipped with a TDA 1541 chipset. Perhaps not the smoothest sounding one, but still enjoyable. No problem to use it in partnership with your NAD3020 (which is warm and smooth, instead). Finally, your DCM speakers, with their high sensitivity (93 dB), should be good sparring partners for the 3020, even if your listening room is large. I think you'll enjoy your system!
Keep us updated,
Lucio Cadeddu


Hope for future generations?
Hi Lucio,
Hope you're having a great vacation. I thought you may enjoy this article ......
Maybe there is hope for future generations (from an audio standpoint) :-)
www.nytimes.com/2013/07/25/garden/the-new-audio-geeks.html
Thanks,
Steve - E-mail: SLombardo (at) fukuda.com

LC
Dear Steve,
thanks for the interesting article you suggest! I hope the journalist at The NY Times is right!!! The problem is that high quality audio is still perceived as expensive, complicated and intrusive, while young people tend to prefer portable, inexpensive and easy to use audio gear. However the audio industry has been working hard on designing products that can have a certain appeal on younger generations. USB DACs or class D small amplifiers, for example, can be an easy way to enter the high quality audio world with ease. Other products - such as the smart Cocktail Audio X10 (review soon) - might be considered that "missing link"...so, yes, I agree, there's hope!!!
Happy listening,
Lucio Cadeddu


Quad ESL 988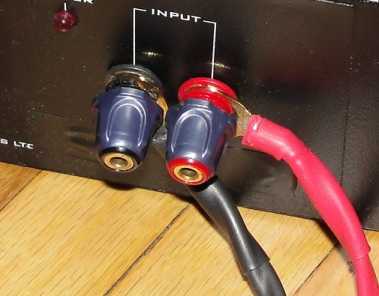 Hi Arvind,
this is clearly one of the best summary/reviews I have read about the Quad Speakers, namely the Quad ESL 988. I have just purchased a pair of these legendary speakers and waiting more anxiously on their delivery, now that I read your review.
I have had my first experiencing in listening to the Quad ESL 57 about 40 years ago. I was about 20 Years old then. My first impression was "Good heavens, these speakers sound better than my dad's Kef Cadenza speakers".
My friend played a track from his father's Ravi Shankar and Mc Laughlin LP, East meets West album, and as you have mentioned; the sound of the plucked strings were so realistic, almost if the artists were in the room. He then went on to play his dad's Elvis Presley and Dean Martin records. Again, I was shocked at the presence of the voice. When his dad left, I ran home and fetched some of my Jazz music and boy oh boy, I was totally mesmerized by the sounds coming out of those Quads. I knew then, that I had to own a pair of those speakers sometime in my life.
About ten years ago, I purchased a pair of ESL 63's from a seller in Durban, which is about 1 600 km from where I live in Cape Town. I was disappointed when the speakers arrived, because they were arcing like crazy. I was so disappointed that I put them back in the box and stored them in a spare room. I came across a repair kit on EBay and purchased the kit from a seller in Australia.
I did not have the time to repair the speakers and gave it away to a very good friend of mine who actually informed me a few weeks ago that he completed the refurbishment of the speakers and was quite shocked upon listening to the Quads. His raving about the ESL 63 speakers motivated me to look for another pair of ESL's and I came across someone selling a pair of ESL988 Speakers which he had refurbished recently and I paid for the speakers on line. I am just hoping that I will be more fortunate this time and will be getting a working pair of speakers this time.
I started to search for some more information regarding the ESL 988, since I was more clued up on the ESL 63 Speakers. I then came across your review on the Quad ESL 988 and I must say that your summary of these speakers really excited me to such an extent, that I can't wait to receive my speakers and hook them up and sit back and just listen, and listen…. and enjoy.
I have owned a pair of Carver Amazing Silver Ribbon speakers. These were very good. They handled the full frequency spectrum very well, but still did not have the smooth sounds of the Quads. I had a listen to various Martin Logan speakers and other electrostat speakers. They were all good, but not as good as the Quad ESL's. There was something lacking, and I am quite sure, now that I have read your review; it is the beautiful midrange that the Quads produce.
My current system consists of Meridian 568.2mm Processor, Meridian 598 DVD Player; Meridian 557 Power Amplifier, Meridian M60 Powered Speakers; Miller & Kreisel Speakers, Wadia WT3200 CD Transport; Wadia X-64.4 Dac and a Paradigm Ultra-Cube 12 Subwoofer.
I am hoping that you could advise me on this one, Arvin. Do you think that the Meridian 557 will be suitable to drive the Quad ESL 988 Speakers?
Thank you so much for your great review.
Take care and have a great day.
Shamil - E-mail: albertronics (at) telkomsa.net

AK
Hello Shamil,
Thank you for the kind words. With the 988, I'm sure you already know, room placement is key. You will have to play around for best results, but here are some general guidelines;
- probably at least 2m from the rear wall.
- angled right at the ear, horizontally and also vertically if you can introduce a bit of a rake. So the center of the panels are aimed at the ears.
- an angle of 60 degrees or more between you and the speakers.
Unfortunately, I have no experience with the Meridian amp....but I am partial to amps that operate in class A. Give one a try f you can get you hands on one. I purchased a used Monarchy SM70 Pro for myself, and am very impressed.
I'd be curiouss to hear your impressions and the setup that you find works best for you.
Arvind Kohli


New phono preamp and new speakers
A friend of mine is lending me his AT95E cart for a few weeks to try out and Ii also have a proposal from the Indian distributor regarding  The Trigon Vanguard-2 phono stage. (about USD 325 here).
The sound I like is more like that I get from my Grado SR80i headphone.. a touch.. just a touch.. more on the bass / mid bass and a slight roll off at the top. Not a relaxed presentation but an active (not aggressive) presentation. Not too much into details but need enjoyment in musicality across genres.
It's a hard thing to ask for a budget but.. here I am..
It's hard to say till I have listened but some of the reviews say the Lehmann Black Cube is a touch leaner while the Trigon 1 has been reviewed on TNT Audio (and they say it's the little brother of the lehmann).
Do you have any experience with the Trigon Vanguard 2.. I am told that i can upgrade this later with a separate power supply also.. costing additional $300..
Have a nice weekend

Hi Lucio,
I finally setup the Lehmann Audio Phono Stage Black Cube SE2. It works well. Many thanks for your kind encouragement.
I will give it a listen for a week or two and send you my listening impressions and photos.
BTW, which Standmount speaker will be significantly better than my Epos M12i at a budget of USD 1500 for a used one. There is a Dynaudio Contour 1.3SE for USD 1650 but I fear that the 50W of the Naim Nait 5i may not be enough for its sensitivity of 85 dB. I am open to a Floorstander too but everything within USD 1500.
Maybe something from these:
Monitor Audio RX6
Dynaudio Focus 140
Dynaudio Contour 1.3SE
Dynaudio DM 2/7
Proac Response D2 - if used one on audiogon
Epos M16i
Epos M22i ( again i am not sure of power )
Dali Ikon 6 ( version 1 ). ( I hear the ver 2 is not so good )
Merlin - standmounts
Tannoy DC6T - Floorstander
Harbeth Compact 7 or SHL5 ( used )
Spendor A5 or A6
I want to significantly upgrade the sound and not a lateral movement (but retain the Naim Nait 5i integrated amp).
Hope all is fine with you otherwise.
Mahesh - E-mail: mpwaran (at) yahoo.com

LC
Dear Makesh,
I've never had the chance to compare the Trigon to the Lehmann so I'm afraid I can't help much. The Black Cube is a fine performer, I'm sure you will live happily with it.
As for loudspeakers, your best bet would be choosing the best Epos floorstanders you can afford. This way, you can still enjoy the renowned Epos tonal balance, with better bass, punch and scale. And the Naim Nait 5i you own would be a perfect match! Otherwise, consider some Spendor or ProAC floorstander as well.
Hope this helped somehow,
Lucio Cadeddu


[ 01/2000 | 02/2000 | 03/2000 | 04/2000 | 05/2000 | 06/2000 | 08/2000 | 09/2000 | 10/2000 | 11/2000 | 12/2000 | 01/2001 | 02/2001 | 03/2001 | 04/2001 | 05/2001 | 06/2001 | 07/2001 | 08/2001 | 09/2001 | 10/2001 | 11/2001 | 12/2001 | 01/2002 | 02/2002 | 03/2002 | 04/2002 | 05/2002 | 06/2002 | 07/2002 | 09/2002 | 10/2002 | 11/2002 | 12/2002 | 01/2003 | 02/2003 | 03/2003 | 04/2003 | 05/2003 | 06/2003 | 07/2003 | 09/2003 | 10/2003 | 11/2003 | 12/2003 | 1/2004 | 2/2004 | 3/2004 | 4/2004 | 5/2004 | 6/2004 | 7/2004 | 9/2004 | 10/2004 | 11/2004 | 12/2004 | 1/2005 | 2/2005 | 3/2005 | 4/2005 | 5/2005 | 6/2005 | 7/2005 | 9/2005 | 10/2005 | 11/2005 | 12/2005 | 1/2006 | 2/2006 | 3/2006 | 4/2006 | 5/2006 | 6/2006 | 7/2006 | 9/2006 | 10/2006 | 11/2006 | 12/2006 | 1/2007 | 2/2007 | 3/2007 | 4/2007 | 5/2007 | 6/2007 | 7/2007 | 9/2007 | 10/2007 | 11/2007 | 12/2007 | 1/2008 | 2/2008 | 3/2008 | 4/2008 | 5/2008 | 6/2008 | 9/2008 | 10/2008 | 11/2008 | 12/2008 | 01/2009 | 02/2009 | 03/2009 | 04/2009 | 05/2009 | 06/2009 | 07/2009 | 09/2009 | 10/2009 | 11/2009 | 12/2009 | 01/2010 | 02/2010 | 03/2010 | 04/2010 | 05/2010 | 06/2010 | 07/2010 | 09/2010 | 10/2010 | 11/2010 | 1/2011 | 2/2011 | 3/2011 | 4/2011 | 5/2011 | 6/2011 | 7/2011 | 9/2011 | 10/2011 | 11/2011 | 12/2011 | 01/2012 | 02/2012 | 03/2012 | 05/2012 | 06/2012 | 09/2012 | 10/2012 | 11/2012 | 12/2012 | 1/2013 | 2/2013 | 3/2013 | 4/2013 | 5/2013 | 6/2013 | 7/2013 ]

[ Home | Staff & Contacts | DIY & Tweaks | Listening tests | HiFi Playground | Music & Books ]