TNT-Audio Readers' Corner
Monthly section devoted to your letters, positive and negative feedback about everything related to Audio and HiFi.
You are here > Home > Staff & Contacts > Letters of the month
June 2013
Please take a moment to review the How to use the Readers' Corner manual - send then your enquiries to editor (at) tnt-audio.com or to the appropriate reviewer.

Active speakers
Hello Mr Cadeddu,
I read your review of the M-Audio BX8 D2. Perhaps these accessories can solve many of the problems to connect speakers to a domestic system, may be the subject to another test:

www.thomann.de/es/samson_rubicon_r8a.htm
Sincerely,
Juan - E-mail: coutodominguez (at) yahoo.es

LC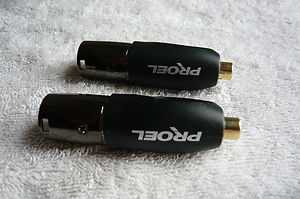 Dear Juan,
thanks for the helpful suggestions and links. Yes, those active speakers with ribbon tweeters look very interesting, perhaps we can try to ask for a test sample. The other two items are a passive preamp and a passive XLR/RCA adapter. There exist simpler XLR/RCA adapters like these ones from Proel, for example. They cost more or less 2€ on Ebay :-)
Of course, one can decide to spend 25€ for a pair of Neutrik adapters...
Lucio Cadeddu

T-Preamp - TCC TC-754
Hello,
For your information I've just bought a TC-754 for a little system and I'm really disapointed because the design has changed. It seems to be not discret anymore, as there are NE5532 op-amps. May be it's just for the phono part.
I finaly don't use it, I've got much greater sound with poor design kit. I can send you photos if you want.
Regards,
Christophe - E-mail: christophe.deresseguier (at) gmail.com
LC
Dear Christophe,
sad to hear you're not satisfied with the TC-754. When I reviewed it, it was a little gem for the price, sounding even better than entry-level phono preamps like the NAD PP-1/2 and the ProJect PhonoBox. It is strange they have modified the original design, if I remind well there were no opamps in the phono section of the TC-754!
Opamps are not necessarily "bad", it all relies on how you use them. This can make a difference. Please send a detailed picture of the preamp board, so that we can compare the circuits and eventually add a warning on our article.
Thanks for the feedback!
Lucio Cadeddu

Toe-in
Dear Sir,
I've got a pair of Tannoy Mercury loudspeakers and I experienced what you wrote in your review: a bit annoyed by highs from the tweeters. I try to understand your advice but I can't really (because of my English knowledge level):
"Also, a little amount of toe-in is required to tame the peak of the tweeter and to get a deeper soundstage. A felt (demi)ring may help on this, too."
Could you write what exactly do yoy mean here. Do I have to put a toe-in under the speaker?
Thanks,
Anastasis - E-mail: an_grivas (at) hotmail.com

LC
Dear Anastasis,
sorry for using a word which isn't exactly of common use. Toe-in, when dealing with speakers installation, refers to the position with respect to the listener's seat. You can keep the speakers parallel or angle them towards the listening seat. This, sometimes, helps to tame an excess of high frequencies. A similar effect can be obtained by means of small felt demi-rings to glue around the tweeter. The following scheme should be self-explanatory. You can angle your speakers towards the listening seat even by a 45° angle.
Lucio Cadeddu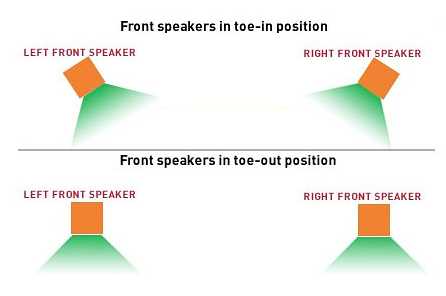 Coke Studio
Hi
I am from Kolkata (India). I am a regular visitor of your site, I was pleasantly surprise to read this article about Coke Studio, which is very popular here. But to see that it has got such a reach is astonishing. You can find Karsh Kale season 2 on thepiratebay.com, its a torrent. I truly enjoy your reviews but sadly most of the products are unavailable in India. Hopefully this will be of some help.
Keep up the good work.
Thanks & regards,
Meeraj - E-mail: sarkar.meeraj (at) gmail.com
NW
Hi Meeraj,
I'm sure that all of us at TNT are equally as pleased to know that we have fans in India! And of course, the great thing about good music is that it transcends all boundaries: religious, political, geographical and cultural.
Namaste,
Nick Whetstone
Datasheets online
Hello,
My name is Ari Saati, and as someone with a budding interest in DIY music electronics, I've been spending a great deal of time on your site, TNT-Audio. I noticed you use some datasheet sites, so I thought I would alert you of my site, www.datasheets360.com (which is rising to some serious prominence, and may be of use to your readership).
The site has 70 million electronic components, each with its PDF datasheet. We're working on scaling the site up to 350 million parts (We should be up to about 180 million this summer). My site has inventory and pricing from many of the top distributors. It also features a part number search that I believe is better than Datasheet Catalog for parts.
Please take a look at the site and add it to your resource section if you'd like. Don't hesitate to contact me if you have any questions.
Ari - E-mail: Ari.Saati (at) ihs.com
LC
Dear Ari,
thanks for introducing us to your website. At a first glance it appears very rich and easy to navigate, congratulations!
Keep up the good work!
Lucio Cadeddu
Temple Bantum - Amp
Dear Nick,
Hello. Hope you don't mind the somewhat random approach but I am looking for a great quality amp for use outdoors and just read your review of the Temple Bantum Gold - which seems exactly what I need!
However, I've not been able to raise any response from Temple Audio and I've found a punter that said they were out of business. I just wondered if you, by chance, had any idea if they were still operating?
And, if sadly not - would you have any other recommendations for a similar quality Class T amp?
Thank you in advance for any help you could offer.
Best wishes,
Lisa - E-mail: lisa.lavia (at) noise-abatement.org
NW
Hi Lisa,
That would be sad if Bantam Audio have gone out of business but alas not so surprising in the present economic climate!
Can you tell me what you want the class-T amp for? I am assuming that you want something that can run off a 12 volt battery in which case nearly all the class-T amps will suit your needs. Of the others, all the ones that I have heard sound good enough to provide good clear music outdoors, and I would suggest simply shopping around for the cheapest deal.
I particularly liked the Trends products while Lucio, and some of the other reviewers have their favourites. But as I said, if you just want music on the go almost any of them will be good enough.
I hope this helps but please let me know if you need more assistance in choosing something.
Regards,
Nick Whetstone
Merlin monitors
Dear Lucio,
I went ahead and got myself a pair of Epos M12i (demo piece, good price) + open frame stands + Naim nait 5i integrated amp + Naim NACA5 speaker cable. I have a Marantz SACD 7001 as my CDP. After I replaced my conventional stands with open frame.. I am enjoying the sound.
I have attached a few pics for you (one with normal stands .. and the other with open frame stands suited to ear height),
Just today I borrowed some corner traps (tri corner traps) from a friend to try. I was reading a review of the Merlin TSM Mini Monitor speakers by you and I was reminded to email you. I suppose the Merlin mini monitors are a must hear for me or for any one who enjoys good audio.
Thanks once again and I wish you luck !!
Best regards,
Mahesh - E-mail: mpwaran (at) yahoo.com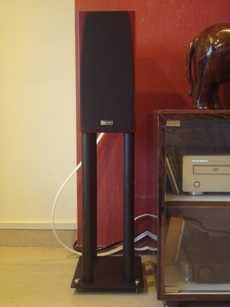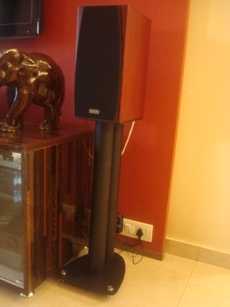 LC
Dear Makesh,
thanks for the feedback! Yes, the Merlin's are wonderful monitors, perhaps not everyone's cup of tea but worth auditioning at least once in a lifetime! When properly matched (with the right amplifier and room acoustics) they can deliver a fantastic sound.
By the way, I think you should be more than happy with your recent purchase, I've always loved the correct sound of Epos loudspeakers. Your British sound Naim + Epos combo is a very good sounding one.
Happy listening!
Lucio Cadeddu
Ten Years After
Hello Mark,
I enjoyed your review of Ten Years After. I am just reminiscing about the album. I bought it while I was in high school, so about 1972. I don't have SACD playback, but I will listen to the album again today!
Religion stands out in my mind as being a particular favorite, a slow burn leading into scorching guitar work. Are you familiar with Paul Butterfield Band's In My Own Dream? I bought the record about the same time and it remains one of my very favorites. I use it to listen to new/different hifi stuff because I'm so familiar with it. Brilliant horns, bass playing, guitar work, drumming, keyboards, singing...
I love your site. KUTGW,
Chris - E-mail: jcgarrison.garrison (at) gmail.com
MW
Hi Chris,
Thanks for the kind words. The Plebs Chorus make me keep working and always tell me if the work is any less than good!
The AudioFidelity Ten Years After release is not SACD. Nor is it HDCD despite what the sleeve logo would imply. This AudioFidelity CD is a top quality Red Book standard CD transfer with a 24kt gold reflective layer in place of the more fragile aluminium of mass produced CDs. By limiting the production run the pits remain sharp throughout the production, reducing the likelihood of reading errors during playback.
I haven't heard In My Own Dream for years, and sadly even then it was someone's dreadful compact cassette. Sundazed reissued it a while back, but I have no idea if it is still in print. I will try & find out, now that you have stirred your Old Scribe's memories.
Happy Listening,
Mark, The Old Scribe
Mark Wheeler
iDac
Hi Nick,
I enjoyed your review of the I dac. I myself am still spinning CD's. From the way you speak in your review maybe I should consider a change to a computer based system! I looked on the web page for the idac and notice there is also an i usb power available for the idac and also some special usb cable that separates the data stream from the power supply. I don't think you tested these products in your review. Makes you wonder how good this product would be with these in circuit!
Regards,
Mike - E-mail: michael665booth (at) btinternet.com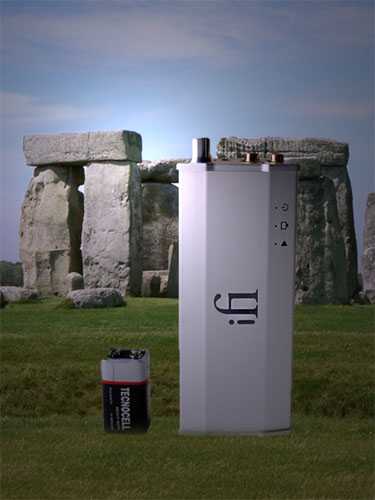 NW
Hi Mike,
Yes, something like the iFi iDAC will almost certainly be a revelation to you. As I said in the review, I did try the Elijah Audio cable, and several external power supplies but found that the improvement they made was much less discernable than I have found with 'lesser' USB DAC's.
I am about to review another USB DAC that takes its power from the host computer, and initial impressions are that it will give the iDAC a very close run. It seems that we are seeing a huge leap forward in sound quality from these latest USB DACs, all the more reason to make the change from a CDP IMHO. I've now retired my Squeezebox set up in favour of the iDAC, despite the former being easier to use.
You don't need to go to too much expense with a computer set up. You may be able to use your existing computer. If not many cheap second-hand computers will run a free OS such as Ubuntu so that side of things can be done quite cheaply. I may write a guide on that subject if I can find the time.
Regards,
Nick Whetstone
[ 01/2000 | 02/2000 | 03/2000 | 04/2000 | 05/2000 | 06/2000 | 08/2000 | 09/2000 | 10/2000 | 11/2000 | 12/2000 | 01/2001 | 02/2001 | 03/2001 | 04/2001 | 05/2001 | 06/2001 | 07/2001 | 08/2001 | 09/2001 | 10/2001 | 11/2001 | 12/2001 | 01/2002 | 02/2002 | 03/2002 | 04/2002 | 05/2002 | 06/2002 | 07/2002 | 09/2002 | 10/2002 | 11/2002 | 12/2002 | 01/2003 | 02/2003 | 03/2003 | 04/2003 | 05/2003 | 06/2003 | 07/2003 | 09/2003 | 10/2003 | 11/2003 | 12/2003 | 1/2004 | 2/2004 | 3/2004 | 4/2004 | 5/2004 | 6/2004 | 7/2004 | 9/2004 | 10/2004 | 11/2004 | 12/2004 | 1/2005 | 2/2005 | 3/2005 | 4/2005 | 5/2005 | 6/2005 | 7/2005 | 9/2005 | 10/2005 | 11/2005 | 12/2005 | 1/2006 | 2/2006 | 3/2006 | 4/2006 | 5/2006 | 6/2006 | 7/2006 | 9/2006 | 10/2006 | 11/2006 | 12/2006 | 1/2007 | 2/2007 | 3/2007 | 4/2007 | 5/2007 | 6/2007 | 7/2007 | 9/2007 | 10/2007 | 11/2007 | 12/2007 | 1/2008 | 2/2008 | 3/2008 | 4/2008 | 5/2008 | 6/2008 | 9/2008 | 10/2008 | 11/2008 | 12/2008 | 01/2009 | 02/2009 | 03/2009 | 04/2009 | 05/2009 | 06/2009 | 07/2009 | 09/2009 | 10/2009 | 11/2009 | 12/2009 | 01/2010 | 02/2010 | 03/2010 | 04/2010 | 05/2010 | 06/2010 | 07/2010 | 09/2010 | 10/2010 | 11/2010 | 1/2011 | 2/2011 | 3/2011 | 4/2011 | 5/2011 | 6/2011 | 7/2011 | 9/2011 | 10/2011 | 11/2011 | 12/2011 | 01/2012 | 02/2012 | 03/2012 | 05/2012 | 06/2012 | 09/2012 | 10/2012 | 11/2012 | 12/2012 | 1/2013 | 2/2013 | 3/2013 | 4/2013 | 5/2013 ]
[ Home | Staff & Contacts | DIY & Tweaks | Listening tests | HiFi Playground | Music & Books ]