TNT-Audio Readers' Corner
Monthly section devoted to your letters, positive and negative feedback about everything related to Audio and HiFi.
You are here > Home > Staff & Contacts > Letters of the month
Your messages to our staff
Re: Yugoslav tubes
We are in deep water now.
Is this the place that sold you the tubes: http://www.tubes.rs/ecc83-ei-yugoslavia-smooth-plates-12ax7/ In the meantime I spoke with the owner of Korato. He should know as he had direct involvement with EI Nis, Manley, KT 90 etc... Long story... (KT 90 is based on PL519).
Anyway, he is adamant that ALL Ei tubes were Philips licences. All machinery and documentation was bought from Philips in the early 60s, probably on cheap as semiconductors were taking over. EI were churnig out vast quantities, mainly for their TV sets. They were not interested in audiophilia, ECCs were sold as 'service' (spare) tubes, very few went into their own products (e.g. PA amps and the like) They never made a tube based HiFi product.
Before I jump into conclusion, I have to check the statement on tubes.rs which reads:
EI Nis has also the same version in silver ("nickel") plates and completely another version on Philips tooling machines, they are ribbed plates.
Can't reach the guy on the phone right now, will let you know his story.
Best regards,
Vojin - E-mail: vsevic (at) sbb.rs

RMcC
Dear Vojin,
thanks for your precious feedback,
Best regards,
Roger McCuaig

Victure players
Hello An Italian friend of mine sent me one of your review (Victure clip sport player) and as mentioned in it the Doodcool player on Amazon site.
Knowing not much in these kind of machines (nor machines in general). I wrote him my generous wife offered me the Bose 700 headphones Bluetooth. Except she knows even less then me. I realized that the main users are the ones that already own very performant cell phone. This is not my case. My passion is music I listent to it everywhere, I have 2 old now i pod 160 go whom batteries begin to be worn out (ant it seem that they are not replaceable) too old any way for Bluetooth. So I look for an appropriate mp3 readers that could match with this superb headphones (noise reduction quite appreciated for the use of 2 or 3 subway hours a day.
I would use it very basicly start a mp3/cd and listen to it till the end. That is the old way using or the way olders use. This for not too expensive (no more then 250 euros but if less i would not cry).
So this Victure or the 16 go in this optic could be the one or do you see better options?
Thanks a lot
Luc - E-mail: lgahery (at) hotmail.com

NW
The Sport Clip is the smaller and lighter of the two Victure players. It has mechanical buttons where the other model has a touch screen interface. Otherwise specs are more or less the same.
I listen to Flac on mine. SC cards are cheap enough now to keep some 'extra' music on a spare one but even with a 16 GB card I find that I have plenty to choose from.
All you do is connect the music player to a USB socket on your compute (a cable is supplied), and copy and paste the files to the player using Windows Explorer or similar.
Nick Whetstone

78rpm turntables
Dear Mr Hoehl
I've read your very interesting articles about 78rpm turntables. I have a few 78s that I occasionally play on an 1950s suitcase turntable, but I was looking for a record player to play them on my hifi system. Being on a tight budget and given this would be an occasional experience, I wouldn't spend too much on the turntable. I was wondering if you have experience with Audio Technica turntables (there are currently 2 78rpm SL-1200 lookalikes in their lineup) and if you would rather recommend one of these over a Lenco L75 or even the Numark, both of which sell used for about the same price as a new Audio Technica.
Thank you
Kindest regards
Andrea - E-mai: holden75 (at) gmail.com

DH
Hello, Andrea,
I have no personal experience with the Audio Technica tables, but a longtime collector friend has one, an ATLP120-USB, which he describes as "a lower-end model (it cost somewhere around $300), which has variable speed but only around 33, 45 and 78." When I asked him about it, back around the time I was writing the series of articles, he said he'd been playing it for 5 years with no problems. I do have experience with one Numark model, as I outlined in one of the articles, and it wasn't good; the turntable became unusable after only two or three years. I'm therefore personally leery of Numark, but, on the other hand, I believe the manufacturer has fixed the design flaw that gave rise to my problem, something to do with elements on the control board overheating as I understand it. My advice about Numark, then, would be to proceed with caution but not necessarily to rule it out. Just be sure you've thoroughly researched that Numark tables no longer have inherent problems, or if you're looking at an older one that it was built after the company addressed them.
As to Lenco, if you can find one at a good price, many collectors swear by them, and by no means just for 78s. Certainly a Lenco table in good condition will have ample flexibility to handle whatever "78" you decide to throw at it, and the line's adherents consider them top notch LP players as well. The problem there is that they have developed a "following" and no longer are the inexpensive solution they once were; moreover, the Lenco fans tend to view an "as found" turntable as just a starting point, needing lots of tweaks and modifications--new plinths, rebuilt arms, and on and on--to become what they consider a world beater. If you don't have time, patience, and money to put into such rebuilding, you may want to stick with something newer, even if it lacks the full potential of an older component. For more (much more!) information about Lenco, I'd suggest you browse the Lenco Heaven website, which has an abundance of information about these old warhorses and their care and feeding. Good luck with your search!
David Hoehl

Yugoslav tubes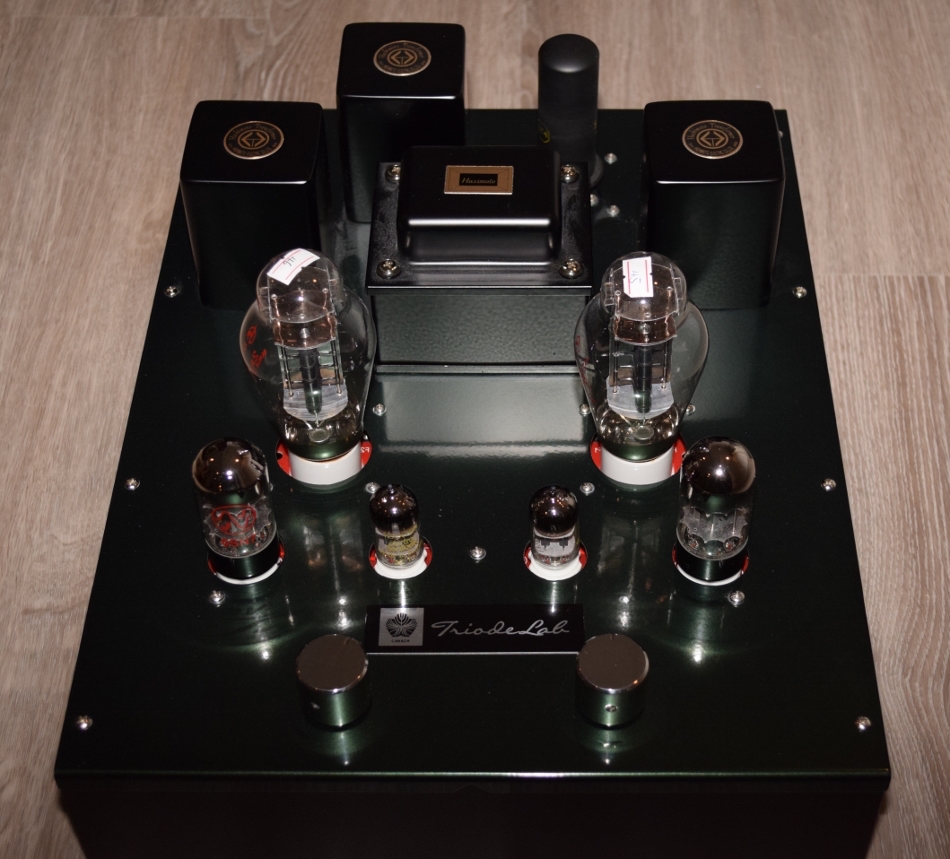 Dear Sir,
I read with interest your review of Triode Lab 2A3-EVO in TNT-Audio. May I point to slight inaccuracy in the text. You claim 'I was quite tempted to try my NOS Ei 12AX7 tubes that were made in pre-war Yugoslavia on Telefunken machinery'.
To my best knowledge the EI Nis factory, who was the only tube producer in Yugo, used Philips licences and equipment. Majority of tubes were made for TV sets, with P heating. They did make ECCs (that is 12A,,, for you) for radio/audio, EL84, EL34, They did not make KT88, tried their own KT90 instead (nothing special). ECCs from Nis are highly regarded among audiophiles, yes they are very good, comparable to Mullard (same construction).
I am positive about Philips connection, they may have bought some machinery from Telefunken later, but I doubt it.
Best regards from Belgrade,
Vojin - E-mail: vsevic (at) sbb.rs
RMcC
Dear Vojin,
Thanks very much for your email. I did some research on the internet and found the following:
The company that sold me the tubes indicates on their web site that they were built identical to the Telefunken tube.
On an audio blog I found an owner who says that they were made possibly on Philips tooling but were a copy of the Telefunken design.
A NOS tube seller in Ankara writes that they were made with the Telefunken design and tooling.
I have found several other blogs and web sites that indicate Telefunken tooling was used.
Of course it is entirely possible that someone mistakenly wrote that these tubes were made on Telefunken tooling and it got picked up and spread all over the Internet. Let's hope that some TNT reader can provide a definitive answer to this question.
Roger McCuaig

Re: Cambridge CXC CD transport
Hi Chris,
I solved the problem. Yesterday, I went to one of the most amazing hi-fi stores I have ever seen - crammed with fantastically presented gear (Nautilus2 in Rzeszow, https://nautilus2.pl if you're ever in this part of the world). They set up my X-DAC with a CXC and it worked! The HDCD light came on immediately, so I don't know what those guys at Cambridge Audio are smoking. They are simply wrong. Sorry to bore you with my ongoing story but at least now I can enjoy the CXC to the full.
Best regards,
Conor - E-mail: conormcnamara (at) verizon.net

CT
Hi Conor,
thanks for letting us know the positive outcome!
Happy listening,
Chris Templer

Victure Clip Sport player
Hello,
An Italian friend of mine sent me one of your reviews (Victure clip sport) and as mentioned in it the Dodocool on Amazon site. Knowing not much of this kind of machines (nor machines in general) I wrote him my generous wife offered me the Bose 700 headphones Bluetooth. Except she knows even less then me. I realised that the main users are the ones that already own very performant cell phones. This is not my case. My passion is music, I listen to it everywhere, I have 2 old now ipod 160 go whom batteries begin to be worn out (ant it seem that they are not replaceable), too old any way for Bluetooth. So I look for an appropriate mp3 reader that could match with this superb headphones (noise reduction quite appreciated for the use of 2 or 3 subway hours a day).
I would use it very basicly start a mp3/cd and listen it till the end. That is the old way using or the way olders use. This for not too expensive (no more then 250 euros but if less I would not cry. So this Victure or the 16 go in this optic could be the one or do you see better options?
Thanks a lot,
Luc - E-mail: lgahery (at) hotmail.com

NW
Hi Luc,
Both the two Victure MP3 players on Amazon are very good, and even better given their price. What I am finding is that Bluetooth connection seems to be a bit hit and miss on all this modern gear. The Victures that I have here will connect to one pair of Dodocool Bluetooth headphones, but not another Dodocool model. So what you need to do is find out if your Bose headphones will work with the Victure players (you can ask on Amazon). The supplier seems very keen to help with such information).
My view of buying this sort of gear is that it will eventually break no matter how much that we pay for it. So buying cheap is sensible, and honestly doesn't have to mean low quality sound. For listening on the go, there will always be some background noise, even with noise-cancelling headphones, so spending hundreds on these items is (IMHO) overkill.
Let me know if you need any more help.
Regards,
Nick Whetstone

Cambridge CXC CD transport
Chris,
I just read your review of this unit. Can you please let me know if it transfers all the CD data to the DAC. I have a wonderful Musical Fidelity X-Dac, which can process HDCD format CDs. I have been unable to ascertain whether the CXC will transfer the necessary information. Some reports say yes, some say no. Would appreciate your advice.
Regards,
Conor - E-mail: conormcnamara (at) verizon.net

CT
Hi Conor,
The CXC is a CD only player. It does Not read SACD's. I have found it to be excellent and (although this may sound stupid) as good at reading a CD as my pc drive. Keep in mind a pc CD drive has the ability to read at up to 54X speed unlike any normal CD player I have heard of. This point was the reason I moved from my Jolida player. Even using the digital out on the Jolida the Philips drive was not getting all the information from a CD.
Hope this helps,
Chris Templer

DAC comparison
Hello Nick, Happy New Year.
I have been following your writing for awhile now and feel it very accurate from my experiences and refreshing free from all the advertising end of it.
I have a good question, how do you compare the Mhdt Pogota dac to the new Jolida Dac? They both have tubes to upgrade as well as coupling capacitor upgrades.
Please give me your opinion on how they stack up.
Best regards,
Paul - E-mail: audioman58 (at) gmail.com

NW
Hi Paul,
Thanks for your kind comments. As I have not heard the Jolida DAC I can't make any comparisons.
Regards,
Nick Whetstone

Audio Note R Zero II
Hi Graeme,
Thanks for the review on the Audio Note R Zero II phono. Have you listened to a Simaudio Moon 310LP phono? I have one and just love it, running into a MF NVista 800 and a pair of ATC SCM 11's from an old LP12. I've always enjoyed tubes and a local store is bringing in a R Zero phono. Trouble is it's so hard to demo these things. Their unit might take months to break in. Their amps and speakers won't be the same. The room is different etc. I noticed that you gave the Graham Slee it's due in the review and just wondered if you'd ever listened to any of the phono stages by Simaudio Moon?
Cheers,
Stephen - E-mail: goodridge.s (at) shaw.ca

GB
Hi Stephen,
Thanks for taking the time to write - it's nice to know people appreciate what we do!
I've never listened to any of the Moon range I'm afraid (or certainly not in any familiar circumstances) so I can't compare the AN directly. The AN and GSP units are both highly enjoyable and I could happily live with either. The GSP is more precise sounding whereas the AN is disarmingly musical. My personal CEC PH53 sits somewhere between the two and as such is a great compromise unit.
Maybe taking your deck and your SIM unit to your dealers would be of benefit once their AN has a few hours on it? You'll at minimum be able to see the differences even if it won't be exactly the same as at home. From what I've read about the 310LP you're in for a surprise - whether it be a good one or a bad one only you can decide.
Kind regards,
Graeme Budd

TNT Readers' Corner archives (most recent at bottom)
[ 01/2000 | 02/2000 | 03/2000 | 04/2000 | 05/2000 | 06/2000 | 08/2000 | 09/2000 | 10/2000 | 11/2000 | 12/2000 | 01/2001 | 02/2001 | 03/2001 | 04/2001 | 05/2001 | 06/2001 | 07/2001 | 08/2001 | 09/2001 | 10/2001 | 11/2001 | 12/2001 | 01/2002 | 02/2002 | 03/2002 | 04/2002 | 05/2002 | 06/2002 | 07/2002 | 09/2002 | 10/2002 | 11/2002 | 12/2002 | 01/2003 | 02/2003 | 03/2003 | 04/2003 | 05/2003 | 06/2003 | 07/2003 | 09/2003 | 10/2003 | 11/2003 | 12/2003 | 1/2004 | 2/2004 | 3/2004 | 4/2004 | 5/2004 | 6/2004 | 7/2004 | 9/2004 | 10/2004 | 11/2004 | 12/2004 | 1/2005 | 2/2005 | 3/2005 | 4/2005 | 5/2005 | 6/2005 | 7/2005 | 9/2005 | 10/2005 | 11/2005 | 12/2005 | 1/2006 | 2/2006 | 3/2006 | 4/2006 | 5/2006 | 6/2006 | 7/2006 | 9/2006 | 10/2006 | 11/2006 | 12/2006 | 1/2007 | 2/2007 | 3/2007 | 4/2007 | 5/2007 | 6/2007 | 7/2007 | 9/2007 | 10/2007 | 11/2007 | 12/2007 | 1/2008 | 2/2008 | 3/2008 | 4/2008 | 5/2008 | 6/2008 | 9/2008 | 10/2008 | 11/2008 | 12/2008 | 01/2009 | 02/2009 | 03/2009 | 04/2009 | 05/2009 | 06/2009 | 07/2009 | 09/2009 | 10/2009 | 11/2009 | 12/2009 | 01/2010 | 02/2010 | 03/2010 | 04/2010 | 05/2010 | 06/2010 | 07/2010 | 09/2010 | 10/2010 | 11/2010 | 1/2011 | 2/2011 | 3/2011 | 4/2011 | 5/2011 | 6/2011 | 7/2011 | 9/2011 | 10/2011 | 11/2011 | 12/2011 | 01/2012 | 02/2012 | 03/2012 | 05/2012 | 06/2012 | 09/2012 | 10/2012 | 11/2012 | 12/2012 | 1/2013 | 2/2013 | 3/2013 | 4/2013 | 5/2013 | 6/2013 | 7/2013 | 9/2013 | 10/2013 | 9/2013 | 11/2013 | 12/2013 | 1/2014 | 2/2014 | 3/2014 | 4/2014 | 5/2014 | 6/2014 | 9/2014 | 11/2014 | 12/2014 | 01/2015 | 02/2015 | 03/2015 | 04/2015 | 05/2015 | 06/2015 | 09/2015 | 10/2015 | 11/2015 | 12/2015 | 1/2016 | 2/2016 | 3/2016 | 4/2016 | 6/2016 | 7/2016 | 10/2016 | 11/2016 | 12/2016 | 1/2017 | 2/2017 | 5/2017 | 06/2017 | Year 2018 | Year 2019 ]

[ Home | Staff & Contacts | DIY & Tweaks | Listening tests | HiFi Playground | Music & Books ]