TNT-Audio Readers' Corner
Monthly section devoted to your letters, positive and negative feedback about everything related to Audio and HiFi.
You are here > Home > Staff & Contacts > Letters of the month
October 2016
Toshiba GT-840s replacement heads needed
Hi,
This is a long shot, I have a family heirloom [see attached], is there any way I can get replacement heads for this model, it is a Toshiba GT-840s. I live in South Africa.
Regards,
Trevor - E-mail: Tpoonsammy (at) um.co.za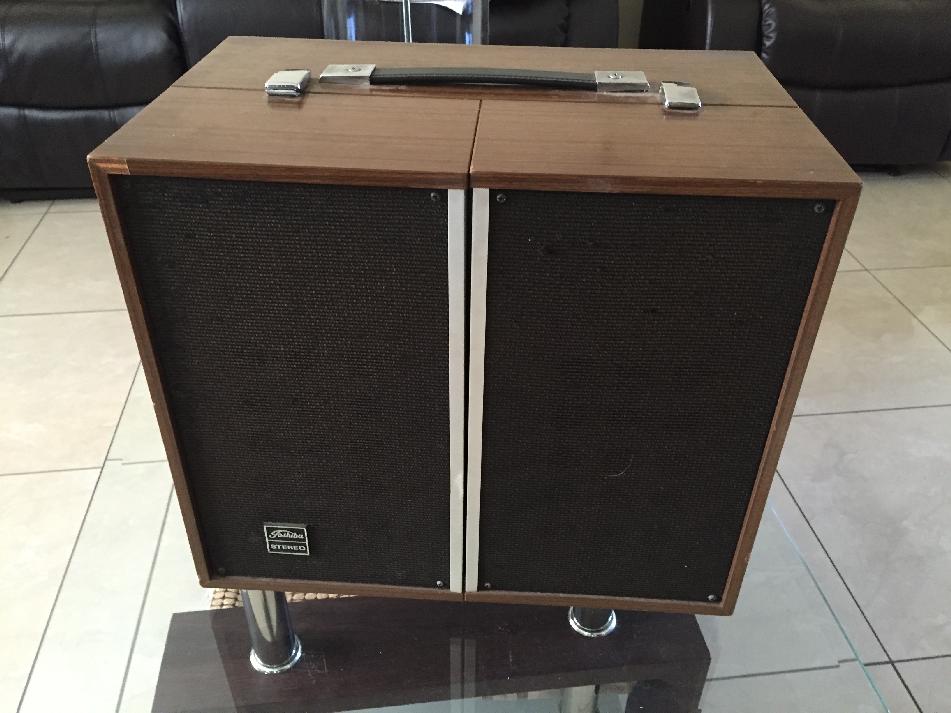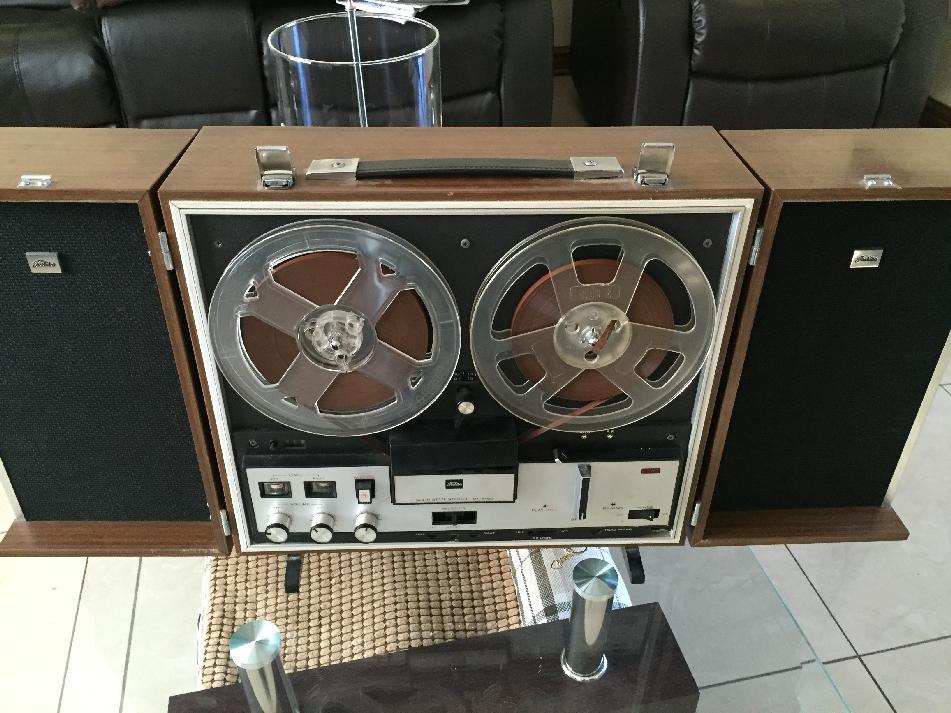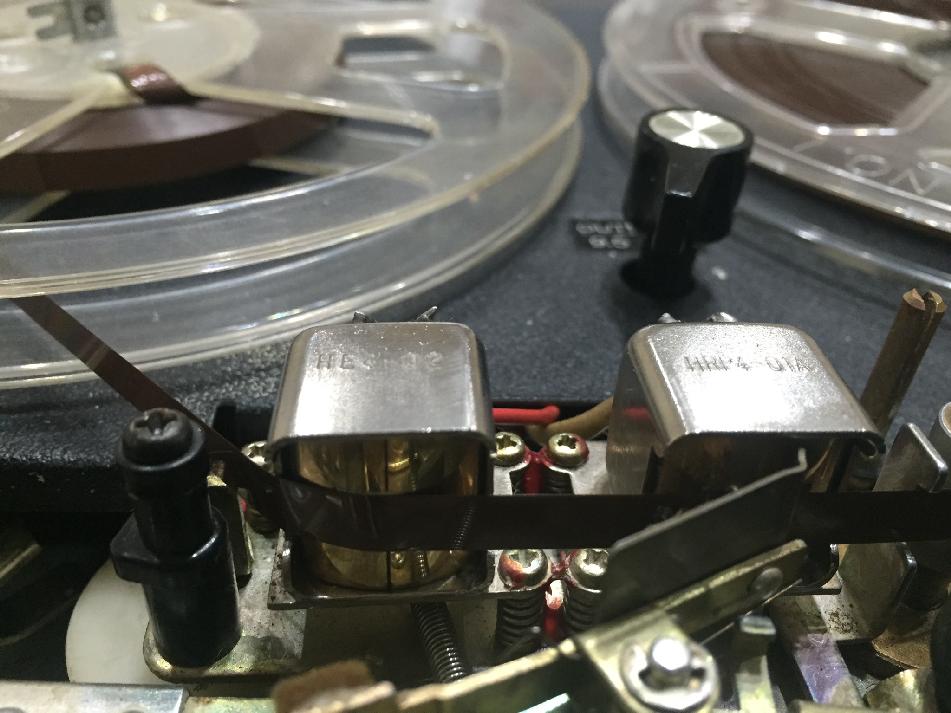 LC
Dear Trevor,
we can't help you directly but hopefully publishing your request on our pages will produce the desired result. This piece of gear is so cool (and rare!) that it certainly deserves careful restoration!
Good luck!
Lucio Cadeddu
Noise killer
Hi there,
I can't find the Noise Killer spray you reviewed years ago...anywhere...
Is there a similar product nowadays?
Thanks and best regards,
Pedro - E-mail: serpa999 (at) gmail.com
LC
Dear Pedro,
actually the Noise Killer seems to be no longer available. Don't despair as car stereo installers use this kind of dampening sprays everywhere! Just ask them. For example, try the Boom Mat spray or browse the Dynamat cataogue for alternative sound damping products.
Hope this helped somehow,
Lucio Cadeddu
Raspberry
Nick,
Any chance you're planning a review of the above? Or other Raspberry Pi hi-fi stuff?
Best regards,
Mark - E-mail: harrisonmark (at) compuserve.com
NW
Hi Mark,
I have no plans to at present, and am not sure where we would be able to obtain review samples. I do know that one of our reviewers did try Raspberry Pi for hi-fi a couple of years back, but am not sure if he is in a position to write a review.
Regards,
Nick Whetstone
Miniwatt N3
Hello my name is Andrew, I currently own the mini watt N3 for some time now. I had to replace the middle tube as a upgrade from the other one. Bought this item from ALO Audio back in 2011 along with a pair of one driver bookshelf speakers made of bamboo wood Pandas. It's a good little amp I have it teamed up with a Macintosh preamp. Along with Cambridge DAC the sound is great! I have it going in my bedroom office.
Good article, well read.
Regards,
Andrew - E-mail: blond4 (at) icloud.com
NW
Hi Andrew,
That sounds like a very nice compact system, and I'm not surprised that you have been happy with the N3. Thank you for your email, it is always good to hear that readers agree with our findings.
Regards,
Nick Whetstone
PS Audio NuWave phono preamp and ADC
Great review by Arvind, will look forward to hearing about Lehmann audio, but writing to say a review of ADC components, and the resulting output vs. original would be fascinating.
Clearly something is lost at CD quality (as well as the possibility of some benefits). But a really interesting topic for me is at what point (sample frequency / bit depth / device), if ever, does the resulting digital file become undistinguishable from the original vinyl?
Like many I think my setup will simplify to a vinyl collection and a digital collection. CDs are used once, and only retained as proof of purchase...
There are many locations I play music and only one where the turntable is practicable. And I think for the musicians (etc.) there is the possibility of selling high quality Vinyl and providing HQ digital.
Kind regards,
John - E-mail: johngagardner (at) gmail.com
AK
Thanks for the compliment. And a great thought on a possible review series, I am also somewhat curious about the same question. Right now that question fares lower on my list of curiosities though, I am currently focusing on Phono stages and perhaps a round of Cartridges next.
For who ever undertakes this query, my suggested course of action would be to answer two questions thru a series of articles - How do different ADCs compare to each other? How do different resolutions compare to each other?
Regards,
Arvind Kohli
Audiophile Linux
Hello Nick,
I've just red your articles on Audiophile Linux and I liked them. They are definitely complete, from hardware to installation. But I would like to ask you a couple of different question in two different area:
With Audiophile Linux you must use a keyboard and a mouse, don't you think that it is uncomfortable? I have a M2Tech HiFace Evo, do you have a suggestion on which is the best way to connect it?
I suppose you know the RaspberryPi, I like it very much the possibility to command it through my smartphone or a very tiny (and inexpensive) remote. Is there a way to obtain the same excellent result of AP-L using it?
My father (I gave him a RPi2 and a HiFi Berry Dig+) have M2Tech Young, AM Audio M-100 and AM Audio bookshelf speaker. I force him to try a simply Openelec OS and Volumio, but I said to me that the quality gain in Volumio is so little that it doesn't justify the loss of the user friendly interface of Openelec. He is really disappointed by the way that Volumio handle the reproduction of a whole directory.
Best Regards,
Arturo - E-mail: arturo.kiwi (at) gmail.com

NW
Hi Arturo,
You can control APL 3.0 from a phone or tablet, providing that the APL 3.0 computer is connected via an Ethernet cable. I can't tell you how this is done as I don't control APL 3.0 that way, but I am sure that you can find out how on the APL forum.find that the trackball that I use is quite OK.
I have no experience of Raspberry Pi so can't comment on the Volumio issue.
Regards,
Nick Whetstone

DAC choice
Dear Andy,
I read your reviews on TNT audio and now that I need a new DAC I've read this article. Your conclusion is: "If there is something about the sound of your system that you are unhappy with, a DAC is not likely to be the place to start" Now, I don't have a DAC and I have to buy one new. Could you suggest me something? I'm looking for a professional DAC, but I don't know if it is a good idea or not. I'm very confused. I want a good DAC, a definitive one, and my budget is between 600 and maximum 1.000 euro.
Regards,
Giuseppe - E-mail: giurusci (at) gmail.com

AN
Dear Giuseppe,
Thanks for your question. What DAC will be best depends very much on what facilities you need and what transport you intend to use. And, of course, what equipment you want to use it with.
My comment was based on the fact that I can hear relatively little difference in sound between DACs at different price points, compared to the differences in amplifiers and loudspeakers.
In general terms I'd suggest looking at mass market brands Cambridge Audio, Arcam, Musical Fidelity and Rega as these offer a good range of reliable and relatively economical DACs. Chord Electronics are more expensive but generally well-reviewed, although I've not personally heard their DACs. The Wired for Sound and Antelope DACs were both very good but I would be inclined to upgrade speakers or amp before getting into such higher priced DACs. It may be an idea to start with a low cost option such as a USB plug-in device to help understand better what you want from a higher end model and have had the opportunity to audition a couple. Then upgrade if it makes sense.
Good luck with the search.
Andy Norman

Usher R1.5 amplifier
Sirs,
I bought an Usher R1.5 (manufactured 2012 September) sometime back. Your review was the primary reason I went and auditioned it and fell in love with the amp. Love the sound, no doubt about that. But today when I checked the label at the back of the amplifier I saw that it's mentioned as 105 watts (at) 8ohms rather than the specified or rather advertised 150watts (at) 8ohms! It's rather surprising as to why this labeling rather than what is advertised. Can you explain? I have sent mails to Usher without any reply. Please check the attachment for your kind reference.
I know you are a busy person and willing to wait for your advise. Thank you.
Regards,
Ram - E-mail: ramaanujsinha (at) gmail.com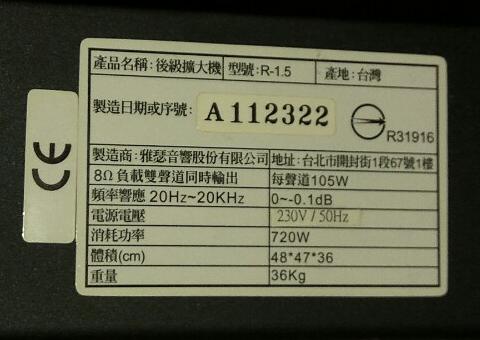 LC
Dear Ram,
either it is a misprint or that value refers to something else, for example amp power consumption at idle. Unfortunately I can't read Chinese characters! Either way, it makes no difference at all! If you love the sound of your amp all that power isn't really necessary: most of the times you'll be using just a mere fraction of that power. Moreover, looking at the claimed power consumption (760 watts!) and considering efficiency of class AB operation, I'm pretty sure your amplifier can deliver exactly the claimed power as spec'd.
Happy listening and don't worry about watts! Power is nothing without good sound :-)
Lucio Cadeddu
Need advice for cd & integrated amp
Hi,
I've been collecting jazz and classical cd for more than 20 years. My old amplifier has stopped working and would like to purchase a new CD player and integrated amp, all in a small room with Focal JMLAB Chorus 706S speakers. If you can, please recommend a system for not more than $2,500.
Very appreciated.
Regards,
Igor - E-mail: ibitman (at) gmail.com
LC
Dear Igor,
considering the room is small and the sensitivity of your speakers is quite high you shouldn't need a very powerful integrated amp. For the budget you have planned to spend I'd go for a CD + amp amp from the same Company. I'll cite just some examples: Rotel CD & amp (and even Cambridge Audio) will give you a lively and open sound, that should somehow "ldquo;underline" the sonic balance of your speakers. If you need something more relaxed and a somehow warmer balance, look for a NAD or Arcam combination. Otherwise, in the second hand market, search for a Naim CD & combination, such as a CD 5 with a Nait 5. That could be a very wise choice in your case.
Hope this helped somehow,
Lucio Cadeddu
TNT Readers' Corner archives (most recent at bottom)
[ 01/2000 | 02/2000 | 03/2000 | 04/2000 | 05/2000 | 06/2000 | 08/2000 | 09/2000 | 10/2000 | 11/2000 | 12/2000 | 01/2001 | 02/2001 | 03/2001 | 04/2001 | 05/2001 | 06/2001 | 07/2001 | 08/2001 | 09/2001 | 10/2001 | 11/2001 | 12/2001 | 01/2002 | 02/2002 | 03/2002 | 04/2002 | 05/2002 | 06/2002 | 07/2002 | 09/2002 | 10/2002 | 11/2002 | 12/2002 | 01/2003 | 02/2003 | 03/2003 | 04/2003 | 05/2003 | 06/2003 | 07/2003 | 09/2003 | 10/2003 | 11/2003 | 12/2003 | 1/2004 | 2/2004 | 3/2004 | 4/2004 | 5/2004 | 6/2004 | 7/2004 | 9/2004 | 10/2004 | 11/2004 | 12/2004 | 1/2005 | 2/2005 | 3/2005 | 4/2005 | 5/2005 | 6/2005 | 7/2005 | 9/2005 | 10/2005 | 11/2005 | 12/2005 | 1/2006 | 2/2006 | 3/2006 | 4/2006 | 5/2006 | 6/2006 | 7/2006 | 9/2006 | 10/2006 | 11/2006 | 12/2006 | 1/2007 | 2/2007 | 3/2007 | 4/2007 | 5/2007 | 6/2007 | 7/2007 | 9/2007 | 10/2007 | 11/2007 | 12/2007 | 1/2008 | 2/2008 | 3/2008 | 4/2008 | 5/2008 | 6/2008 | 9/2008 | 10/2008 | 11/2008 | 12/2008 | 01/2009 | 02/2009 | 03/2009 | 04/2009 | 05/2009 | 06/2009 | 07/2009 | 09/2009 | 10/2009 | 11/2009 | 12/2009 | 01/2010 | 02/2010 | 03/2010 | 04/2010 | 05/2010 | 06/2010 | 07/2010 | 09/2010 | 10/2010 | 11/2010 | 1/2011 | 2/2011 | 3/2011 | 4/2011 | 5/2011 | 6/2011 | 7/2011 | 9/2011 | 10/2011 | 11/2011 | 12/2011 | 01/2012 | 02/2012 | 03/2012 | 05/2012 | 06/2012 | 09/2012 | 10/2012 | 11/2012 | 12/2012 | 1/2013 | 2/2013 | 3/2013 | 4/2013 | 5/2013 | 6/2013 | 7/2013 | 9/2013 | 10/2013 | 9/2013 | 11/2013 | 12/2013 | 1/2014 | 2/2014 | 3/2014 | 4/2014 | 5/2014 | 6/2014 | 9/2014 | 11/2014 | 12/2014 | 01/2015 | 02/2015 | 03/2015 | 04/2015 | 05/2015 | 06/2015 | 09/2015 | 10/2015 | 11/2015 | 12/2015 | 1/2016 | 2/2016 | 3/2016 | 4/2016 | 6/2016 | 7/2016 ]
[ Home | Staff & Contacts | DIY & Tweaks | Listening tests | HiFi Playground | Music & Books ]